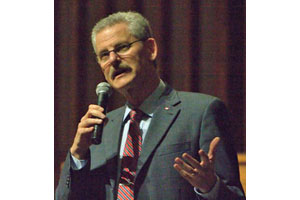 CBC Radio newscaster Laurence Wall is the honoree of the Canadian Hadassah-WIZO (CHW) 2020 Spring Tea in Ottawa. The tea, which was originally scheduled for Sunday, June 7, became a "phantom tea" because the COVID-19 pandemic prevents individuals from gathering together in lage groups.
Laurence jokingly calls himself "the grand old man of CBC Ottawa" But Laurence's 45-year career in journalism has been matched by his volunteerism. He is sought after around Ottawa as a master of ceremonies for his speaking skills and approachable personality and has hosted events for Ottawa Chamberfest, Music & Beyond, the Ottawa Writers Festival, Orkidstra and the CBC Music in the Schools competition. He has also hosted many events for Jewish organizations including the Jewish Federation of Ottawa, Canadian Friends of Hebrew University, Musica Ebraica concerts, synagogue programs and Holocaust remembrance ceremonies, to name just a few.
CHW recognizes Laurence's efforts, many associated with children, healthcare and women, the three spheres of the organization's projects in Israel and Canada.
"You really have to be a part of the community (and) I think you never can do enough. It's an ongoing commitment. I believe passionately in tikkun olam and I think it is a wonderful Jewish philosophy," Laurence said.
"What I do is so utterly insignificant compared to the great work these charities and community groups are doing. They are really the ones who are doing the heavy lifting," he added.
Born in Montreal 65 years ago, Laurence grew up in Winnipeg along with his three brothers. His father, Mark, was an obstetrician/gynecologist who volunteered at the Mt. Carmel Clinic in the city's north end. His mother, Elsa, an excellent amateur pianist and accompanist, performed dozens of times a year at Jewish seniors' facilities and at the Golden Age Club. She was also an active member of the Winnipeg CHW Israeli Chapter.
Laurence remembers his mother encouraging his musical interest by taking him to Sunday afternoon concerts with the Winnipeg Symphony Orchestra. He began playing cello in his school's junior orchestra 53 years ago and still plays weekly with a string quartet.
Laurence met his wife, Roslyn Nudell from Montreal, when they were both journalism students at Carleton University. They married in 1978. His in-laws, Bella and Gregory, were Holocaust survivors who took great pride in his volunteer work and career.
Laurence started his journalism career as a reporter at the Winnipeg Tribune in 1975. In 1979, he joined CBC Radio in Winnipeg. Laurence later worked at CBC stations in Saskatoon and Fredericton, where their daughters Elana and Alexa were born. He and Roslyn and the girls settled in Ottawa in 1993 when Laurence joined CBC Ottawa.
With his droll sense of humour, Laurence says he is known as the "guardian of English grammar and pronunciation" at the CBC. He prepares and reads 13 newscasts and updates daily between 11:30 am and 7 pm. You can also catch him at 1 pm, introducing the National Research Council official time signal.
Laurence considers CHW's recognition "a tremendous honour" for simply doing what he loves to do.
For further information or to make a donation online in Laurence's honour, please go to the CHW website https://www.chw.ca/event/chw-ottawa-phantom-tea-2020/.
All donations will support the CHW Debbie Eisenberg and Gary Levene Pediatric Intensive Care Unit at the Shamir Medical Centre in Assaf Harofeh, Israel.
This story first appeared in the April 6/20 edition of the Ottawa Jewish Bulletin.