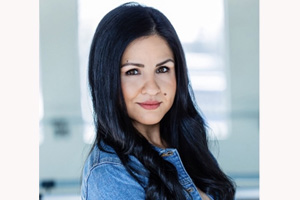 By MYRON LOVE After ten years – literally – at sea, it should come as no surprise that Winnipeg-based cruise ship entertainer Rochelle Kives is missing the life aquatic.
"I love to travel and working on cruise ships has been part of my life for so many years," she notes.
That is not to say though that the daughter of David and Margarita Kives is unhappy being at home again.
Since deciding that she and her husband, Ruslan Rusin, wanted to raise their family (including four-year-old Paulina) in Winnipeg, the mezzo soprano and her musician husband – his instrument is the upright bass – have found plentiful opportunities in Winnipeg. Kives has appeared with both the Winnipeg and the Regina Symphony Orchestras, singing the role of Bloody Mary in the two orchestras' tribute to "South Pacific". She has also been featured in Dry Cold Production's "Kiss of the Spider Woman". She has also had roles in the Manitoba Theatre Centre's Shakespeare Festival of "Elizabeth Rex" and Manitoba Theatre for Young People's presentation of "Year in the Life of Frog and Toad" and had appeared pre-Covid in Rainbow Stage's staging of "Ma-Buhay" – a celebration of Filipino talent in our city. (Kives' mother is of Filipino origin.)
She notes that her husband has also worked with the WSO and RSO and was involved in the MTYP "Year in the Life of Frog and Toad".
The couple are looking forward to their first live concert since pre-Covid days. That would be the final concert in the Gwen Secter Creative Living Centre's summer outdoor concert series ("Live from the Lot") on August 25th ( with shows scheduled for 11:00 and 1:00.
Kives will be singing songs from Broadway, compositions from Rodgers and Hammerstein and numbers made popular by Barbra Streisand. Kives and Rusin will be joined on stage by Renate Rossol on keyboard.
Kives further reports that she and Rusin are part of Prairie Heart, a cover band, and are available for bookings.
"Being able to perform with my husband means a lot to me," she says.
In addition to stage work, Kives has become involved in film and digital productions. She workshopped with the Winnipeg Jewish Theatre to produce a digital filming of, "Precipice", a story written by Winnipegger Primrose Madayag Knazan about a Filipino girl's journey of conversion from Catholicism to Judaism (as did Kives' mother), trying to determine if she in converting for herself or her partner.
She has also participated in an MTC film production for the Manitoba Museum for Human Rights – working with Rob Paterson – entitled "Where.Are.You.From" – also written by Primrose Madayag Knazan – about identity, racism and how to deal with it.
And she has been teaching yoga and barre (a fusion of yoga and pilates) for the past few years.
Her first love however remains singing.
Kives began taking singing lessons at the age of nine and made her debut at Rainbow Stage in 1997 in a production of "South Pacific". Raised in River Heights, she graduated from Grant Park High and the performing art program at Sheridan College in Oakville, Ontario.
"I was grinding it out in Toronto in 2007 – dealing with the challenges of being young and adjusting to living in a new city when I learned that auditions were being held for singers for a cruise ship. There were hundreds at the audition but I was hired."
She recalls that for the first month on board, she was constantly seasick and second-guessing her choice, but, after that initial period, she never experienced seasickness again.
Initially, she worked strictly for the Norwegian and Celebrity Cruise Lines but has since sailed at one time or another with all the major cruise lines.
In winters, she says, the cruises generally would start out from Fort Lauderdale or Miami, in summers from Rome, Athens or Southampton in England.
"I have been all over the world and learned so much from working on cruise ships," she says. "I became a more versatile performer. I can sing in a variety of styles. I picked up choreography very quickly. I had to learn how to perform on rocking and rolling ships.
"Most important of all was that I met my husband when he came on board in the Baltic. We worked several cruises together while developing a shipboard romance. We married in 2014."
Kives notes that for most of her time at sea, she was working on long-term contracts and she and the other cast members were essentially considered members of the crew. As such, there were certain rules, including living in crew quarters, wearing name tags and limiting interaction with the passenger/guests.
"I did develop some friendships with guests over time, though," she reports. "But my best friends were among the other performers."
She explains that each show generally consisted of four singers, ten dancers and four acrobats.
And she would be able to get off at ports during shore leave whereas certain other crew members' jobs required them to stay on board at all times.
She notes that on longer cruises, she would be doing only three shows with theme nights filling in the other evenings.
Kives says that the longest period that she was at sea was for a year and the last major contract that she signed as a crew member was in 2015. In 2016, she and a couple of colleagues working under the name "Unique Three" have developed a show that combines Broadway numbers, Soul and Rock.
"Now, we take on short term contracts as guest artists," she says. "We are working on tweaking our show and looking forward to being back at sea by the end of the year."