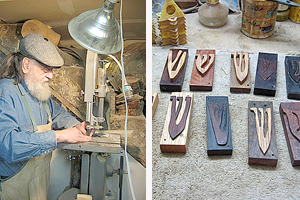 By MYRON LOVE
Danny Waldman says that he has always enjoyed the challenge of doing something no one else is doing. That philosophy has led him to forge a niche creating hand-crafted mezzuzah casings out of blocks of wood.
"I started creating mezuzahs casings three years ago," says the artist who goes by the moniker of "Dan the Carver" and who also produces wooden bowls, smudge bowls (for Indigenous ceremonies) and walking sticks. "We were moving into our new house. We needed a mezuzah, but I couldn't find one that I liked. So I took a piece of nice wood and carved one."
After that, Waldman began carving mezuzahs to give as gifts to family and friends. 'Everybody like them," he says. "So I began making more of them.
"I have developed my own style of carving. Others who have tried using my techniques have found it difficult acquiring the appropriate tools."
Waldman has actually come rather late in life to his artistic endeavours. As he points out, he has worn a number of different job titles including contractor, insurance agent, medic and operator of a horse ranch.
Born and raised in Winnipeg, the son of the late Ben and Riva Waldman, as a young man he first tried kibbutz life in Israel. "We were in Israel for four years," he says. "We intended to make aliyah and had applied to join a moshav in the Sinai. But we couldn't get bank financing because the banks knew that Israel was about to return the Sinai to Egypt."
Having returned to Canada, Waldman settled in Nova Scotia where, for 12 years, he raised horses. "We trained our horses for competitive as well as casual riding," he recalls. "We also offered therapeutic riding for adults and children."
As a result of significant changes to his personal life, Waldman gave up the equine business and relocated to Wisconsin. "I was looking for work," he explains. "Someone suggested that I take en emergency responder course. I got a job the day after I graduated."
His move to Wisconsin was by chance. "I dropped in on some Habonim friends in Wisconsin and ended up staying for two years," he says.
In Wisconsin, he worked with crews fighting forest fires. He also spent some time working on oil rigs in Alberta and B.C.
"It was in Wisconsin where I started carving wooden bowls. Someone gave me a burl of wood. I carved a bowl out of it. I found that I enjoyed carving and got more burls."
But what to do with them? He approached the Madison Museum of Modern Art and sold his first bowls.
"That was the beginning of my life as Dan the Carver," he says.
Waldman notes that through all his years of wandering, he always considered Winnipeg "home". Thus it was that he came back home about ten years ago. He soon found working space at what used to be the Odwak family's butcher shop on Main Street near Logan.
"I originally came into this place by mistake," he recounts. "There are a number of artists working in ceramics here. I was offered studio space in the basement. I became the carver in residence."
Dan the Carver reports that he has had buyers from out of province as well as local customers. Some of his creations are on display at the Manitoba Museum of Man and Nature, Bev Morton's Wayne Arthur Gallery on Provencher and Creations on Alexander Avenue.
Some of his mezuzah casings are on sale in the gift shops at Temple Shalom and Congregation Etz Chayim.
Waldman notes that he carves his mezuzahs from a variety of different woods – wood that is often salvaged from sources such as old furniture or fallen trees. He has produced mezuzah casings carved out of oak, cherry, mahogany, teak, zebrawood and walnut.
The tools that he uses to carve the mezuzah casings are of his own design. "There is no catalogue for the tools I need," he points out. "I have had to adapt different tools for my usage – and I am still figuring it out."
Each mezuzah casing is unique, he notes. The standard price, he says, is double chai ($36).
"People can come in and choose a mezuzah from my stock or place an order," he says. "It takes a day or two for me to make a new mezuzah."
Not only does Dan the Carver have the distinction of being the only creator of mezuzah casings out of wood, but he is also, he notes, the longest serving congregant of the Chevra Mishnayes synagogue in north Winnipeg (having attended the shul with his father when it was on Robinson Avenue). He rejoined his family's shul when he came back to Winnipeg – where his brother, Rob, and Dan himself are board members.
"I enjoy helping to make a minyan most Shabbats at the Chevra Mishnayes," he says.
Readers who may wish to get in touch with Dan the carver can call 204 999 7197 or look him up on Facebook