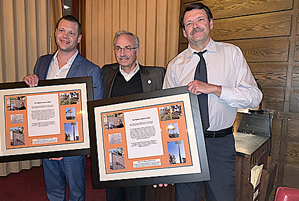 By MYRON LOVE
If you are visiting the Asper Jewish Community Campus and you make a left turn at the Berney Theatre, you will come to the Freeman Family Foundation Holocaust Education Centre.
Just to the right of the entrance to the museum, you will find an area recognizing a number of very special men and women who risked their lives and those of their families to save Jews during the Shoah– 11 commemorative plaques – two of which commemorate Dutch immigrants to Winnipeg who helped to hide Dutch Jews during the Holocaust – and the other nine recognizing individuals from several countries in Eastern Europe.
Soon, there may be an additional name added to the list.
Alexander and Gisjbertha Siepman and their sons, Maarten and Christiaan, were vegetable growers in the village of Nootdorp in rural Holland. For three-and-a-half years, they hid the Jewish Bonevitz family in their home.
The Winnipeg connection is this: After the war, Maarten Siepman and his wife, Johanna, immigrated to southern Manitoba where Maarten continued to pursue market gardening.
On May 2, 1992, as reported in a story in this newspaper at the time, acting Israeli Consul General Oren David came to Winnipeg from Toronto to present the family with a Certificate of Honour and medal on behalf of Yad Vashem.
However, 1992 was a long time ago and the Siepman story of heroism – while still kept alive by Martin and Johanna's children and grandchildren, was little known outside the extended family.
Now, thanks to the efforts of community leaders Larry and Tova Vickar, that story may become more widely known. The president of the Vickar Auto Group first became aware of the Siepman story in early November as Larry and Tova were preparing to travel to Israel for the official opening of the new Stephen J. Harper KKL-JNF Hula Valley Visitor and Education Center in the northern Galilee.
"I was talking to Ryan (Siepman – Vickar Community Chevrolet service manager) about our trip to Israel and he mentioned that his grandfather's and great grandparents' names are inscribed at Yad Vashem among the Righteous Among the Nations and told me their story for the first time," Vickar recalls. "Ryan said that he would like to visit Yad Vashem himself one day and see where his grandfather's and great grandparents' names are inscribed at Yad Vashem."
Vickar was so impressed by what he heard from Ryan that – on Thursday, December 12, he and Tova hosted Ryan, his parents John and Jane, his brother, Shawn, his sisters, Jennifer and Kristine and their families and Ryan's aunt (and John's sister) Wilma, during an evening at Rae and Jerry's, where he presented Ryan and John with framed photos of the plaque at Yad Vashem, accompanied by photos of the trees that were planted in 1974 at Yad Vashem in memory of the Siepman Family.
"While Yad Vashem was not part of our itinerary, I made a point of going there to take pictures of the plaque," Vickar said.
Thanking Larry and Tova on behalf of the Siepman Family, John Siepman recalled that for many years after the war, his dad spoke very little about the war years. "It was only after the Jewish community approached him in the early 1990s and honoured him as one of the Righteous Among the Nations that we learned about what he, his parents and his brother did during the war."
John Siepman noted that his father was 19 when war broke out. "For Holland, the war was over in five days," he said. "Our father wanted to do something to resist the Germans. His minister urged him to join the underground."
In the previous report about the Siepman Family in the JPN in 1992, Martin Siepman (who passed away in 2007) had noted that the Dutch Resistance helped to hide close to 100,000 people – the Bonevitz family among them. "We didn't know the family," he was quoted as saying. "We had no previous connection with them. We only knew that they were Jewish and needed our help.
"We weren't heroes. We just did what we felt we had to do."
John Siepman picks up the narrative. "No one could know that our family was hiding a Jewish family. The Bonevitz family couldn't leave the house during daylight hours. And, when Nazis did come by the house, my grandmother would ring a bell to warn the Bonevitz family to slip out of the house and hide among the beanstalks until the danger had passed."
John Siepman added that his dad really appreciated a free trip to Israel – paid for by Harvey Sarner, a Jewish philanthropist from California – after the Yad Vashem recognition- as well as a subsequent trip to Washington, D.C.
Belle Jarniewski, the executive director of the Jewish Heritage Centre of Western Canada, notes that three-quarters of the Netherland's Jews were murdered during the Shoah – the highest number of Jewish victims in Western Europe, and among the highest proportion in Europe overall. Many students who have been influenced by "The Diary of Anne Frank", have imagined that this was the general narrative – of the Dutch hiding Jews. In actuality, that has become somewhat of a national myth. The truth is that the Nazis were able to count on the support of the Dutch Nazi Party, which had a membership of some 100,000. Dutch police assisted the Germans in rounding up Jews slated for deportation to Nazi extermination camps in Poland, and the national railway company transported Jews to these destinations."
"I have often wondered what I would do in such a situation: Could I do the right thing to save the life of perfect strangers?" says Jarniewski, who is also a child of Holocaust survivors. "It is one thing to risk one's own life, which I hope I would do, but it is another thing to find the courage to risk the lives of one's children. That was the risk these wonderful men and women took"
"Individuals like Martin Siepman and his family and others like them are truly to be admired for the tremendous kindness and courage they showed in a time of utter darkness."
It is written in the Talmud that whoever saves a life saves the world entire."
"We hope to add the name of Martin Siepman and family to the list of those honoured as Righteous Among the Nations at the Freeman Family Foundation Holocaust Education Centre."