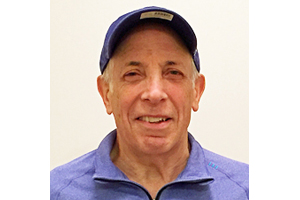 By GERRY POSNER
There I was planning to go to synagogue in Toronto in late December when my throat thought otherwise. I just was not up to it and I was worried that my cough might drown out the Torah reader.
I thus opted to attend shul in my apartment and watched the service at Shaarey Zedek as it streamed into my apartment. I was glad I did as this particular day was what I call a "Simcha" service. I was able to connect with all those called up for an honour, although none of them knew I was watching.
I cannot recall a service where everyone that went to the Torah had a specific reason for being there. The first aliyah was for Steven Cantor, who was celebrating his 60th birthday. And how did that happen? To keep it in the family, the second aliyah was for his parents, Allan and Gloria Cantor, who were recognized and blessed with respect to a pending trip. I am not sure that it was ever mentioned just where they were off to on this trip, but it sounded like a longer journey than to Gimli.
The third aliyah honoured Saul and Lolly Guttman on their 62nd anniversary. I realized they were married two years before Steven Cantor was born – which fact had little meaning back then, but now they were connected by their respective aliyahs.
Another couple celebrating an anniversary and were honoured with the fourth aliyah were Lorne and Louise Raber, who now count 42 years to their total. The Hamishi aliyah or the fifth was given to Larry Hecht, accompanied by two of his grandsons, Nathan and Zachary Bains. The aliyah was in honour of Larry's birthday (his age was never mentioned) and also an impending family trip – again to an unknown destination.
The next aliyah was not on the birthday or anniversary track, but it was a tribute to the memory of Marshall and Phyllis Wilder, who died at this time of the year within two years of each other. Their son David had the aliayah and he spoke of the contribution his parents made to the synagogue. It was quite moving.
The last aliyah was handed to Lorne and Bonnie Cham in recognition of their 38th anniversary. For Bonnie, it was an opportunity to repeat the Haftorah of her Bat Mitzvah a few years ago or more. In short, it was quite the day and to finish it off, the person who had the privilege of "Glilah, tying the Torah mantle, was Chana Thau, who was up there in honour of the recent birth of a new granddaughter.
What was meaningful to me was that I knew all of those honourees in one way or another – and this is not a feeling I get in Toronto. That connection or ability to relate to those involved in the service or at some other kind of function is a gap in my life for sure. Thus, when I see this parade of my past on my screen, it is significant to me.
I was struck by the fact that if you added up the Steven Cantor years of 60, and the Guttman years of 62, and the Raber years of 42 to the Chams of 38, you had a total of 202. If you throw in the zero for the information provided re the trips planned for the Cantors and Hechts, you have 2020, which is coincidentally the year we just began. Just what the deeper meaning of that fact is will have to be an item for a rabbinical discussion. I might add there were no photos available for these honourees from this happy time as it was Shabbat. But if you get to Shaarey Zedek, you will likely see them again.