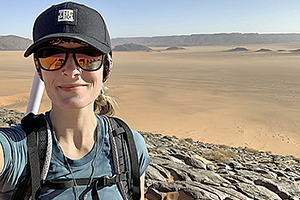 By MYRON LOVE
Realtor Danielle Margolis recently went for a trek in the desert to raise money for an initiative she strongly believes in. The desert was the Sahara and Margolis one of 120 Royal LePage realtors from across the country – divided into four groups – who took part in the "Sahara Desert Challenge", on behalf of the Royal LePage Shelter Foundation – in support of women's and children's shelters across Canada.
The "Sahara Desert Challenge" was the third such Royal LePage initiative, which consists of hikes every two years in an exotic locale.  The first one centred around Machu Pichu in Peru. The second was in Iceland.
It was almost a year since Margolis first spoke with the Jewish Post & News about her plan to participate in the 110-km fundraising trek through eastern Morocco, a project she said in which she was participating to raise awareness and to help provide a safer place for women and children to live.   
Danielle married into a philanthropic family and is honored to carry on her mother in-law, Rae Margolis' memory by giving back, she explained. 
As Danielle points out, community and philanthropy were very important to Rae and the fundraising walk across the Sahara is one of the ways in which Danielle (who is married to Rae's son, Jon) will be paying tribute to Rae's memory.
(Rae Margolis is also survived by Gary, her husband of 47 years, and her daughter, Tara, and husband, Aaron Calvo.)
Danielle added that, in a conversation with his mother, Jon told her about Danielle's plan to hike in the Sahara.  "Rae was proud and excited that I would be doing something like this," Danielle said.  "She was pleased that I would be carrying on her good work for the benefit if people we don't know."
Danielle and Jon Margolis are both realtors long associated with Royal LePage Dynamic Real Estate. (They work out of the Corydon office.)   "I was interested in participating for the first Royal LePage Shelter Foundation fundraising initiative," Danielle said at the time of the previous interview, " but I was pregnant with our daughter and couldn't go," Danielle explains. (She and Jon also have a six-year-old son.)  "This time it felt like the right time and place," she says.
"I had always wanted to see Morocco and the Sahara Desert."
Margolis– who has always been physically active –began training in the spring, often with her Mom and a sister participant Nicole Hacault from Winnipeg.  Her regimen consisted of cycling three times a week, light weight training and regular hikes.
She also made sure to buy a good pair of hiking boots.
The group arrived on November 17 in the Moroccan city of Marrakech where the hikers had the opportunity to visit the Medina, the old Jewish quarter and continued onto Ouarzazate, an area popular with film production. "The people were very friendly and welcoming," she says, "and the guides were great."
The entourage began their trek at a place called Achbarou  – "the door of the desert" – about an eight-hour drive east of Marrakech. The group covered anywhere from 16 to 35 km a day.
"Big 4 by4's carried our supplies and infrastructure from camp to camp," Danielle explains.  "We also had a camel walking with us in case someone ran out of water or had to be evacuated. There were many who suffered from horrible blisters, lost toenails and other ailments. I counted myself lucky in that I came through unscathed."
Margolis says that she was surprised at how varied the terrain was.   "We would be walking for hours on ground that was completely flat with nothing to see for miles around.  Other days, the ground would be rocky with some vegetation.  We walked over some huge dunes and many smaller ones.  The sand changed from grey to red to mixed with volcanic stone.  One time, we walked along an old, chocolate-shaving like sea bed. "
She notes that the group did see some nomads and Berbers near the end of their hike – but no sign of animal life except for some burrows in the ground.
The journey ended at Anoun El Fraolia.  She reports that her favourite memories were sleeping outside under a starry sky unencumbered by the many lights of civilization, the spectacular sunsets and Jebel Lamrakeb, a approximately 65 storey high sand dune about 13 km from the Algerian border.
"We could see the border from the top of the dune," she says. It was absolutely breathtaking.
 The trip to Morocco concluded on November 30 with a farewell supper at a restaurant, called Dar-Cherifa, in a 16th century building in Marrakech.
Danielle reports that that she raised over $38,000 – the largest amount among all the participants.  She is donating the bulk of the money to Bravestone Centre Inc. – in Winnipeg – a secondary shelter where abused women can stay for up to a year.  A portion of the funds raised will also support domestic violence prevention programs across Canada, including those focused on youth, to help break the cycle of family violence.  
She says that she appreciates the strong support of her husband, Jon, and the lead role her father-on-law, Gary, played in her fundraising efforts. He took on the role of campaign manager.
"The hardest thing for me was leaving my children for two weeks," she notes. "I had never been away from them for that long.
"But I also want to set an example for them – even though they are still young – of giving back to the community through donations of time and energy as well as money.
"I believe that an experience like this has made me a better parent and most importantly, a better person."