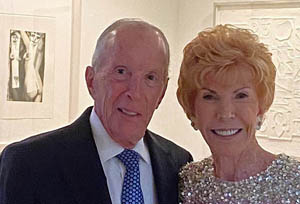 By GERRY POSNER I am betting that many readers will remember the big furniture store on Portage Avenue – Genser's. That store and indeed there was more than one of them at certain times, was well known in the Winnipeg for several decades.
The store began with Morris Genser and later his three sons, Lawrence, Harold and Percy, all prominent in the community and who grew the business, ultimately making Genser's Furniture one of the largest furniture stores in Western Canada. The Genser brothers, aside from their business careers, also were accomplished musicians well known in the musical world, forming what was known as the Genser Trio. And, most significantly, the brothers were all very involved in the community in various endeavours. Just as an example, Percy Genser was at one time the Vice- President of the Winnipeg Blue Bombers Football Club, President of the Manitoba Theatre Centre and active in the WSO and Glendale Country Club.
Well, it appears that the Genser genes remain strong in the philanthropic and community areas, with David Genser, son of Percy and wife Esther. David grew up as the middle child of three kids, (sisters Carol and Roberta). He graduated from Kelvin High School and later attended McGill University. from where he graduated in 1962, also where he met his wife Joan (formerly Kellnor). Subsequently, he obtained an MBA from New York University at the Stern School of Business. David did return to live in Winnipeg with Joan for about nine years, but in 1972 the couple left the city for Toronto. They later moved to Boston – in 1976, where David and Joan have essentially remained for most of their lives.
Genser's work has been in the insurance world. He's carved out a niche specialty in art insurance, with clients spread around the USA, Canada, Mexico and Europe. Even at 80, David Genser is still very active in his business, known as Genser Insurance, located in Needham, Massachusetts. He is now fortunate to have a son to whom he can hand on the business, also a grandson in university who may be a possible addition to the Genser team.
What likely precipitated his start in and allowed for the continuation of Genser's business career in the art field for over 35 years now, was a very deep interest in art by both Joan and David. They are serious collectors of art, with a passion to buy that which they love and that passion has brought them to become owners of a major collection of contemporary art. A recent edition of the Palm Beach Art and Culture Magazine in Florida, where the Gensers have a home, features many pieces in the Genser art collection, now totalling over 350, including over 100 in their Palm Beach home.
David and Joan's desire to continue to grow their collection continues unabated. The story of their immersion in the art world is fascinating. Genser will tell you that it was in Winnipeg where he began his involvement in the arts. He was on the Board of Governors of the Winnipeg Art Gallery and was also involved with MTC, the Royal Winnipeg Ballet and the Junior Committee of the Winnipeg Symphony.
David Genser also continues the Genser family tradition of significant involvement in charitable and organizational work. Whereas his father Percy was busy with the Bombers and MTC, and his grandfather Morris Genser and his uncle Harold were past presidents of the Shaarey Zedek Synagogue, David has devoted a large part of his time and energy to the American Friends of Museums in Israel, which he presently serves as chairman. He is also the chairman of the Palm Beach Opera and is on the Board of Governors of Israel Cancer. Moreover, he is a past member of the Boston Ballet and a past chairman of the American Friends of the Tel Aviv Museum. It is true that David's ancestors had a musical inclination, but David has taken the interest in the arts into art and museums. Still, the theme of giving back to the community is the same. David says that his parents were a great influence on him and he quotes his mother Esther who, right up until her death at 95, reminded David "to keep doing and to keep giving."
David and Joan have two children and five grandchildren, all of whom live in the Boston area. How lucky are they to be so close to family in this day. Even with his family all settled close together and all his time away from Manitoba, David does say he never forgets his Winnipeg links – filled with wonderful memories (not so much the cold winter days of January). And, that made me wonder if any of the Genser art pieces had a scene from Winnipeg in winter. Sure enough, it turns out that for his 70th birthday, Joan gave her husband a small coloured drawing from an acclaimed artist originally from Winnipeg, Marcel Dzama, of a wintery scene featuring Winnipeg. David Genser will never forget his roots.