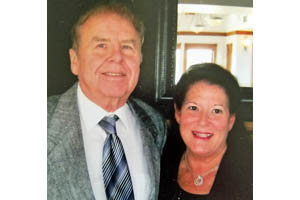 By MYRON LOVE When Rochelle Klasser first met Ian Laing in the early 1970s, she had just begun her career as a registered nurse and he was buying and selling coins to help pay for his university education.  In 1975, after graduation, Ian turned his sideline into a fulltime business and, after a few years nursing, he was joined in business by his bride, Rochelle.  
Today, their Gatewest Coin Ltd. (located at Corydon and Lanark just a couple of blocks east of Kenaston) is the largest coin and bullion dealer in Canada and the couple have also become major players – through their Ian and Rochelle Laing Family Foundation – in our community, in terms of giving back to society.
"I started helping in the business part time while I was still nursing," says the daughter of the late Harvey and Annette Klasser who grew up in West Kildonan and attended evening classes at the Rosh Pina in her youth. "I would tag along when Ian went to trade shows on weekends.  I started cutting back my hours at the hospital and spending more time with our business."
In the 1980s, she went to work full time for Gatewest.  Rochelle helped with the bookkeeping and accounting, skills she learned from her father – who also joined the business.
Rochelle credits Gatewest's success and growth to a combination of Ian's ability to read the markets and good luck.  "Ian is a brilliant strategist," she says. "You have to have good timing when it comes to investing."
In 1979-80, she notes, the price of gold and silver began to go through the roof – and Gatewest's business soared. As Ian points out, the price of gold in 1980 was $80 an ounce.  By 2001, gold was selling for $260 an ounce.  Today, the price is $1,800 an ounce.
"In tough economic times like we are in now, gold and silver hold their value," he says.
The boom times in the industry after 1980 gave Gatewest a solid foundation to build on and, in 2001, Ian was able to buy out the previous largest coin dealer in Canada – a business operating out of Calgary.
"We have customers throughout Canada and the United States as well as some in Europe," Rochelle says.
 "Rochelle and I agree that we have been very fortunate in life and business," Ian observes.  "We felt that it is important to give back."
Thus was born the Ian and Rochelle Laing Family Foundation.  "We target specific causes," Rochelle explains.  "We try to fill in the gaps."
In the Jewish community, Ian notes, the foundation provides a yearly stipend to Gray Academy to assist students with disabilities.
Other areas that the Laings focus on are programs that assist veterans recovering from PTSD, St. Paul's High School – where Ian was a student, and women's groups.
The bulk of the funding however, is directed to animal welfare.  Ian and Rochelle credit the foundation's executive director, Jasmine Allen, for making animal welfare a priority.
(Rochelle and Ian's nieces, Jessica and Mariah, also play integral roles in the foundation.)
"We provide funding for a number of spay and neuter clinics as well as pet rescue shelters throughout the province," Rochelle reports.  "We particularly concentrate on shelters that take in older cats and dogs left behind when families can no longer handle them or the owner dies.  It is difficult to find new homes for pets who may be nine or ten years old as compared to younger animals who are more readily adopted.  They don't deserve to be alone."
The Laings' own cat had been living in a shelter for five years before the couple adopted her.
"Last year was a very good year," Ian reports.  "And this past spring was our busiest ever.  As a result, we were able to contribute more money to our foundation and the Foundation was able to pass on these funds to various charities.
"We look forward to continue to grow our foundation.  And there are all sorts of opportunities where we can give back to the community."
He reveals that one existing program that pairs PTSD sufferers with support animals will be expanded into a local nature program . This program will also offer opportunities for participation for youths with anxieties.
 Readers who may want to donate to the Ian and Rochelle Laing Family Foundation can contact Jasmine Allen at jallen@gatewestcoin.com or phone 204 489-9112.