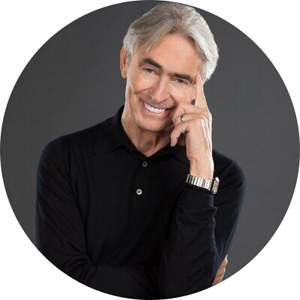 By MARTIN ZEILIG When asked why he decided to write this entertaining and insightful book comedian/director/writer/producer/actor David Steinberg provides a concise and reasonable response.
"Money," Steinberg said in an email response to a series of questions sent to him by this reporter.
He seems to be following, at least in part, the wise words of Samuel Johnson (Dr. Johnson) the 18th century English writer, moralist, critic, editor and lexicographer who famously said, "No man but a blockhead ever wrote except for money."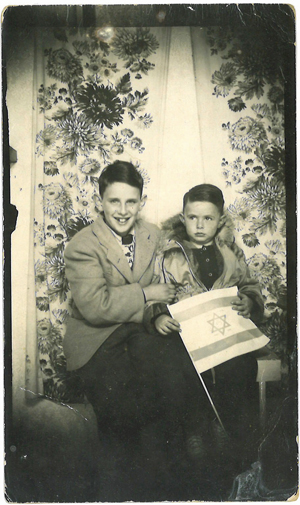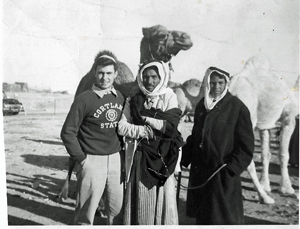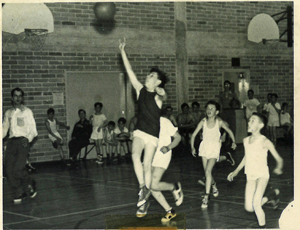 David as a youngster in Winnipeg
Left: David (right) with his older brother Fishy, in 1946
Top right: David in Israel while on a scholarship to the Hebrew University
Bottom right: David playing basketball at the YMHA on Hargrave, 1953
 But, to be fair, there was more to Steinberg's reply: "And I have a lot of memories and information about comedy and comedians I wanted to share."Steinberg grew up in Winnipeg, where he studied theology at yeshiva at the age of fifteen, and went to the University of Chicago, leaving to become a member of Second City, notes his bio.
He appeared on Broadway with Elliot Gould in Jules Feiffer's Little Murders and Carry Me Back to Morningside Heights, directed by Sidney Poitier. During Steinberg's almost three decades as a stand-up comedian, beginning at the Bitter End, he released four comedy albums and received two Grammy nominations. Steinberg has directed many TV shows, among them Seinfeld, Curb Your Enthusiasm, Designing Women, The Bob Newhart Show, and The Golden Girls. He lives in Los Angeles and New York with his wife, Robyn.
This writer has known David "Duddi" Steinberg for decades. His sister, Tammy Lazer, and her (late) husband, Harry, and their two children, Hart and Shelley, lived next door to the Zeilig family in Garden City for a number of years.
I have vivid memories of Hart and me playing football catch on Primrose Crescent with "Uncle Duddi" whenever he used to come visit the family. David drove a blue 1959 Plymouth Valiant.
On at least one occasion, he even visited my parents, Lillian and Morrey, and played his guitar and sang a folk song while sitting on the orange shag carpeted living room floor of our five room blue bungalow.
While watching David on a television comedy special from Hollywood many years later, my mother reminisced about that special time when the young "still undiscovered" Duddi Steinberg had serenaded her.
I recall a standup comedy show Steinberg gave at the Centennial Concert Hall back in the late 1970s. Afterwards, he invited some friends, including my mother, and family members backstage to visit him in his dressing room for a while.
As someone said afterwards, "Fame and success hasn't changed him. Duddi Steinberg is still a real down-to-earth mentsch."
My late brother, Ken, worked as a radio arts correspondent for CBC in London, England for many years back in the 1960s and '70s. I recall him telling me that he and his first wife, Gillian, saw a play in the west end, which had first appeared on Broadway, starring Steinberg.
"The play wasn't memorable," Ken said. "But, David is an engaging actor. He's very good."
Steinberg writes that it took him a few years to write the book—all the stories, reminiscences, tales of directing, performing and related anecdotes and incidents—to get it "where I wanted it."
The list of comedians in the book seems endless, from Sid Caesar and Mel Brooks, to Don Rickles, Lucille Ball, Rodney Dangerfield, Richard Pryor, Robin Williams, Billy Crystal, Lily Tomlin, Ben Stiller, Chris Rock, Martin Short, Steve Martin and so many more.
"We didn't have TV in Winnipeg while I was growing up," the author writes.
"I watched every movie as a kid and listened to every radio show. Radio was so exciting. It was all about your imagination. You were creating pictures in your head from what you were hearing. I always applied that to my stand up. Second City (the Chicago comedy and improvisational troupe) was one of the best things that happened to me early on.
"I learned from seeing Lenny Bruce perform at the Gate of Horn that a comedian could be dapper and still be funny (rare for the time). Lenny was a genius. He was soft-spoken and never pandered to the audience. He was never afraid of being controversial. He was my comedic hero. He was everyone's comedic hero."
He also considers being on The Tonight Show Starring Johnny Carson for over 30 years as a major highlight of his career.
"Johnny asked me to host it when I was 26," Steinberg says. "Looking back, being on that show with Johnny was everything to me. I love comedians and I love my life in comedy. I loved directing all the shows from Bob Newhart to Curb Your Enthusiasm. And I'm so proud of this book."
Yet, in looking back at his long and illustrious career, Steinberg says that "Getting the Order of Canada (presented by former Governor General Her Excellency the Right Honourable Julie Payette) was one of the most important moments in my life. Remember, my father (a rabbi/grocer) and mother were Russian immigrants, with very little. My only regret is that they were not there to see me get one of the highest honors of my beloved country."
Some notable excerpts: "Insecurity combined with arrogance is good DNA for a comedian. So is anger, aggression, and sadness. If you've had a great life and a wonderful bar mitzvah and you've been given a lot of money, you'd make a lousy comedian. You're better off being the comedian's lawyer.
"…I may be the only comedian to have made Elie Wiesel laugh; that I was admired by the great New Yorker writer S.J. (Sid) Perelman, and by Philip Roth, Kenneth Tynan, and Harold Pinter. And that I was virtually adopted by Groucho Marx and many of the legendary old-timers (such as Jack Benny and George Burns) at Hillcrest Country Club. I also directed Burt Reynolds at the height of his considerable fame, before he self-destructed.
"It's a funny thing about comedy: when you give your life to it, it can become a serious business. I spent my life in and outside the comedy world, and it is a world, a universe unto itself.
"But this book is not just about my life in comedy—it's about my life and comedy in the last half century. I lived through a time when stand-up comedy was a poor relation to other forms of entertainment, when being on a successful sitcom was nothing to write home about. But, I think I was one of a group of people—along with Steve Martin, Richard Pryor, George Carlin, and a few others—who pushed stand-up forward as an art form and made comedy an important part of the culture.
"Comedians 'steal' from each other all the time—not material, but ideas. There's no good comedian that hasn't stolen ideas from someone. And you don't really 'steal' material. You do your own version of it. And so that's a bar code. So Shelley Berman on the phone—I guarantee you Nichols and May had their comedic 'on the phone' piece before him. Bob Newhart was on the phone in a way no one else was."
Then, there was the time Steinberg was best man at the wedding of the notorious Mafia kingpin Joey "Crazy Joe" Gallo.
He writes: "Joey Gallo was about forty years old when we met and about as famous in his own high-visibility field as I was in mine."
Caption under a photo— one of many photos— in the book: "I hadn't known Joey Gallo that long, maybe a year or so, but I arrived at Jerry and Marta Orbach's house for a party, and when I got there, I was told that Joey and Sina were getting married right then.When Joey insisted I be his best man, the priest was so excited I froze, surprised and shocked, as you can imagine. (I thought it should have been Jerry, who had known him for many, many years). And here I am right after the 'I do's' with the happy couple. March 1, 1972.
"I remember, as a child, sitting in my neighborhood Winnipeg movie theatre all day, every weekend, watching the same Marx Brothers movies over and over again, and laughing and laughing and laughing, worshipping this great, odd, funny man with the funnier name, Groucho.
"Cut to eighteen years later, meeting my childhood hero, my new friend, Groucho. He could still make me laugh, but this time I could reciprocate the gift of laughter."
David Steinberg's life has, as he admits, been a dream built on laughter.
A legend in his field.
"Inside Comedy: The Soul, Wit, and Bite of Comedy and Comedians of the Last Five Decades"
By David Steinberg
(Knopf 335 pg. $40.00)

Captions for above photos, as supplied by David Steinberg:
Left: "On set with Jordan Peele (left) and Keegan-Michael Key (center). Many years ago, I directed Keegan in the pilot Frangela and subsequently became a big fan of Key & Peele. I was lucky to have Keegan and Jordan on Inside Comedy and to get to know these two amazingly talented people."
Credit: Ty Watkins
Centre: "On the set of Inside Comedy. These are all people I love. They light up a room. Mel Brooks and Tim Conway are always buoyant, Jon Lovitz is so smart and just finished doing a perfect imitation of Woody Allen's moose story, which he said inspired him into comedy. And my good friend Alan Zweibel, who is every comedy writer's matzo brei. (Left to right: Brooks, Lovitz, Zweibel, me, Conway.) "
Credit: © Nicholas Rowan Adams
Right: One of my favorite birthdays with Don Rickles, Marty Short, Bob Newhart, and of course my wife, Robyn, who threw the party at E. Baldi restaurant in Beverly Hills, August 9, 2014."
Credit: Courtesy of the Author

Captions for above photos:
Left: "Sharing a cigar with Groucho, as we always did. He was reluctant to come on as my co-host, but I'm so glad he did; it really meant everything to me, and the audience loved him."
Credit: The Music Scene
Centre: "John Candy and his family lived in my guesthouse in Los Angeles for a year while we were writing and shooting the cult classic Going Berserk, circa 1982. John wrote most of the script on a napkin. That should tell you something. That was the whole script."
Credit: Courtesy of the Author
Right: "This is Kong (short for "King Kong"). Kong was my monologue go-to. Sometimes I would talk about current events, and I also would do a Dietrich-like rendition of "Falling in Love Again." One of the many places Kong and I went was on The David Steinberg Show, the CBS summer replacement for The Carol Burnett Show, 1972."
Credit: Courtesy of the Author