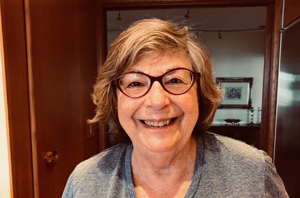 By GERRY POSNER Many readers will recognize the name Simkin – well known in Winnipeg and beyond. It was not always thus, but from a small beginning, both the family and the business grew and grew. The Simkin story – and the original family business, BACM, reflect four brothers sharing the load initially, then ultimately selling the business. Much of that story has been written about in previous publications. But the generation that followed the four Simkin brothers continued the Simkin legacy in many ways.
One of the members of that second generation is Jacqueline (known by all around her as Jackie) Simkin. Jackie inherited and absorbed those entrepreneurial skills installed in her by her father, Saul Simkin. As well, Jackie was also well educated in another aspect of the Simkin saga: philanthropy.
Jackie, the eldest daughter of Saul and Claribel (Katz), was, and I suggest still remains, a product of the north end – at least in her heart if not physically. She began her life on Scotia Street by the Red River and she presently is close to water even now – just a bit of a larger body: Miami Beach's Biscayne Bay.
Jackie formed solid friendships with classmates from Peretz Shul, Luxton School, and St. John's Tech and those good friends then are still good friends now. They include: Toby Morantz, Jack London (also now his wife, Belva), RubIn Todres (also now his wife, Elaine) Arlene Kussin Shecter and Shelley Tessler Robertson. Jackie's career includes obtaining a law degree from the University of Manitoba followed by a masters degree from King's College in London, England.
Subsequently Jackie moved to Vancouver, where she was called to the BC Bar. In 1971, Jackie travelled to the Far East, ultimately ending up in Israel – where she had her eyes set on living. Claribel and Saul bought her an apartment in Netanya and she settled into life in Israel quite happily. Jackie was called to the bar in Israel, where she practiced as a lawyer. Although not much of a drinker, Jackie lays claim to membership in at least three bars: BC's, Israel's and the Canadian Bar Association.  
Saul and his brothers, Abe, Jimmy and Blackie, went into property development in Palm Springs in the 1970s and, as a result, Saul asked Jackie to move to California to help complete what became known as the Cathedral Canyon Country Club, one of the very first of that kind of condominium developments, which has since mushroomed into a major industry. Anyone who has been to Palm Springs and neighbouring cities will know of what I write. Not long thereafter, she was once again asked to assist in a new project: Nine Island, a 274 unit building in Florida. Now with all that the Simkins had done, no one had ever done a high rise and, as Jackie admits,"I had to learn on the job."
Once that building was up and running, Jackie became connected to two people who became trusted business partners: Philip Frost and Michael Weintraub. Independent of the Simkin family, Jackie went into the banking business with them. Jackie has remained in Miami since her move there and she ie very well ensconced in life in Florida. Among her many titles (far too many to list here) is her role as President of Simkin Management Inc.
The breadth and depth of Jackie Simkin's professional and business experience is broad and extensive. She has been on a number of public company boards as a director, including two in the financial services industry. She has also served on the board of directors of a medical company, Continucare, for 10 years. Moreover, she has been a director of a language service corporation and of a food manufacturing corporation.
In short, Jackie has devoted much time and effort in a multitude of diverse areas, although arguably her most significant contributions have been in the banking and manufacturing fields. The bottom line is that Jackie's life as a lawyer, investor, board member and real estate developer, has given her life experiences that many of us could not even dream about. And yet, through it all, Jackie Simkin remains the same vivacious and warm person she was when she was growing up on Scotia.
Possibly the most satisfying part of Jackie's life has been her involvement in philanthropic activities and organizations, both in Winnipeg and in Florida. Count her as a key player in the American Friends of Tel Aviv University, the Miami Jewish Federation, Temple Emanuel of Greater Miami, Advisory Council of the Department of Neurology at the University of Miami, not to forgot her role as a member of the Board of Directors of the Jewish Foundation of Manitoba USA. You can say Jackie Simkin is the definition of "involvement".
Still, when it is all said and done, what makes Jackie Simkin tick is that she was and still is connected to the cadre of friends I mentioned earlier. That group has now been enlarged to include many visiting Winnipeggers to Florida in the winters. To this day Jackie remains dear friends with so many Winnipeggers and former Winnipeggers who winter in Florida, including: Moishe and Maxine Kaufman, Anita Neville, David Solomon, Toby Morantz, Roxy and Martin Freedman, Jack and Belva London, Rubin and Elaine Todres, Arlene Kussin Shecter, David and Holly Dreman, the late Martin Brotman and his wife Farron, Sam and Wendy Wilder, Ron and Elie Rosenblat, Leonard and Dana Greenberg, Mel and Karyn Lazreck, the late Avi Arenson, z"l and Sarah, Steven and Candace Freed…her neighbour both from Winnipeg and now in Florida – Yale Lerner, and his wife Carol, and, of course, her cousins Sheila Portnoy and husband Norm, Mickey and Roz Rosenberg, also Jerry Cohen and wife Susan. Jackie delights to spend time with Winnipeggers, whether in Winnipeg or Florida. Yet, if you ask Jackie, she'll say about her life, "I am a lucky fish."