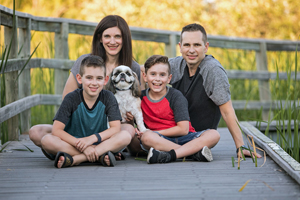 By MYRON LOVE With incidents of Anti-Semitism growing worldwide, Candice Tenenbein is exhorting fellow Jewish Winnipeggers – and non-Jewish supporters – to step up their efforts to combat this unhinged scourge of Jew and Israel hatred.
"Antisemitism is the most virulent and oldest form of hate, and today often appears as anti-Zionism," she says.
"Speak out. Share accurate information on social media. Have discussions with friends. Write letters to the editors. Phone or email your elected officials and ask to know where they stand. It just takes a few minutes but, if enough of us take action, we could have a significant impact."
The other side of the coin, she notes, is to promote all the good that Israel does for people around the world from sending emergency response teams to help after natural disasters to providing world-leading technology to help people in developing countries to improve agricultural output, better care for their environments, have access to clean drinking water and improve healthcare.
"As a local Jewish community," she adds, "we also need to explain how diverse our members are – we come from many countries (from Latin America, to Europe, to Israel, to Turkey, Iraq, Morocco and beyond) and we have members who are LGBTQ+ and BIPOC. Many of our community members are doing good in our own backyard. Newcomers, and Jews born and raised in Winnipeg, have contributed to the fabric of our society for a long time. We need to showcase these efforts for all Winnipegers to see that we are not the evil tropes that we are portrayed to be on social media."
In her call for action, Tenenbein is leading by example. The 2017 recipient of the Harry Silverberg Young Leader of Distinction Award has played a prominent role within our Jewish community pretty much since she moved back here in 2003 after a short time living in Toronto.
Tenenbein credits her mother, the late Cheryl Arnold, for infusing her with a strong sense of Jewishness, community and Zionism. "Despite being a working single parent with three children, my mother was a member of Hadassah and National Council of Jewish Women, helped out at Ramah (where Tenenbein and her siblings went to elementary school) and was active at the Herzlia Synagogue.
Tenenbein herself was a member of BBYO in high school (Grant Park) and Hillel at university. "I used to study at the Hillel office and attended all of the Jewish programs that I could," she recalls. While in university Tenenbein served as a student member of the University Senate. She then volunteered and worked for a Member of Parliament in both Winnipeg and on Parliament Hill in Ottawa.
After graduating from law school (at the University of Manitoba), she moved to Toronto to article at Davies, Ward, Phillips & Vineberg LLP. "I wanted to prove to myself that I could hold my own with University of Toronto graduates," she says. "Despite it having the nickname 'Slavies', I loved the law firm I was working at. But I also wanted to get involved in the Toronto Jewish community and found that the community was not very welcoming. And I missed my family. So I made the decision to move home.
"Winnipeg is a wonderful place and people are a lot friendlier."
Upon her return, Tenenbein wanted to focus her volunteer efforts in a manner that combined her interests of advocacy, politics and Judaism. She reached out to David Kroft in 2004. Upon his suggestion, she immediately became involved with the Jewish Federation of Winnipeg as a member of the JFW's Public Affairs and Advocacy Committee (PAAC) and hasn't looked back.
Professionally, she notes that she practiced law here at Tapper Cuddy LLP for less than two years. "Again, I loved my firm but I really did not like the business side of practicing law. I had also met my husband, Marshall, and he was in medical school. Between his studies and my schedule as a lawyer, we found it hard to make the time to build a relationship."
When the opportunity to work at the University of Manitoba arose, she happily accepted the position as its government relations associate. After her first child, Jacob, was born, she chose to leave the workforce to become a full-time mom. But Tenenbein continued with her volunteer efforts. In fact, in addition to PAAC, she served a term as a member of the Federation's Board of Directors in December 2011 shortly after her second son, Ethan, was born. In December 2018, she became co-chair of PAAC and a Federation executive committee member.
"When I was first asked to chair the committee (PAAC), I had a number of family commitments that prevented me from taking on the position," she says. A year later when asked again, she agreed to come on, but initially in a co-chair fashion. "Laurelle Harris agreed to remain as co-chair with me. She was amazing."
After a year, Harris stepped down, leaving Tenenbein in charge.
So what is PAAC's mandate? "We reach out to media and elected officials at all levels of Canadian government regarding domestic and foreign-policy issues affecting Israel and the local Jewish community," Tenenbein responds. "We are active Israeli advocates and fight antisemitism. We work to encourage people to become lay advocates in speaking for Israel and against antisemitism.
"We also provide community relations and outreach, working to build bridges with other ethnic minority and religious communities," she adds, citing, for example, the Christian Zionist Bridges for Peace and the Indigenous communities.
In addition to her work with the PAAC, Tenenbein also served for three years as chair of PJ Library Winnipeg and recently ended a seven-year term as a member of the Women's Endowment Committee at the Jewish Foundation of Manitoba. She is currently a member of the Board of the Jewish National Fund of Canada, Manitoba and Saskatchewan division and is the Chair of the Winnipeg Chavurah Chapter of the Canadian Jewish Political Affairs Committee.
And she and Marshall are determined to inculcate in their sons the same strong sense of connection to the Jewish people that they feel. Jacob and Ethan are going into Grades 7 and 5 respectively at Gray Academy in September. This summer the boys are attending Rady Camp at the Rady JCC and Jacob is currently at BB Camp in Kenora.
"It is important to us that our sons are proud to be Jewish and feel connected to our community. We love that Gray Academy provides our children with a religious education while also teaching them to become strong advocates through its Israel education and debating programs. Unfortunately in today's world, these skills will be important and necessary assets when our boys reach university where antisemitic culture is prevalent." Tenenbein says.
As to visiting Israel, although she was one of the participants on the first Birthright trip to Israel in 2000, she regretfully has not yet been able to return.
"Going on Birthright was life-changing," she says. "I would not have gotten on my return flight had it not been for my family here."
She says that she is hoping one day to organize and go on a community-run Federation or JNF family mission. "We could go on our own," she comments, "but we believe that a JNF or Federation tour would be more meaningful.
"Once it's built, I would really like to see the Beit KKL-JNF Canada House (which is being partially funded by monies raised at the most recent JNF Gala honouring Dr. Ted Lyons).
"Canada House," she explains, "will serve as an after-school education, empowerment, and enrichment centre for high school students from Sderot and its surroundings. The students will be provided with the necessary tools and skills for scholastic and personal success in an engaging learning hub and an inviting, yet fortified, "second home" atmosphere. It is a phenomenal project that might work in Winnipeg for at-risk youth, too."