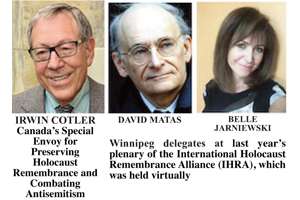 By SIMONE COHEN SCOTT Late last year I was asked by The Jerusalem Report to interview the Hon. Irwin Cotler, upon his appointment by Prime Minister Trudeau as Special Envoy for Preserving Holocaust Remembrance and Combating Antisemitism. His responsibilities will cover domestic and international antisemitism, and Holocaust education at every level.
His first assignment was to head the Canadian Delegation to the plenary of the International Holocaust Remembrance Alliance, or IHRA, (pronounced eera). The meeting, hosted in Leipzig, Germany, was already in progress, but being virtual it was easy to jump in, except for the time difference. Until that assignment, the plethora of acronyms signifying organizations studying antisemitism and Holocaust had formed a sort of alphabet soup in my head. Ever since, like with a word you've just looked up, I notice references to IHRA all over the place, especially in connection with its definition of antisemitism. This is causing a lot of consternation among even more groups, with and without acronyms.
More about that later; first I'd like to focus on the two Winnipeg delegates at the plenary. When I spoke to Prof. Cotler, the meeting had just wound up, and when he learned I was from Winnipeg he mentioned how impressed he had been with Belle Jarniewski and David Matas. I made up my mind right then to pitch this article idea to Bernie; I believed it would be interesting to learn through these members of our community, what IHRA, the plenary, the definition, and the work, is all about.
David Matas, senior legal counsel at Bnai B'brith Canada, was one of the Canadian delegates at the original meeting in Stockholm in 2000, which drafted the founding document (Stockholm Declaration) that became IHRA. He attended again in 2007, 2008, 2018 and every year since. This recent plenary ran from November 24th to December 3rd, which meant attending a couple of weeks of meetings at 5:30 am Winnipeg time, 12:30 pm Leipzig time. Cotler joined the second week, from Montreal. Meeting electronically with the Canadian delegates was his first task as special envoy.
Belle Jarniewski, Executive Director of the Jewish Heritage Centre of Western Canada, was part of the national group bringing Canada into the International Task Force for Cooperation on Holocaust Education, Remembrance and Research, (which evolved to become IHRA). When Canada became the 27th member of IHRA, (on June 24th, 2009, according to the Canada and the IHRA websites), she became a member of that delegation.
When a country joins IHRA, among other criteria, it must establish a Holocaust Memorial Day, and commit to Holocaust education at a senior political level. Its archives for the years 1933-1950 must be open for research, allowing academic, educational, and public access to the examination of those years of the country's history. IHRA currently has 34 Members, one Liaison country, seven Observer Countries and eight Permanent International Partners, studying the latest developments in the field of Holocaust education, remembrance and research. According to IHRA's own report on the plenary, there were 250 delegates at the meeting.
I asked Jarniewski how she saw IHRA differing from all those other organizations (the alphabet soup). She explained "…IHRA is the only intergovernmental organization mandated to focus solely on Holocaust-related issues, bringing together government representatives as well as experts. In addition to the definitions on antisemitism, Holocaust denial and distortion, and anti-Roma discrimination, the IHRA's academic research publications have contributed greatly to the field of Holocaust Studies. IHRA's pedagogical experts continue to develop detailed resources in order to help educators keep abreast of the latest best practices in education on the Holocaust and antisemitism. IHRA also supports and helps fund projects and conferences in the fields of Holocaust remembrance, research, and education. This in turn provides guidance to policy-makers, educators, civil society, and researchers."
Part of Cotler's mandate in his new position will be to address Holocaust denial and distortion, together with enhancing the adoption and implementation of the IHRA definition. Anyone who has experienced antisemitism, even in a mild form, recognizes it and doesn't need a definition, but so that scholarly folk can study and deal with it empirically, and so it can be applied in a practical sense, a working definition is necessary. The definition was first developed in 2005 by the European Union Monitoring Centre. After careful study and adaptation it was adopted by IHRA in 2016.
It consists of two parts. The first part reads as follows: "Antisemitism is a certain perception of Jews, which may be expressed as hatred toward Jews. Rhetorical and manifestations of antisemitism are directed toward Jewish or non-Jewish individuals and/or their property, toward Jewish community institutions and religious facilities."
The second part, accompanying the statement and forming an integral part of it, are 11 indicators of antisemitism. In total, the definition is meant to be a working tool, not legally binding, and it is gradually being adopted by governments, parliaments and communities at all levels, in efforts to combat this oldest hatred which irrationally metastasizes wherever it infects.
Recently in the JP&N, Jarniewski wrote an effective rebuttal to a complaint someone had sent the newspaper regarding some of the definition's examples, which he said made it inconvenient for him to express certain of his ideas. In her rebuttal she stated… "The definition must be adopted holus bolus along with the examples"…a stipulation that she says has been "….repeated over and over again by the IHRA." Here are the 11 examples, as stated on IHRA's website:
—Calling for, aiding, or justifying the killing or harming of Jews in the name of a radical ideology or an extremist view of religion.
—Making mendacious, dehumanizing, demonizing, or stereotypical allegations about Jews as such or the power of Jews as collective — such as, especially but not exclusively, the myth about a world Jewish conspiracy or of Jews controlling the media, economy, government or other societal institutions.
—Accusing Jews as a people of being responsible for real or imagined wrongdoing committed by a single Jewish person or group, or even for acts committed by non-Jews.
—Denying the fact, scope, mechanisms (e.g. gas chambers) or intentionality, of the genocide of the Jewish people at the hands of National Socialist Germany and its supporters and accomplices during World War II (the Holocaust).
—Accusing the Jews as a people, or Israel as a state, of inventing or exaggerating the Holocaust.
—Accusing Jewish citizens of being more loyal to Israel, or to the alleged priorities of Jews worldwide, than to the interests of their own nations.
—Denying the Jewish people their right to self-determination, e.g., by claiming that the existence of a State of Israel is a racist endeavor.
—Applying double standards by requiring of Israel a behaviour not expected or demanded of any other democratic nation.
—Using the symbols and images associated with classic antisemitism (e.g., claims of Jews killing Jesus or blood libel) to characterize Israel or Israelis.
—Drawing comparisons of contemporary Israeli policy to that of the Nazis.
-Holding Jews collectively responsible for actions of the state of Israel.
There they are! Taken together with the earlier section, they define antisemitism. It must have been an emotionally wrenching exercise, putting this list together.
In November 2019, Matas presented a paper entitled "The IHRA definition of antisemitism: criticisms and responses" for a seminar at the Kantor Centre on Contemporary Antisemitism, wherein he methodically set out the extent of official acceptance of the definition, criticism of that acceptance, and proposed responses to the critics. In it he urges member states of the European Union to encourages its members that have not done so yet to "…endorse the non legally binding working definition of antisemitism employed by the IHRA, as a useful guidance tool in education and training, including for law enforcement authorities in their efforts to identify and investigate antisemitic attacks efficiently and effectively."
Several EU members have indeed done so, and in fact the EU has recently put out a handbook for practical use of the IHRA working definition. I further asked Matas if the United Nations had endorsed the definition. He referred me to the remarks in November 2020 of Miguel Moratinos, High Representative for the United Nations Alliance of Civilizations: "I plan to work on having an agreement on a definition of anti-Semitism within the UN, based on the IHRA definition which constitutes a basis to start from." (I suppose it would be too much to ask that he incorporate the part about Israel?)
According to Matas, any organization can accept the definition of antisemitism. He told me that Bnai B'rith is proactive in getting organizations to endorse the effort, but any association can introduce discussion and begin the procedure…. sports organizations, service clubs like Kiwanis and Rotary, Police Departments, Community Clubs, synagogues, community newspapers. Jarniewski pointed out municipalities in Quebec and Ontario that have endorsed the IHRA definition include: Westmount; Cote Saint-Luc; Aurora; Newmarket; Markham; and Richmond Hill.
Notably, one of the accomplishments of the plenary this year has been the definition of "anti-Roma". Between 250,000 and 500,000 Roma perished in the Holocaust, out of a pre-war population of between 1 and 1.5 million. As special delegate Cotler never tires of pointing out "…while it begins with the Jews it doesn't end with Jews, and antisemitism is the bloodied canary in the mineshaft of global evil today." I asked if there were Roma delegates to IHRA and Jarniewski told me there were, including in the Canadian delegation.