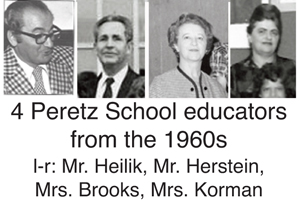 By KINZEY POSEN It was a late Friday afternoon at Peretz Shul in 1964 or so. A good friend of mine at the time whose Yiddish name was Moishe said, "That's it! I'm not coming back to school on Monday, I'm out of here!" Ok, as an 11 year old, he might have said it in a slightly different way. It was the first day of school in September and we were just about to go home. "Sure you are Moishe, I'm sure you'll be back on Monday," I told him.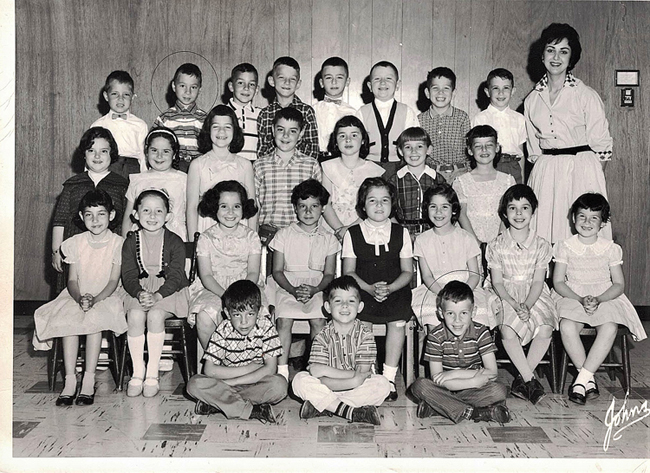 Kinzey's Grade 1 Peretz School class circa 1960
(Thanks to Sandy Shefrin for helping with identifying almost everyone; comments supplied by Kinzey)
Bottom Row crosslegged, left to right: Arthur Greenspan, unidentified, Matthew Levin (a.ka. Moishe in the story)
Second Row (l-r): Paula Wolfman, Rosa Scyzgiel, Shirley Starek, Myra Miller, Faye Golubchuk, Ruthie Rosenzweig,, Honey Leah Berman, Marcie Fleisher
Third Row (l-r): Diane McKay, Lucy Baumel, Janice Goldberg, Howard Kaplan, Sandy Shefrin, Heather Wallace, Pammy Zimmer (Kinzey's wife, Shayla Fink's first cousin, a beautiful person (alev hasholem)
Top row (l-r): Sidney Lieber, Martin (Kinzey) Posen, Sheldon Weidman, Harvey Zahn, Harvey Koffman (my first cousin) , Sidney Shoib, Morris Glimcher, Shawn Zell, Miss (Claire) Nelko (who is now Claire Breslaw)
Come Monday, true to his word, my friend did not come back. He had entered an alternate dimension it seemed; he was finished with Peretz Shul! Unheard of! Impossible! How did he do it? Moishe's act of sedition was a reaction to the Yiddish teacher we had been blessed with that year and he was done. All of us in the class were in awe and Moishe, no worse for wear, having left the school, went on to become a respected ambassador for Canada's Foreign Service.
A little while back, Bernie asked me to write about Peretz Shul from a different perspective: My own, as a student. I have often wondered why this institution. for those of us who went there, lives so large in our memories. Full disclosure: My grandmother Katya Posen Z'l, nee Gurarie, was one of the founders of Peretz Shul and a lifelong member of the Muter Farein – the women's organization that helped establish the kindergarten and supported the school.
My father, Abe Posen, attended the school as did his sister, my aunt, Goldie Zuidema Z"l. My dad often told me stories of how various teachers at Peretz used to rent one of the rooms in their house on Burrows. To put it mildly, our family was steeped in Peretzness.
My era began in 1957 when I attended nursery school and then, kindergarten. To this day, I can still smell the matches when our teacher lit the Shabbat candles on Friday and we laid out our little mats to have a nap on. Being a socialist school for the most part, you would think Shabbat would not have been part of the school experience, but I have so many great reminiscences of those two years from making little coloured paper rings several metres long, to receiving the right colour star if we behaved. I loved getting those silver and gold ones alongside my name on the wall – wonderful, warm memories.
Our principal in those early days was Chaver Herstein – an imposing man with a wonderful head of hair and a bit of a temper. We called all our teachers by either "chaver" or "chaverteh" which, in this context, translated to "comrade". We also called them Leher or Leheren – teacher in Yiddish. Our school was located at 601 Aikins, between Inkster and Polson Avenues. How do I remember the address? Early on as soon as we could write, we always wrote the address at the top of the left corner of the sheet of paper. Now, the building is a health community centre. Once we entered Grade One, our days were separated into half day Yiddish and half day English classes.
Grade One for me – and I am sure for my classmates, was a truly seminal experience. Pushed out of the warm bosom of kindergarten, Grade One meant getting down to serious work. Reading, see Dick run, see Jane run, see Dick and Jane run, writing, singing and my own personal challenge………arithmetic. Our Yiddish teacher, Miss Nelko, was the most beautiful woman who genuinely cared about her students. We loved her and she laid the groundwork for us learning Yiddish and how to be little menches and menchettes. Many years later, Shayla and I received a call about playing a wedding for an older couple. They came over to our house one evening and as we planned the event, it occurred to me that I knew who this woman was: My beloved Miss Nelko, some 40 years later. What a reunion it was!
Our English teacher, on the other hand, had a different style of teaching that could be best described, as adversarial. I renamed her Tyrannosaurus Rex and the invisible scars are still with me. Her approach to learning arithmetic was to say the least, extremely challenging. I was one of those kids who learned math in a different way and in those days, kids such as myself fell through the cracks and we fell deeply. All I remember is after a short explanation of one plus one equals two, etc., we all had to stand up by the blackboard as T Rex wrote a problem on the board. We could not sit down unless we put our hands up and answered correctly. Guess who was often the last kid standing? Me, of course, and I eventually memorized it all so I could finally sit down.
Another time, T Rex distributed to each of us a sheet of paper for some writing project. She gave me what we called at the time "grade one" paper. It's where the lines were printed with one bold line and two lighter lines and then another bold line. It also had big wood chips in it. I noticed that she was also giving out what we called "grade two" paper. These were all symmetrical bold lines and I wanted one. When she finished giving them out, she asked if everyone received one and me, being me, said, "I didn't." My six-year-old brain conveniently forgot that my desk was in the front row and I had scrunched up the grade one paper into a ball and cleverly thought she wouldn't see it in the wood support for the desk.
As I put my hand up and told her I didn't get one, she approached my desk in a threatening way, reached into the desk support and said, "What is this?" I was fully chastised, and T Rex bellowed, "You will only get grade one paper for the rest of the year."
The reality was, in those days, especially in the context of a parochial school, you sometimes had people teaching who were not trained and did not have the skills to do the job. Not only that, more than a few were survivors of the Holocaust and we eventually learned that they experienced terrible horrors in the camps and ghettos.
That being said, I had several wonderful teachers, whose voices to this day still reverberate in my head and I often reflect about their ability to connect and elevate the students.
Mrs. Gold, Mrs. Brooks and Pascal Fishman were some of them. Chaver Fishman came to us from Buenos Aires and was one of our Yiddish teachers. He had a great capacity to see potential in students and encourage them. Another of our teachers, Mrs. Wallace, taught us English and her daughter was in our class for years. The family wasn't Jewish, but Heather my classmate, spoke Yiddish like a pro. I remember one of our later Yiddish teachers, Mrs. Korman, taught us "Zol Nit Keynmol" the Warsaw Ghetto Song, and led us in a procession to St. John's Park in the spring, while we sang that song and others.
The year at Peretz Schul was highlighted by two major events. The annual essay contest in Yiddish and English, and the graduation, which took place towards the end of June. For each of those occasions, the auditorium would be absolutely packed and very hot. As students, we often escaped outside to cool off in the lane and we could hear what was going on by the open side doors.
The cultural offerings at Peretz were in my opinion, outstanding. We were taught so many great songs, we acted in plays and we created art. Jewish holidays were celebrated with a Yiddishe taam (Yiddish flavour). Since my Hebrew name was Mordechai/Motel, I always got the part of Mordechai in the Purim play. The music component was delivered by Chaver Bronstein or Mr. Brownstone as he was known at Talmud Torah. His classes were always held in the auditorium, where he'd stand by his easel flipping the song sheets written in Yiddish and we'd follow the words as he used his pointer. Contrary to the Talmud Torah choir experience, he never gave us names or hit us. After he retired, Mrs. Udow took over and when I hoped to join the choir, she said, "Modechai, your voice is changing, perhaps another time."
After the principal Chaver Herstein retired, Mr. Heilik who was previously at the Calgary Peretz Shul became our new principal. He was an interesting man and because of my 'occasional' naughty behaviour, I got to know him a little better than most students. He was an artist. His medium was oil painting and I remember, on one occasion, we were taken out of our class and brought to the auditorium. When we arrived, we saw that all four walls had been covered with his paintings. There were dozens of them. It was a full-blown exhibition of his work.
I bring this up because I became the class artist at Peretz and my teachers often 'commissioned' me to draw and colour huge murals in the hallway of the school. This gave me the opportunity to get out of class. Chaver Heilik would always come out of his office to check out my work. My artistry was far below his level, but he was always encouraging and interested in what I was doing.
In my day, we all graduated from Grade Seven and you had the choice of continuing in what was called Mittel Shul. These classes were held after 4 o'clock, after you finished English school. No one in my class went to Mittel Shul and we felt sorry for those who did as they arrived at four, just as we were leaving.
For me, and I'm sure others, the experience of attending Peretz Shul, wasn't truly appreciated until after we graduated. The real world out there wasn't as warm and friendly as it was at 601 Aikins. I do know that the school gave me the education that my Baba and other founders were hoping to achieve: an ability to speak Yiddish, a love for the language, Jewish history known as Yiddishe geshicteh and above all, an appreciation for the Jewish people and our incredibly rich journey. I also had my Peretz Shul family, the 12 or so students in my class that I spent 35 hours a week with for nine years. We all take something different away from the experience, but I can guarantee you, many of us, including my friend Moishe the ambassador, will always carry Peretz Shul memories with us for the rest of our lives.
Post script: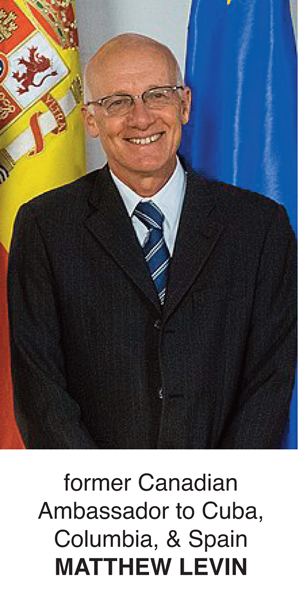 Ed. note: It didn't take me too long to figure out who the "Moishe" was to whom Kinzey refers in his article. I was actually friends myself with "Moishe", although I knew him better as Matthew Levin.
Matthew was always very independent-minded – even as a kid. That being said, he went on to an illustrious career in Canada's diplomatic service. Among other posts he held, he was Canada's Ambassador to Columbia, Cuba, and most recently Spain.
It was while he was Ambassador to Cuba that Matthew, along with his wife, Rosealba, played an instrumental role in helping Cuban Jews emigrate to Israel (since Israel and Cuba did not have diplomatic relations).
When I read Kinzey's story I decided to send it to Matthew – before I outed him as the "Moishe" in the story. Matthew was pleasantly surprised to see that Kinzey mentioned him in a story and even further that he referred to him as "Moishe".
In my email to Matthew I mentioned that the last time I had attempted to contact him was when Stephen Harper was Prime Minister and Matthew was Canada's Ambassador to Cuba. At the time, some low level functionaries in what is known as Global Affairs Canada interceded and said that I would not be able to communicate directly with Matthew. Instead, I was told, I could submit any questions that I had to Global Affairs, they would vet them (no doubt looking for anything that might potentially embarrass the government, such as asking about Matthew's boyhood years in Winnipeg).
So, when I reached out to Matthew – again, this time after reading Kinzey's piece, I said that I didn't know whether he would even receive my email since I suspected "apparatchiks" in the government would see it first – and probably attempt to prevent me from communicating with him directly – again.
I was surprised then, to receive a very warm response from Matthew – in which he explained that he is no longer under the supervision of government "apparatchiks".
Here's what Matthew Levin wrote to me, in part:
Wonderful to hear from you! I'm so glad you made the effort to reach out.
I finished my posting to Spain a couple of months ago and am now back in Ottawa and transitioning to retirement. So no more apparatchiks.
First of all, I hope you're well and coping successfully with these strange times.
Your lovely message brings back all sorts of very fond memories. It's a long time since anyone called me Moishe (often shortened to Moish back then). I never saw most of my Peretz Shul classmates after I left the school, as Kinzey recalls, at the start of Grade 5 (a long story). Kinzey was one of the very few I did see occasionally, including a few times when he was playing with Finjan. But most of the others I completely lost touch with. Now I sometimes wonder what has become of many of them. It's really heartwarming to think that Kinzey (Martin at the time and I believe he was Mordechai in Yiddish, or maybe Mendel) remembered me as he was writing this story. Since you and I and our group of friends never called each other by our Yiddish names I'm surprised, but delighted, that you thought of me when you saw this reference to a Moishe.
Thanks so much for sending along Kinzey's story. I'm sending you this reply before having read it, because I didn't want to delay getting back to you, but I'll certainly read it with great interest and undoubtedly pleasure. I really feel honoured and delighted to be included. If you're in touch with Kinzey, please thank him and give him a big hug – virtual of course for now – from me.