Einstein's Smile: A Tale of Two Pictures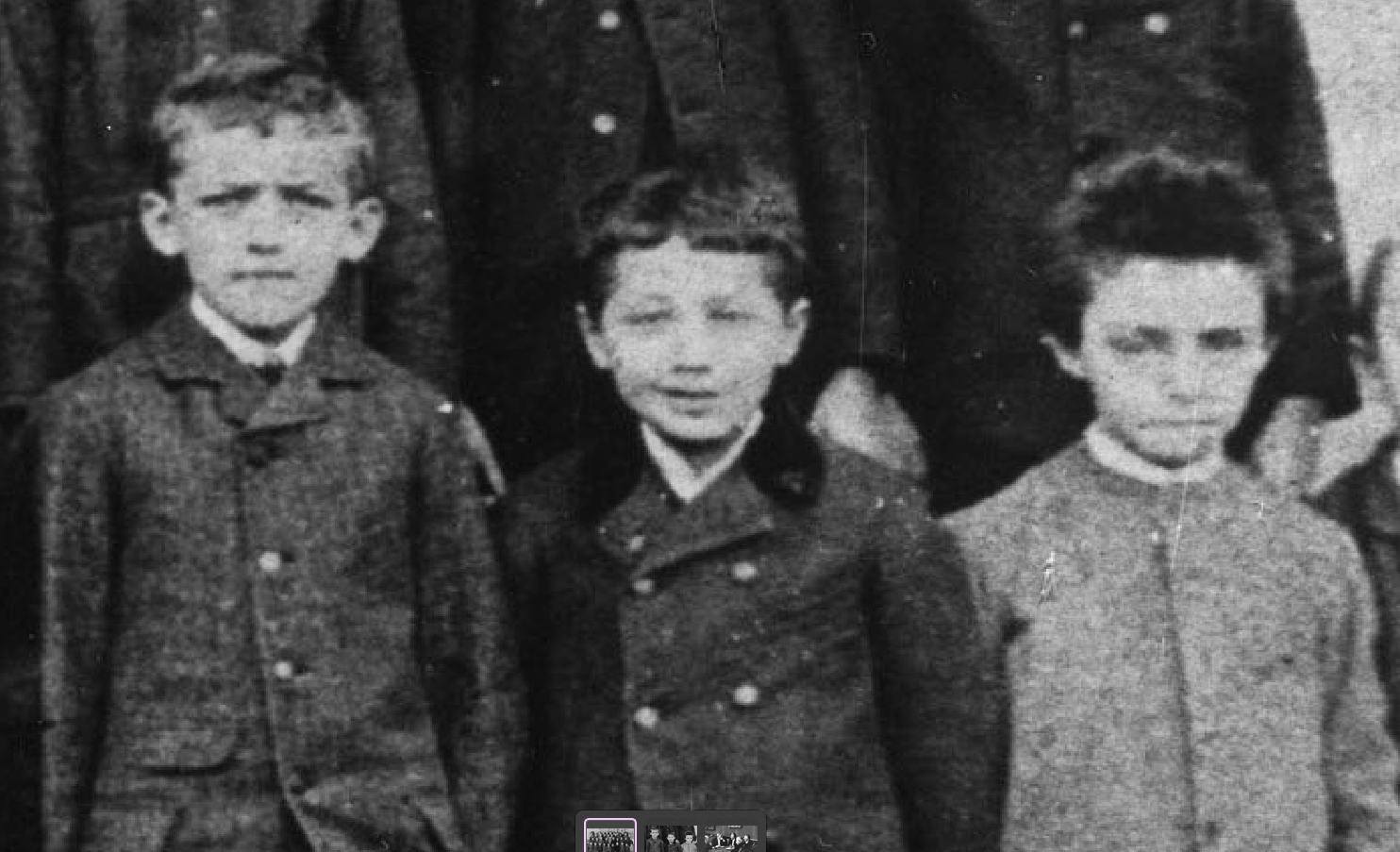 By DAVID TOPPER In my previous story in the Jewish Post & News, "Einstein & Johanna: A True Tale of Tragic Comedy,'' I began by saying that I first heard the name "Einstein" when I was around the age of 10.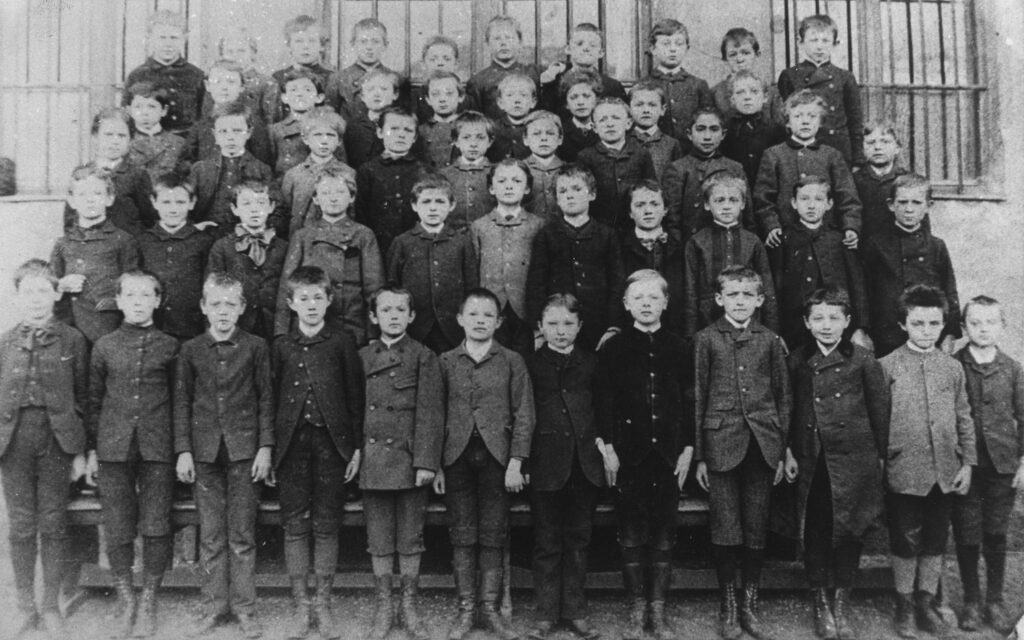 So let me begin this story when Albert himself was about that same age, and he had his class photo taken on the steps of his school. This picture is one of the earliest pictures we have of him – and it's one of my favourites. It shows his all-boys class of 52 students lined-up in five rows. Einstein is in the front row, the third from the right, and clearly one of the smallest in the group.
The unique and utterly fascinating thing about this picture is this simple fact: all the other boys are looking grimly at the camera, while little Albert is the only one with a smile on his face. Look closely: all 51 others, with hands at their sides, appear stern, anxious, intimidated, sulky, or scared; Einstein, with hands behind his back, has a cute, little, slightly impish smirk on his face – unquestionably, a look that any parent would love. Just compare the detailed picture of him with the boys to his immediate sides : the contrast, indeed, is at once stunning and amusing.
Right here, in this astounding image (a mere class photo) is the visual manifestation of the laid-back contrarian that he would become throughout his life. In this one picture, knowing what I know about him, his whole life almost flashes forward before me. So, here, I wish to share a piece of this story with you.
As reported by those who knew him, Einstein was modest and unpretentious, without an iota of conceit or arrogance, treating all people in the same manner, independently of class or rank. He spoke the same way to a president as to a janitor. He also had a hearty laugh, with a child-like twinkle in his eye. OK, all this may be a bit of an exaggeration (sounding more like Santa Claus), but variations of these traits are persistently repeated among those who knew him and reminisce about his personality. He really was a down-to-earth guy. For example, he refused to travel first-class. Even when sent first-class tickets, he sat in third-class, driving the fastidious ticket-takers crazy.
I have a second picture to talk about. But before that, I want to see what else there is about his life that I can read into his class picture. What do we know about his early life that might help us? Best to begin at birth.
Albert Einstein (1879-1955) was born in a small town (Ulm) on the Danube River in south-western Germany to unobservant Jewish parents. Although the town today boasts of his birth, he was still an infant when the family moved to Munich, where he spent his formative years. His mother, Pauline, had a deep commitment to music, and she tried to instill that affection in her young son by forcing violin lessons on him. A love of music eventually sunk into his psyche around his transition to the teenage years, and Albert carried that commitment throughout his life. He exhibited his love of music by packing his violin on trips. Serious music, to him, was confined to the works of the "classical" period of what is called classical music, especially that of Mozart and Haydn, although he would happily dip back into the Baroque and J. S. Bach.
His father, Hermann, was a businessman who could have made a lot of money at the time because he was in the electrical business (motors and dynamos, for example), which was to the late-19th century what computer high-tech paraphernalia was to the late-20th century. But, just as the "dot.com" boom and bust resulted in some winners and many losers, most who made the effort in the electrical business did not achieve success. Hermann's business went bust.
Albert's sister, Marie (called Maja), was born when he was age two, and she was his only sibling. Maja, in a short memoir written in the early-1920s, is a crucial source of information about her brother's childhood; this is important because there are many myths circulating through the media and beyond about Einstein's youth. Today, many special interest groups wish to embrace Einstein as the poster boy for their various causes. Nonetheless, Einstein was not a slow learner, a vegetarian, left-handed, nor any of a range of idiosyncrasies that you will find in special-group websites on the Internet testifying that Einstein was one-of-them. Although his parents tutored him for his first year of school, he also was not "home schooled," for he continued through the German school system until the age of 15, when he dropped out before graduating in his final year. Yes, Einstein was a high-school dropout, but I must confess that I have not yet come across a website of "High-School Dropouts" claiming Einstein as one-of-them.
Contrary to another myth, Maja reports that her brother was not a slow learner but was "a precocious young man" who had a "remarkable power of concentration," such that he could "lose himself…completely in a problem." Later, for Einstein the scientist, this youthful behavior was clearly repeated – like a leitmotif, throughout his scientific life.
It's true that Albert detested the rigidity of the German way of teaching, but he still got good grades. Yet, he did not hide his feelings about the oppressive atmosphere of the classroom, so that one teacher went so far as to tell Albert's parents that their son set a poor example for the other students by his overt hostility. This may cast some light on the special smile on his face in our photo, for it surely reveals the contrarian attitude on social mores that he displayed throughout his life. One obvious example: think of his lack of decorum in the grooming of his hair, which began in the 1930s.
An example of nonconformity of a different kind took place in his pre-teen years when he became extremely religious and admonished his anti-religious parents for not following the rules of Orthodox Judaism. This personal obsession lasted for a few years, to the consternation of Hermann and Pauline, only to disappear right before he would have been Bar Mitzvah. (It never happened.) In his very brief autobiography, written in 1947, he says that the reason for this quick change was his discovery of science and math, and for him the accompanying realization that the Bible was untrue. The result was an intellectual and emotional transformation. He viewed the religious outlook as subjective and solipsistic, whereas the scientific viewpoint was a route to objectivity and a liberation from what he called "the merely personal" – or subjectivity. He put it this way: "Beyond the self there is the vast world, which exists independently of human beings, and that stands before us like a great, eternal riddle, at least partially accessible to our inspection and thinking." This statement acted as a maxim for his scientific endeavours to the end of his life.
But this is not the full story of his transformation: he added a socio-political element that is rather startling and remarkable for someone around age 12 or 13. He said he came to realize that "youth is intentionally being deceived by the state through lies" and that therefore a "mistrust of every kind of authority grew out of this experience." These are profound and troubling views for someone at an age where most boys are more obsessed with sports and girls. Does this give us a hint at a deeper meaning of the smile in Photo 1? Maybe not, he was but 9 or 10 when the picture was taken. Nevertheless, it does give us a sense of continuity from here to the unconventional citizen we know later in life.
As we continue to pursue the question of the roots of his maverick ways, we find two episodes of interest at age 15 or 16. Both were triggered by the collapse of his father's business, and the need for the family to move from Munich to the town of Pavia in northern Italy just south of Milan, where his father's brother had a more successful business. Since Albert was in his last year of high school, he was placed in a boarding house in Munich while his parents and sister went on to Italy without him. Alone and feeling abandoned, he sank into a deep depression and had to leave school. But he had the wherewithal to obtain a letter from his math teacher saying that he completed that part of the curriculum. This was the first episode.
The other episode, however, might not have seemed very level-headed at the time. After crossing the German border, he applied to the government to renounce his German citizenship, making him a stateless person thereafter. Some scholars believe that in order to trigger such a desperate act, something almost elemental about German society had deeply troubled Einstein. We know he had major misgivings about the militaristic features of German society as expressed in the educational system. Or was it a reaction to his father's loss of his livelihood, and the need to leave the country? His sister, Maja, however, had a simple answer: he was avoiding being drafted into the military.
Accordingly, as a high school dropout, Albert arrived at his parents' residence in Italy, much to their surprise and surely their chagrin. We have no documentation about the inevitable confrontation between him and his parents, but we can be sure that there was a dispute around the question of what he was going to do with the rest of his life. We, of course, know the answer, in the long run. But even in the short run, there was some hope.
Let's return to that letter in Albert's pocket when he left Munich, and back up a few years to the non-Bar Mitzvah around age 12 or 13. The unperformed religious transformative rite was replaced by a different revelation – as mentioned, he developed a zeal for science and in particular the logical rigor of mathematical reasoning. Specifically, he was given a primer on geometry, and he devoured it – even trying to prove some theorems before he read the proofs in the book. The logical way that mathematical reasoning produced eternal proofs had a deep psychological impact on this young man, so much so that even when writing his autobiography around the age of 68, he referred to this early textbook as the "holy geometry book." How revealing this metaphor is: especially when we realize that he was reading Euclid, instead of Torah, the original "holy" book. He went on to teach himself calculus and other higher mathematics, so that by the time he dropped out of school, he was well-grounded in the mathematics required for graduation and beyond. Hence, the letter in his pocket, mentioned above.
Albert's father had plans for his son to be an engineer. This is no surprise, since he was in the electrical business, which he (correctly) believed was the wave of the future. In particular, he wanted his son to enroll in the Swiss Polytechnic Institute in Zürich, one of the best schools in Europe. As luck (fate?) would have it, a completed high school diploma was not necessarily required for enrollment in the Poly; instead, there were a series of rigorous exams administered by the Institute. It seems that the letter from the math teacher was a factor in placing him in the special category.
So, in the fall of 1895 he took the entrance exams – but flunked them. There was, however, a silver lining to this incident. He did so well on the science and math parts (no shock here) that the Institute's director recommended that he spend a year doing some remedial studying. After all, he was applying to the Institute a year or two early for his age, since the regular age of admission was about 18 years old.
Einstein spent the next year at the Kanton Schule in the town of Aarau, just west of Zürich. The curriculum was based on the ideas of the great Swiss educator, J. H. Pestalozzi, who (among other things) emphasized using visual materials as well as written texts as educational tools, and especially stressed direct student-teacher interaction. For Einstein, it was a delightful and memorable year: he enjoyed learning in a formal setting for the first time in his life.
Indeed, it was sometime during that year of motivated learning that he came up with what would be his first great experiment in his head, what we call a "thought experiment." This idea involved moving in space at the speed of light; essentially it was based on this question: What would the world look like if we rode on a beam of light? Perhaps the Pestalozzi emphasis on visualizing played a role here? Listen to the following remark about the school in Aarau that Einstein wrote 60 years later: "It made an unforgettable impression on me, thanks to its liberal spirit and the simple earnestness of the teachers who based themselves on no external authority."
Ah ha, "no external authority": such progressive and open-minded thinking was guaranteed to have an impact on Einstein who, as quoted, believed that "youth is intentionally being deceived by the state through lies" and that therefore a "mistrust of every kind of authority grew out of this experience." This Swiss Kanton Schule was obviously nothing like the German schooling he had previously experienced. No wonder he graduated in the fall of 1896 with good grades.
The year at Aarau proved fruitful. Einstein's admittance to the Swiss Polytechnic was based on his grades at Aarau, and although his father wanted him to study to become an engineer, he enrolled in physics and mathematics – and we know where it went from there.
One more thing about the Aarau year. There is a class photo of that small graduating class of 10 students. It's not reproduced here, for no one is smiling. They all look relaxed, but serious too as they ponder their future. Einstein may be a bit more relaxed than the others, and he may be staring off into space much further than his fellow students – but I hesitate in reading anything more into it. Nonetheless, I do know this: once, when reminiscing about that key year in his life, he said that, while the other students at Aarau filled their spare-time by swigging copious quantities of beer, he drank from a different trough – diligently reading The Critique of Pure Reason, by Immanuel Kant. And that surely was nothing to smile about. (Incidentally, Einstein was a teetotaller all his life.)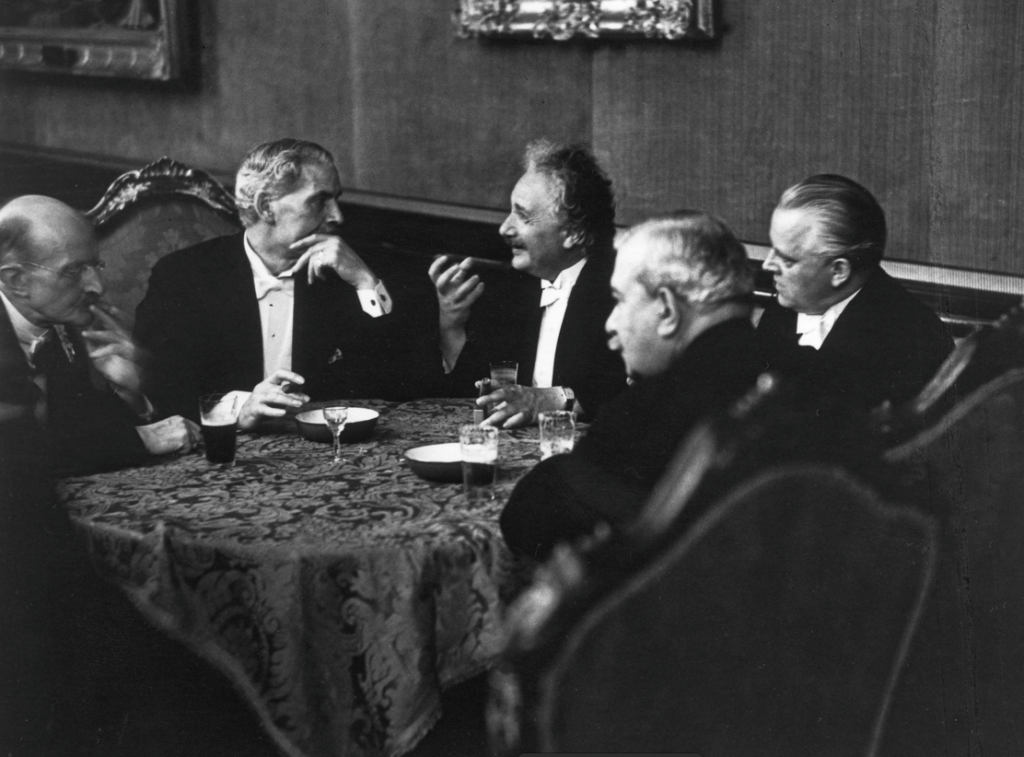 My key argument here is essentially about the role of pictures and what we can (or cannot) read into them. And this brings me to Photo 2 from 1931, over four decades later. Here Einstein, now the celebrity, is at a reception in the German Chancellery in Berlin. From the left they are: Max Planck (the famous physicist), Ramsay MacDonald (British Prime Minister), Einstein, Hermann Schmitz (on Einstein's immediate left), and Hermann Dietrich (German Finance Minister).
I have no idea why these five men were seated together or what they were talking about. There are several extant pictures of this table-talk scene, which were taken by the pioneering photojournalist, Erich Salomon. I have chosen this one because it captures an animated Einstein speaking to the British Prime Minister. Notice the gesture with his cupped right-hand. It is a captivating image clearly displaying Einstein's alert and smiling face, all in stark contrast to the serious, stern, and solemn visages of the other four. "Come on, guys – lighten up!" – I want to say with Einstein. Or, put differently: what's there not to like about this Einstein fellow trying to cheer-up a much too formal table? Is it not clear why I am juxtaposing this 1931 picture with the smiling boy in school? And so, it seems that a story that began with a smile appears to end with a smile.
But not so fast.
The second picture is from 1931, and two years later Hitler will control the country. Serious looking Hermann Schmitz was from I.G. Farben, the chemical company that would become notorious for its role in developing Zyklon B used in the gas chambers in the Extermination Camps, and for this Herr Schmitz spent time in prison after World War II for Nazi war crimes.
Planck's son, Erwin – who was also present at this formal affair but is not in this picture – was later executed by the Nazis as part of the plot to assassinate Hitler on July 20, 1944.
And then there's the photographer Erich Salomon (b.1886). He died in 1944 in Auschwitz, which was supplied with chemicals from I.G. Farben.
The result is that Photo 2 is deeply laden with painful meaning, and I can never again see this picture with that initial innocence I had the first time I smiled along with Einstein as he made a point to the British Prime Minister. Such is the nature of images and the interaction and interdependence of our eyes and minds. To use an analogy: pictures are as much read they are as seen. And so, knowing what we know about Photo 2, there is nothing
Longtime best friends bring exciting way to celebrate special events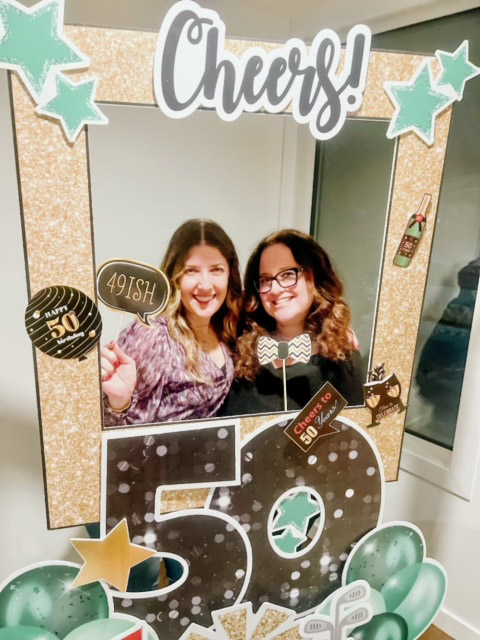 For years, best friends Shannon Golding and Susie Freedman Tapper had talked about going into business together. Almost three years ago, it finally happened.
The impetus behind Bling My Lawn was a combination of the Covid lockdowns and the 16th birthday of Freedman Tapper's daughter, Maddy, in February, 2021.
"My husband, Jason, and I wanted to do something special for Maddy's birthday," Freedman Tapper recalls. "At that time, people were only able to organize drive-by parades and honk. I looked into lawn signs but I didn't see anything out there that I liked."
So the former film production manager went online and discovered that "yard cards" are a big and growing industry in the United States but was still in its infancy in Canada. "I found one or two such businesses listed for Toronto, Vancouver and Calgary – but nothing in Winnipeg," she notes.
Inspired by what she saw online and with a background in graphic design, Freedman Tapper was able to create a unique display to make her daughter's birthday one that she would never forget. Golding shared it on social media and it was a huge hit.
"Susie called me late one night (in December 2020)," Golding recalls. "We were looking for a business that we could start together – a business which we could do from home which would allow us maximum flexibility.
(Golding has two children – Aaron, 10, and Ethan, 6, while Freedman Tapper has two daughters – Emily, who is 16, along with Maddy, now 18.)
A business partnership is a natural evolution for the two friends who, over the past 30-plus years, have shared many life experiences together: high school, university, being roommates in their first apartments in both Winnipeg and London, England, moving to Toronto together and both returning to Winnipeg (although several years apart) to raise their families.
They met in Grade 9 when the daughter of Bob and Shirley Freedman was enrolled at Joseph Wolinsky Collegiate and the daughter of the late Richard and Anne Tramer was attending Jefferson Junior High School in Garden City.
"I was in the Hebrew program at Jefferson," Golding recounts. "Susie and I met through a mutual friend at Joseph Wolinsky."
Golding has spent much of her working career working within the Jewish community. She notes that in Toronto she was the Director of Membership for Holy Blossom Temple for ten years. Before moving to Toronto, she worked in programming at the Rady Centre and when she and her husband, David, moved back here from London (where David is from) in 2012, she continued working for the Rady Centre on special projects.
Freedman Tapper and her husband moved back here 20 years ago. Much of her working career has been in film production both in Toronto and Winnipeg, where she has worked for Frantic Films and Ian Dimerman's Inferno Pictures. She also served for a time with Manitoba Film and Music, promoting our province's film and music industries.
The partners started Bling My Lawn by promoting their new service on social media – Facebook and Instagram – and by word of mouth. "After a few months, we had so many orders that it was hard to keep up," Golding says.
To help out, the partners have been hiring some university students.
Bling My Lawn offers a choice of eye-catching packages consisting of numbers and letters in black, gold and other colours. Golding and Freedman Tapper also provide balloons, cakes, capcakes, stars and hearts in a rainbow of colours and a choice of themes.
While the duo started Bling during the pandemic – thereby restricting their service to outdoor signage, they also now create indoor sign displays for parties and fundraisers – a new division they call "Bling My Bash." The expansion has led Freedman Tapper and Golding to change their business name to simply "Bling," which encompasses both Bling My Lawn and Bling My Bash.
"We do bar and bat mitzvahs, birthdays, weddings, graduations, retirements – any celebratory occasions," Freedman Tapper points out.
Golding adds that the pair have expanded their offerings to include centerpieces for bar/bat mitzvahs and weddings, signing boards, personalized presentation boxes for gifts and cards as well as logo and graphic design.
"Coming up, we are looking forward to doing an amazing bar mitzvah where we will be introducing our new styling service," she adds.
"Bling is here to bring the bling to your celebration," the partners note on their webpage. "Indoor or outdoor displays add that extra sparkle and wow factor to any party, event, drive-by, special occasion or… just because! From birthdays to babies, anniversaries to graduations and everything in between, they've got your bling."
Yvonne Singer, a Toronto artist who was saved by Wallenberg as an infant, is still on a voyage of self-discovery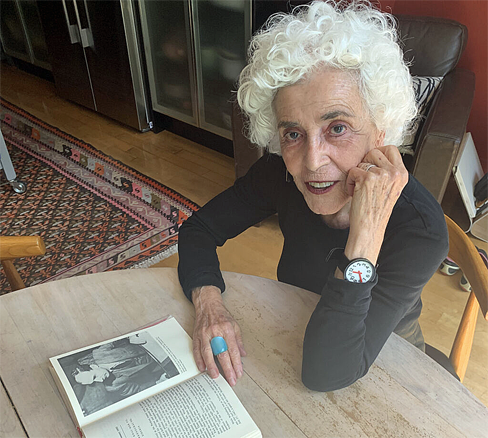 By RON CSILLAG
As an artist herself, Yvonne Singer can well appreciate the esthetic merits of the open-air monument to Swedish Second World War hero Raoul Wallenberg that was unveiled over the summer at Churchill Park in Hamilton, Ont.
Though she had not, as of this writing, personally viewed the installation, dubbed "Be:longings," Singer spoke admiringly of the 10 bronze-cast suitcases dispersed along a gravel path adjacent to the Hamilton aviary. She knows Simon Frank, one of the project's three creators, and is aware that suitcases have been a potent symbol of the Holocaust.
"I like the fact that the suitcases are scattered," Singer, a well-established visual artist and teacher in Toronto, said in an interview over lemon tea in her sun-drenched kitchen. "I think the imagery and symbolism are very effective in conveying the idea of displacement and emigration." The old-timey valises evoke not just Wallenberg, Singer noted, but all victims and survivors of that terror-stricken era.
The outdoor project is also "minimal, which I like. I don't like public sculptures that scream at you or are clichéd."
Singer connects to the installation on a whole other level. The 78-year-old resident of Toronto's Cabbagetown neighbourhood is Wallenberg's goddaughter. She was born on his bed.
It's a Hollywood-worthy tale that evolved over time, in a series of eye-popping twists, turns and coincidences—all amid Singer's own personal voyage of self-discovery.
The backstory is its own blockbuster: The non-Jewish scion of a wealthy Swedish industrial and banking family, Wallenberg, then just 32, was recruited by the U.S. War Refugee Board and dispatched to Budapest to assist and rescue as many Jews in the Nazi-occupied Hungarian capital as possible. He arrived in July 1944, just as the Nazis had shipped some 440,000 Jews from the countryside to Auschwitz. They now set their sights on the Jews of Budapest.
Accorded diplomatic status, Wallenberg famously set off on a frenetic pace. He designed, printed and distributed thousands of the famous "Schutzpass"—an official-looking document that placed the holder under the protection of the neutral Swedish Crown. He also scoured the city for buildings to rent, finding 32, and crammed in as many souls as possible. The "safe houses" flew the yellow-and-blue Swedish flag and were declared protected by diplomatic immunity.
Known for his bluster and bravado, his greatest coup came when he persuaded Nazi commanders to call off the liquidation of Budapest's Jewish ghetto, with its 70,000 inhabitants. The number of Jews Wallenberg is said to have rescued peaks at 100,000. In any event, he is credited with saving more Jewish lives during the war than any single government.
By January 1945, the Red Army was laying siege to Budapest, and Wallenberg was taken into custody, supposedly on suspicion of being a U.S. spy. He promptly vanished into the gulag. A Soviet report in 1956 stated he had died in July 1947 of a heart attack in Moscow's notorious Lubyanka prison, but supposed eyewitness sightings and stories of contact with him from former inmates continued well into the 1970s.
In 2012, the diaries of a former head of the KGB, discovered in the walls of his Moscow home, stated there was "no doubt" that Wallenberg was "liquidated" in 1947.
But back to Singer.
On the night of Nov. 3, 1944, a desperate Tibor Vandor, who worked for Wallenberg as a courier and liaison to the underground, needed help for his wife, Agnes. She was in labour and had been turned away from Budapest's hospitals, which barred Jews. Wallenberg allowed the couple to use his own room, while he slept in the corridor.
The next morning, he was called in to see a newborn girl. Asked by the grateful parents to name her, Wallenberg chose Nina Maria Ava (Nina was his half-sister's name, Maria his mother's). The couple changed the first name to Yvonne, and Wallenberg agreed to be the child's godfather.
Singer knew nothing of this until she was 34 years old.
It was October 1979 when she read an article, reprinted from a U.S. newspaper, in the Toronto Star about Wallenberg's plight. The story included a reference to Singer's unusual birth taken from a Hungarian book on the Swedish hero written after the war. The baby with the Toronto connection, the parents, the godfather—were all there, mentioned by name.
When she read the piece, "I burst out crying," she told the Star after contacting the paper. Her story spilled forth a week later in a large Saturday Star article headlined "Swedish hero saved my life: Metro woman."
Singer is still struck by "the incredible coincidence of it all. Here I am in Toronto in 1979, reading the paper… it boggles the mind. I could have easily gone through life not knowing the story. Suddenly, I had a connection to this man, who sounds like he was fascinating."
Her parents had not told her the story. And there was another missing piece of the puzzle: their Jewishness.
At war's end, the Vandors went to Switzerland and Holland before settling in Montreal in 1949, where the parents shed their Jewish identities, doubtless seeking to forget. Tibor Vandor even became an elder in the United Church.
"I always pressed them for more information, and they always refused," even following the revelations in the Toronto Star, Singer recalled. "They told me very, very little." Her parents never revealed being Jews. Their silence encompassed "anything to do with the war. They were just not forthcoming."
Singer graduated from McGill University and went on to teach English and French at local high schools. She converted to Judaism to marry her husband, Ron Singer, a theatre director and educator, in 1966. A few years later, a cousin in England recalled being a flower-girl at Yvonne's parents' wedding, which she said took place in a synagogue. The parents denied it but their daughter believed it.
Singer's feelings of alienation as an immigrant child would evaporate on discovering that she had been born Jewish, whether the knowledge came from a cousin or the Toronto Star. "I felt like I'd come home, part of a history that goes back thousands of years. I no longer felt rootless."
The Singers moved to Toronto in 1971, where Yvonne later began a prolific art career in various media and teaching visual arts at York University. Raising three daughters and a busy life meant there was little time to get involved in the Wallenberg file (though she was pleased when he became Canada's first Honorary Citizen in 1985 and when Canada Post issued a stamp commemorating Wallenberg a decade ago).
It's little surprise that Singer's art has explored themes of identity, history and memory. The outsider status she felt in her early life "is what made me think about ways of expressing that, either through language or visual imagery. So you go to what you know when you're an artist."
In 2016, the Swedish government declared Wallenberg officially dead, but to Singer, that offered no finality. "From what I learned, the Swedish government is not exempt from blame for trying to get Wallenberg out. I cannot reconcile the fact that [Wallenberg's family] could not exert any kind of leverage over the Russians to find out what happened to him."
In Judaism, being a godparent carries little or no religious obligation. Singer considers the godfather connection to Wallenberg an honour, "but I'm also very sad that I never met him. I think he would have been a fascinating person to talk to. The story is just very, very tragic."
The grandmother of nine sighed. Over the decades, the story for her was obviously very personal, "and I was still processing it. Maybe I'm still processing it, for a long, long time."
A version of this article originally appeared in the Hamilton Jewish News. It is reprinted with the author's permission.
 Booze, Glorious Booze! Bill Wolchock and Prohibition in Manitoba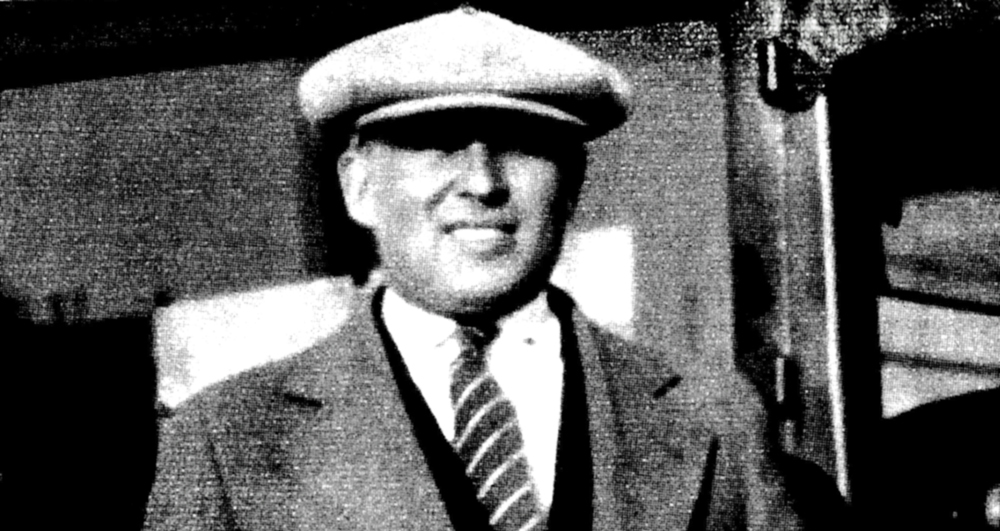 Ed. introduction: Two issues back, I began what turned into an unexpectedly amusing dive into a part of our Jewish community's history that is endlessly fascinating to me when I wrote about a book that will be published next month titled "Jukebox Empire: The Mob and the Dark Side of the Amerian Dream."
That book is about someone by the name of Wilf Rabin, who was originally Wilf Rabinovitch. Rabin was born in Morden, but moved to Chicago as a young man. Eventually he became involved in the juke box business – a business which was ripe from the outset for exploitation by criminals, especially the Mafia, as juke boxes spun out huge amounts of cash that were never reported to tax authorities.
In the course of writi­ng my article about that book, I mentioned several other Jewish characters who preferred to make their money illegally. I also referred to someone whose name was spelled "Bill Wolchuk" in a book about Winnipeg's North End, but I made the mistake of saying "Wolchuk" wasn't Jewish.
Boy, did that unleash a torrent of corrections from readers, including three letters that were printed in our last (August 30) issue. It was made quite clear to me that Bill "Wolchock" was very much Jewish – and that he was practically a legend in this town.
Then I received a phone call from reader Arnold Rice, who told me that he had in his possession an article from a December 2, 2002 Winnipeg Free Press about Bill Wolchock. Arnold offered to loan me the article, but I declined, saying I could probably find the article on the Winnipeg Pubic Library digital archives.
That I did – and when I scanned the article, which was written by a former Free Press writer by the name of Bill Redekop, I thought to myself: Here's the perfect article for our Rosh Hashanah issue: It's much too long to ever fit into any other issue – and the theme will likely resonate with many of our readers who might consider atoning for their sons on Yom Kippur.
In any event, I was able to get in touch with Bill Redekop and I obtained his permission to reprint the article in full (for a fee, of course). It turns out the article forms a chapter in a book written by Redekop in 2002, titled "Crimes of the Century – Manitoba's Most Notorious True Crimes."
I told Redekop that I was actually able to find the book on Amazon – much to his amazement, but that it was also available at several branches of the Winnipeg Public Library. Now, it wasn't easy transcribing that chapter of Redekop's book, but I thought it might prove delightful reading for many of our readers.
So, here goes: The story of Manitoba's greatest bootlegger – Bill Wolchock – someone whose success was on a par with that other great Jewish bootlegging family: the Bronfmans. (Wolchock, however, liked bootlegging so much that he turned down the opportunity to go straight, unlike the Bronfmans. Can you just imagine how much the Combined Jewish Appeal could have benefitted from a "straight" Bill Wolchock? And what of all the buildings that would have been named after him – and honours he would have received from our Jewish community, if he had only decided to emulate the Bronfmans?)
A pair of employees talking on the floor of the CNR shops in Transcona sounds like an unlikely launch to the biggest bootleg operation in Manitoba history.
It was the early 1920s under Prohibition. Leonard Wolchock, 74 son of bootlegger, Bill Wolchock, tells the story.
"Sonny (nickname), a CNR boilermaker one day came up to my dad, who was a machinist with the railway and asked if he could make a part for him. "What's it for?" my dad asked. "It's for a still," Sonny said. Sonny was making stills for farmers out in the country. My dad said, "Sonny, you want to make a still? I'll make you a still and we're not going to fool around!"
What began as a still to make a little booze for themselves and friends during Canada's Prohibition certain soon turned into something much bigger. The two CNR workers realized there was an insatiable thirst for their product. "I don't think dad planned to be in the business for a long time. It was just going good," said Leonard.
"Before you know it, my dad was making big booze. He could knock out almost 1000 gallons a day. He wasn't one of these Mickey Mouse guys making 10 gallons like in the country, like in Libau and all these places. And as time went by, he became very big."
Sonny and Wolchock parted ways when Wolchock quit the railway to work full-time at alcohol production, but other partners came on side. Every one of them was the same: blue collar men like Wolchock who made a living with their hands.
During Prohibition in the 1920s, Bill Wolchock ran the biggest bootlegging business in Manitoba. He was producing tens of thousands of gallons of 65% overproof alcohol – 94% pure alcohol.
Later, after his business took off, Wolchock shipped almost exclusively to the United States and mostly to gangsters. He stored illegal in farmers' barns from the village of Reston in southwestern Manitoba to the village of Tolstoi in southeastern Manitoba. He stored illegal booze in a coal yard that used to be on Osborne Street in Winnipeg; in a large automobile service station in St. Boniface;. and in a St. Boniface lumberyard. He stored booze in a Pritchard Avenue horse barn. Those are just some of the known locations.
At the height of the Great Depression, Leonard estimates his father employed as many as 50 people who would not have been able to put food on the table otherwise. "They all had families, they all had houses, they all could put groceries on the table, thanks to the illegal business," said Leonard.
Crooks or entrepreneurs?
Wolchock's story has euded historians all these years. When Wolchock was finally caught and sentenced to five years in prison for income tax evasion, the Second World War was on, and his case didn't get the publicity it might have otherwise. Besides, the Prohibition era had been over for more than a decade and was old news. Wolchock hadn't gone straight like the whiskey-making Bronfman family, but had continued to bootleg long after Prohibition had ended.
Leonard Wolchock told the story of his father and a gang of North End bootleggers for the first time for this book. The story was checked against news clippings from the period.
Wolchock owned at least two large stills in Winnipeg. A huge four-story still operation in a building that was in the 1000 block on Logan Avenue, just east of McPhillips Street, that produced up to 400 gallons a day; and a huge still in a building that used to be on Tache Avenue, about 300 meters west of the Provencher Bridge on the river side. He also had smaller stills, often in rural locations and owned portable stills. He moved around from barn to barn outside Winnipeg to elude police.
Wolchock never considered what he was doing wrong, said his son. He thought the governments were wrong. People were going to find a way to drink one way or another.
"My father was a manufacturer. He was filling a niche market. I'm not ashamed of anything he did," said Leonard.
Even the police chief who lived just five doors down from the Wolchock home at 409 Boyd Avenue would drop in regularly for a friendly drink. The fire commissioner, who lived one street over on College Avenue and three houses down, was another thirsty visitor. Granted, Wolchock ran a little import liquor businesses as a front, which was legal at the time, but Leonard has little doubt the authorities knew what his father's main source of income was.
"The chief of police knew what my father was doing, and the fire chief was over at our place all the time!" said Leonard.
When the RCMP finally moved in on his father for income tax evasion, it was a measure of the respect for Wolchock that he was never arrested. Police called his dad with the news, said Leonard. "The police chief phoned up and said, 'Bill, I want you to come down.' They never sent anyone to get him."
Booze, glorious booze! Was it more glamorous in Prohibition when it was illegal, or was the illegal liquor trade more harmful by turning otherwise law abiding men into criminals? Was illegal liquor more dangerous to your health (alcohol poisoning), and did concealed drink drinking lead to more serious drinking problems?
While both Canada and the United States brought in Prohibition, there was a great gulf in how Prohibition played out in the two countries. Like a typical Canadian TV drama, Prohibition was more shouting than shooting in Canada. In the United States, it was more shooting. Much more.
Corpses in the gangster booze wars in the US were rarely found with just one or two bullets in them, but four, five, eight. Gangsters adopted the submachine gun invented by John Thompson in the 1920s, variously dubbed the Tommy Gun, Chopper Gat, and Chicago Typewriter. Frank Gusenberg took 22 bullets in the famous St. Valentine's Day Massacre in Chicago, when Al Capone's men disguised as police officers lined up seven of George "Bugs" Moran's men against a warehouse wall and opened fire. One creative reporter at the time wrote the machine guns "belched death."
These two news stories from a single September day in 1930 on the front page of the Manitoba Free Press are typical:
Detroit, Michigan: "An unidentified man was killed tonight by two assassins, armed with sawed-off shotguns who stepped out of an automobile, fired four charges into the body of their victim and escaped in the auto. It was the third gang killing of the week here.
Elizabeth, New Jersey: "Twelve gunmen waited in ambush within Sunrise Brewery here today, disarming a raiding party of seven dry agents and shot and killed one of the invaders." One federal agent was found shot eight times. "The gangsters, who apparently had been forewarned of the raid, than escaped."
There are likely several reasons why Canada didn't go the gangster route. One, there were more loopholes in Canadian law to get liquor if you wanted. For example, you could get a prescription for "medical" brandy. Two, we have never been as gun-happy as the Americans. And three, our Prohibition didn't last as long. Prohibition in the U.S. ran from 1920-1933. In Manitoba, Prohibition started in 1916 and ended in 1923.
While Canada didn't have the gang wars like down south, it did become the feeder system, the exporter, the good neighbour and free trader to the U.S. for liquor. Our Prohibition was winding down just as American Prohibition was getting started in 1920. How fortuitous for an enterprising bootlegger! Manitobans could legally buy liquor from the government and run it across the border into the hands of thirsty Americans.
And being neighbourly, we did. One of the major gateways was the Turtle Mountains in southwestern Manitoba. Booze poured through the hills, said James Ritchie, archivist with the Boissevain and Morton Regional Library.
"A longstanding tradition of smuggling through the Turtle Mountains already existed before Prohibition. People had already been smuggling things across for 50 years or more, so alcohol was just more item of trade," Richie said.
Minot, North Dakota, of all places, was a gangster haven and was dubbed "Little Chicago" back then. A railway town, it served it as a distribution hub for liquor coming in from Manitoba and Saskatchewan.
The 65-kilometer border of Turtle Mountain Hills is carved with trails every few kilometers so there was no way a border patrol could close down the rum running, said Richie. Many of the trails were simply road allowances where a road hadn't got built. "If you tried to cross anywhere near Emerson, where it's so flat, the custom guard could see your car coming from 10 miles away. You can't do that in the Turtles. The custom guard can't see you from 500 feet away," said Ritchie.
Many a poor southwestern Manitoba farm family augmented their income with a little rumrunning. They could buy a dozen bottles every two weeks, the government-set allotment for personal use, and sell it for profit just a few miles away. "Prohibition created an economic opportunity for a lot of families," said Ritchie.
But it was small trade compared to what the Bronfmans would do. Ezekiel and Mindel Bronfman arrived in Brandon in the late 1800s. The 1901 Canada Census lists them as residents of Brandon, along with their children, including Harry and Sam. It was after the Bronfmans had moved to Saskatchewan that they began selling whiskey to the United States in the 1920s. They exported whiskey by the boxcar-load. They later moved to Brandon briefly, where they continued the rumrunning before finally setting up in Montreal.
Meanwhile, Winnipeg was the bacchanalia of the West prior to Prohibition, as the late popular history writer James H Gray, liked to say. By 1882, Winnipeg had 86 hotels, most of which had had saloons. It also had five breweries, 24 wine and liquor stores (15 of which were on Main Street), and 64 grocery stores selling whiskey. The population was just 16,000.
When government turned off the tap, Manitobans went underground. Private stills sprang up everywhere. Ukrainian farmers were famous for their stills and acted as engineering consultants for the rest of the community. The Ukrainians seemed to have an inborn talent for erecting the contraptions, and some stills made the old country potato whiskey. In Ukrainian settlements like Vida, Sundown, and Tolstoi someone's child was always assigned the task of changing the pail from under the spigot that caught the slow dripping distilled whiskey.
Even Winnipeg Mayor Ralph Webb, who had an artificial leg and was manager of the Marlborough Hotel, campaigned for more liberal liquor laws. Webb wanted to attract tourism by promoting Winnipeg as "the city of snowballs and highballs."
The United States was interested in the Canadian experiment with Prohibition and summoned Francis William Russell, president of the Moderation League of Manitoba, a group that opposed Prohibition, to a U.S. Senate committee in Washington in 1926. Russell said Prohibition simply resulted in the proliferation of stills in Manitoba.
Arrests for illegal stills rose from 40 in 1918, two years into Prohibition in Manitoba, to 300 by 1923. "We found that the province of Manitoba was covered with stills," he said. He claimed Prohibition hadn't stopped drinking, it had just kicked it out of the public bar and into the home where it wreaked havoc on families.
One of the strangest still stories took place in the RM of Springfield, just east of Winnipeg, when an RCMP officer and a Customs inspector came across a "mystery" shack. Sure enough, they found a still inside and went in and began dismantling the evidence. Unknown to them, the owners arrived, saw what was going on, and set fire to the shack with them in it. The agents escaped the flames in time, but so did the arsonists, and no charges were laid.
Yet historical accounts only mentioned small stills in Manitoba. Some historians concluded there was no major bootlegging out of Winnipeg, just small neighbourhood and homestead stills. The story of Bill Wolchock shows that not to be true.
Winnipeg had two large thirsty markets in its vicinity: the Twin Cities, St. Paul and Minneapolis in Minnesota, and to a lesser extent, Chicago, Illinois.
St. Paul was a nest of gangsters. John Dillinger, Baby Face Nelson, Machine Gun Kelly, and Ma Barker and her sons, all took refuge in the city at one time or another. The person who ran the underworld in St. Paul was gangster Isadore "Kid Cann" Blumenfeld.
Chicago, of course, was the gangster capital of North America, controlled by Al Capone.
Capone was just 25 years old when he controlled Chicago. It does seem that Prohibition brought many young people into crime. Another Chicago bootlegger, Hymie Weiss, was gunned down by Capone's men at the tender age of 28. "Hymie Weiss was not Jewish as his name suggests, but Catholic. His real name was Wajciechowski, and Hymie was a nickname.)
Wolchock and his partners were in their early twenties when they started selling booze. Wolchock shipped pure alcohol to both the Twin Cities and Chicago, but more so to Minnesota. When his son Leonard attended a convention in Minneapolis years later, he was feted by a gangster-looking character who recognized Leonard's resemblance to his father. The gangster offered to foot his bill.
Wolchock Sr. Also sold to Duluth, Minnesota, and to Alberta distilleries. It's also likely he was also shipping to Minot, since he was storing alcohol in barns in southwestern Manitoba. His business was selling to other manufacturers who brewed the pure alcohol into liquor. He would get rich from it.
Archibald William Wolchock was born in Minsk, Russia, which is now in Ukraine, in 1898, and came to Winnipeg in 1906 with his parents. He grew up and married and lived at 409 Boyd Avenue, at the corner of Boyd and Salter Street. Wolchock wasn't a gangster, but he sold to them. Leonard believes his father likely dealt with Kid Cann in the Twin Cities, who ran the illegal liquor business there. "My dad did a lot of business in St. Paul," said Leonard.
Most of what Leonard knows about his dad's business was told to him by friends and associates of his dad. His father followed the code of the day and kept his business and home separate. Wolchock had a simple rule for his son if people should ask about his work: he would press his index finger to his lips.
While at Assiniboia Downs a man once approached Leonard and said he knew his dad. This sort of thing happened a lot in Leonard's life because he resembled his dad.
"The guy was a railroader," Leonard related. "He said, 'I knew your dad. We stole a train for him once. I said, 'Get out of here.' He said, 'Listen, your dad said he had a big shipment going to Chicago that he couldn't deliver by car. I told him, 'Don't worry, Bill.' The man said a crew of four, including a brakeman, pulled an engine and three box cars over at Bergen cut-off and loaded them with alcohol. The alcohol, when it went by rail, was shipped in 45 gallon drums. Somewhere along the track, the railway men switched the cars over to the Soo Line track that went to Chicago. When the payoff came, Wolchock showed up at a secret location and dished out $100 bills like playing cards to the railroaders.
The Bronfman family knew about Wolchock and Wolchock, of course, knew about them. Wolchock was friendly with the Bronfman brother-in-law, Paul Matoff, who ran Bronfman stores in Carduff, Gainsborough, and Bienfait, Saskatchewan where he sold whiskey to American rumrunners. On October 4th, 1922, Matoff took payment from a North Dakota bootlegger. Shortly after a 12-gauge shotgun blast killed him instantly in the railway station. The murder was never solved.
"Matoff told my dad, 'Bill, your market is in the States,'" said Leonard.
Another time a friend of Wolchock Sr., nicknamed Tubby, took Leonard aside. They bumped into each other at the hospital, where Wolchock was dying. "Tubby said he and his brother had a truck, and one day my dad called and asked if they had a tarp for the truck. They said, yeah, so dad said, "Go to such and such place, back up your truck, don't get out, don't look in the mirror, don't do nothing. Someone will put something in your truck. Then go to this address and do the same. Don't get out, don't look in your rearview mirror, don't do nothing.' That's how business was done."
Wolchock was always a sharp dresser and wore suits and long overcoats. His shirts were specially made by Maurice Rothschild's in Minneapolis and monogrammed AWW across the pocket. His suits were made in the Abe Palay tailor shop that used to be on Garry Street across from the old Garrick Theater. "My dad wore a fedora because he was bald," said Leonard. One of Wolchock's favourite hangouts was the Russian Steam Baths on Dufferin Avenue, where he went Wednesdays and Saturdays.
When that closed, he and his bootleg pals went to Obee's Steam Baths on McGregor near Pritchard.
Wolchock had a chain of people with various trades and skills on the payroll and always paid well. For example, he had agreements with several tinsmiths to make him the gallon cans to put the alcohol in when it was being smuggled by car.
One tinsmith told Leonard he used to make $200-$400 per week moonlighting for his father. He earned $30 a week on his day job as a tinsmith.
The gallon cans would be put in jute bags and tossed in the back of a car. The drivers would go across the border at small town points like Tolstoi and Gretna.
Border security back then wasn't like it is today.
Wolchock couldn't buy anything in bulk, like the sugar to make the alcohol or the cans to put the liquor into, because it would attract too much attention. So he had deals all over the place. He had a deal with a major local bakery, which used to have a central bakery and stores around Winnipeg, to supply him the sugar. He also had a deal with a bakery out on the West Coast.
Wolchock even had deals with hog farmers to get rid of the mash from alcohol production, which makes an excellent feedstuff for livestock. He had drivers and sales agents. He had a chemist on the payroll.
Wolchock also had two or three henchmen. They carried guns in shoulder holsters and hung around the family, but they were the only business associates that ever came to the house. "My dad lived a normal life. We sat and listened to hockey games, but he had strong-armed men around if there was any trouble," Leonard recalled.
"My dad wasn't a run-around," said Leonard. "He was a family man. He was home for lunch and dinner all the time."
Wolchock also had a friend highly placed with the federal excise office in Winnipeg. His name cannot be revealed here. He also had a highranking local bank official who helped him, but Leonard also doesn't know in what way. Wolchock once gave his sister $30,000 to deposit in a bank, but that's all Leonard knows about the transaction. Later in life, Leonard once asked the banker, a big gruff man who always smoked a cigar, what his arrangement was with his father. "None of your f-ing business," the banker snapped.
One of the problems for Wolchock was where to put the money. He made piles of money, but he couldn't deposit it in the bank like everyone else because he couldn't explain to authorities how he made it. Leonard thinks he stashed it, but doesn't know where. While the family didn't live ostentatiously, perhaps because that would have attracted attention, they always had money at a time when most people didn't. "People were dirt poor. There was no money around," said Leonard. All four of Wolchock 's sons received vehicles when they were old enough to drive and all would later get houses when they left home.
One of Wolchock's hobbies was collecting racehorses with names like Dark Wonder, Sun Trysts, Let's Pretend. "My dad had a stable of horses in the early days to just get rid of the money," said Leonard. Leonard's mother Rose used to travel to watch the horses race at major racetracks in California and Hastings Park in Vancouver. Other enterprises Wolchock invested in included buying a ladies' garment factory and the Sylvia Hotel in Vancouver. Leonard believes his father may have been a millionaire by the time he married Rose in 1927. Leonard was born the next year. "My mother's family was poor. Dad gave them lots of money. He paid for everything. Money was of no consequence."
His parents regularly took vacations in Hot Springs, Arkansas, which was sort of a racketeer tourist destination at the time, with legal gambling introduced thanks to gangster Meyer Lansky. It also had bath houses with natural hot springs. For some reason, racketeers had a thing for steam baths and hot springs.
Leonard claims – and insists it's true – that his father would carry around $15,000 on him all the time. He once walked into a car dealership on Portage Avenue where McNaught Motors is now and bought a Cadillac on the spot with cash. "I never saw my dad with a wallet. All he had was a roll of bills with an elastic around it."
Everything was in cash. For his bootlegging business Wolchock would buy six to eight cars at a time for his rumrunners to transport booze. He bought the cars at two Winnipeg dealerships where he had business relations. The first thing he always did with the new cars was tear out the backseat so he could fit in more alcohol. The stable of cars was parked inside a St. Boniface service garage. The runners had access day and night, mostly night. They sometimes went all the way to destinations like St. Paul, but usually they would just cross the border and unload into a shuttle car driven by an American rumrunner.
Wolchock and his merry men were a crosssection of Manitoba nationalities and religious origins in the 1920s. Wolchock was Jewish, and his cohorts were a mix of Poles, Frenchmen, Scotsmen, Ukrainians, Jews, Mennonite farmers near Steinbach, and Belgians – "a lot of Belgians," Leonard said.
Leonard doesn't know exactly how many people it took to run a still, maybe eight for the larger ones. When RCMP busted Wolchock's large still on Logan Avenue in 1936, it was the largest still ever found in Manitoba. Its operations extended to all four floors and into the basement, according to the Manitoba Free Press. The building also had an office, two vehicles and living quarters on the third floor. Employees gained entrance to the living quarters through a crawl space. In the living quarters were bunk beds and cooking equipment and books. The building was empty when police raided it. No charges were laid. The building was owned by the city from a tax sale.
Even after Prohibition ended and liquor was legal, it was government-controlled in Canada, so good money could still be made in bootlegging. The Bronfmans had managed the tricky business from illegal bootlegger to legal distiller, but not Wolchock. Like most law breakers, he didn't quit while he was ahead.
RCMP finally charged Wolchock after customer Howard Gimble of Minneapolis got caught and ratted on him. Gimble was the key witness against Wolchock. The Manitoba Free Press reported that RCMP had tried been trying to nail Wolchock for years before Gimble gave them their break.
The charge was conspiring to defraud the federal government out of income tax moneys on liquor sales. The RCMP claimed he defrauded the government of $125,000, but that that was just a figure plucked out of the air, based on the scale of operation from a single portable still. The jury was locked up for the 10-day trial because of previous suspicions of jury tampering. Gimble told the court Wolchock had a portable still he moved from farm to farm near Winnipeg. RCMP found the still on Paul Demark's farm in Prairie Grove, now a bedroom community at the end of Ste. Anne's Road, just past the Winnipeg perimeter. But Gimble told the court Wolchock also used the still on the farm of Abraham Toews near Ste. Anne on Dave Letkeman's farm just southeast of Steinbach, and in Jay Kehler's barn one mile west of Steinbach. Court was also shown pictures of warehouses and buildings around Winnipeg, including St. Boniface, used in Wolchock 's illegal liquor business. Gimble also alleged Wolchock operated another still on a farm near Stonewall. He said it produced five thousands of gallons of alcohol that summer of 1940.
Wolchock and seven of his partners were convicted, but it took three trials. The first trial was declared a mistrial due to suspicion of jury tampering. In the second trial proceedings were halted when Wolchock required a hernia operation. Finally, he was sent to jail.
He got five years in Stony Mountain Penitentiary, and that was before there was such a thing as parole. It is the most severe sentence ever laid in Manitoba history for a liquor offense. Up to that point in March of 1940, no one had received more than an eight-month sentence for liquor offenses in Manitoba. Also convicted and sentenced were Ned Balakowski, three years; Ben Balakowski, eight months; Frank McGirl, eight months; Jules Mourant, one year. Sam Arborg, Eugene Mourant, and Cass Morant each received suspended sentences.
After serving his time, Wolchock remembered the people who helped him in prison. A prison guard at Stony Mountain named Mr. Anderson was always kind to Wolchock. When Wolchock finished his prison term, Leonard was sent out every Christmas over to the Anderson household to deliver food and presents.
Wolchock Sr. also gave generously to the Salvation Army. "He was a great guy to the Salvation Army because the Sally Ann was very good to him in jail," said Leonard. His father also saw to it that Leonard took Jewish dishes to the Jewish prisoners in Stony Mountain on the high holidays.
He had money left when he got out of jail but the cost of lawyers for three trials drained a lot of it. Wolchock paid everybody's legal fees. His wife Rose managed their family of four young boys while he was in prison for five years, and Wolchock, when he got out, bought the home then called Bardal Estate, formerly owned by Winnipeg Funeral Director Neil Bardal. It's a large clapboard house at the end of Hawthorne Avenue in North Kildonan, along the river on what is now named Kildonan Drive. "There was a fireplace in every bedroom," Leonard recalled. Wolchock also had money to buy a little company, Canadian Wreckage and Salvage.
But the money wasn't anything like he was used to and, after a couple years, Wolchock called his old mates together for a meeting. He wanted to make one last batch. Who was in? So the men walled off a portion of the Bardal's home basement. Two of Wolchock's close friends were bricklayers – and they constructed a still behind the wall. There were no neighbors on Kildonan Drive at the time, so there was no one to detect the smell from alcohol production. The men made the alcohol, distributed to people they could trust, and dismantled the operation. Then they rode off into the sunset.
"The old man had a bundle of money and he dished out to everyone. Louis went to Sudbury and got a 7-Up franchise; Charlie went to California and bought a liquor store; Benny G bought a trucking company; Benny B moved to Vancouver; Ned went back to work." There were others involved, but Leonard doesn't know what became of them. Other partners had already taken their money and invested before the RCMP arrest: Johnny B moved to Vancouver and bought a furniture store; Fred S bought a retail fish store in Winnipeg that still exists today under different owners; another partner went into the hotel business.
And Wolchock? "My dad started Capital Lumber at 92 Higgins Avenue with a partner," said Leonard. "He didn't make money like in the past, but he still called the shots and had a successful little business."
That was Prohibition.
"There was honour among men. Back then, your word was your bond. Nothing was written down. Everything was a handshake," said Leonard.
"My dad came to this country and he always called it the land of milk and honey. He always said that. He said it after he got out of prison, too. He was never bitter."
Archibald William Wolchock died in 1976 at age 78.