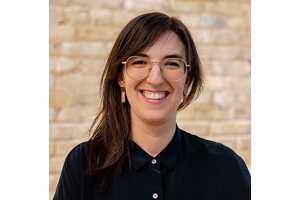 By MYRON LOVE Lissie Rappaport is playing a leadership role in the campaign to end homelessness in our community. The daughter of Lynn and Alan Rappaport – and granddaughter of Rabbi Sholom and Elaine Rappaport (oleh hasholem) is currently the Manager of Housing Supply at End Homelessness Winnipeg, a position that she has held for more than two years.
Homelessness is a longstanding problem – not just in Winnipeg – which, Rappaport notes, has been made worse by Covid, which has cost even more people their jobs and incomes. She reports that there were an estimated 1,500 homeless people living on our streets in 2018 – a number which has probably increased, she adds.
It should not come as a surprise that 70% of the homeless in our city are Indigenous people. Many of the homeless are individuals who grew up in foster care and mental illness is also a factor in many cases.
"Not much has changed in the past few years," she points out. While she credits the work of Siloam Mission, the Salvation Army and the Main Street Project for the work they do in caring for the homeless, she asserts that the only way to end this scourge is the development of more affordable, variable, permanent housing.
"Lack of housing exacerbates family break-up and mental health issues," Rappaport notes.
"We try to engage with foundations and private businesses to help build more affordable housing projects," she says.
Rappaport notes that Jewish Child and Family Service is one of many such service organizations that offers assistance.
She also stressed the importance of more such housing being owned and operated by Indigenous groups that can also provide peer support.
Rappaport credits the teachings of her zaida and baba and the way she and her sister were raised for her lifetime commitment to community activism. (Her sister is a social worker on the West Coast.)
"We were steeped in Jewish culture and tradition," she recalls. "We were taught the importance of charity."
Rappaport attended Ramah for elementary school and Gray Academy to Grade 10. She finished high school at the University of Winnipeg Collegiate. She has a Bachelor of Arts-Honours in Urban & Inner City Studies from the University of Winnipeg. During her undergraduate years, she focused on urban poverty, women in the inner city, Indigenous governance, and community development.
From the University of Manitoba, she earned a Master of City Planning designation. Her thesis focused on municipal housing policy, exploring the potential for inclusionary housing in Winnipeg's slow-growth context. She received the Mayor's Medal in City Planning, awarded to a student who has made a significant contribution to Urban Studies.
Her previous experience includes planning and facilitating art workshops for children and youth in Winnipeg's Inner City for an organization called Art City Inc.; the North End Program Co-ordinator for Food Matters Manitoba – where she was responsible for developing and managing weekly youth food skills program, Community Tables; and a healthy food access project with neighbourhood stores as well as serving as a liaison with North End businesses; and as a research associate for the Canadian Centre for Policy Alternatives.
Parallel to her work with End Homelessness, Rappaport is available for consulting duties as a city planner. As a volunteer, she served as board chair of the Daniel McIntyre St. Matthews Community Association – a neighbourhood renewal organization – for six years up until last August.
For the past three years, she has been an executive committee member of Building Equality in Architecture Prairies, a new initiative that promotes equity and diversity in the city-building professions through connecting architects, landscape architects, urban planners, interior designers and the construction industry across the prairies.
Rappaport celebrates her Jewish roots largely through participation in the Shalom Aleichem community yom tov celebrations and through her extended family, to whose numbers she will soon be adding one more. She says that she is expecting her first child in June.
"I try to live every day practicing tikkun olam," she says.