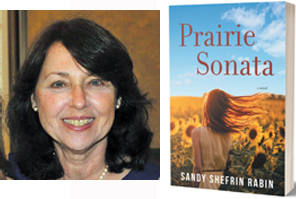 (San Francisco, CA) — The INDEPENDENT PRESS AWARDS recognized Prairie Sonata by Sandy Shefrin Rabin as the winner in the category of Best Young Adult Fiction.
The competition is judged by experts from different aspects of the book industry, including publishers, writers, editors, book cover designers and professional copywriters. Selected award winners anddistinguished favorites are based on overall excellence.
"Prairie Sonata" by Sandy Shefrin Rabin; Young Adult Fiction, Literary Fiction, Historical Fiction, High level Women's Fiction.
Richly textured and lyrically written, Prairie Sonata is the story of Adler and her journey from innocence to experience. Mira grows up in post World War II Canada, in a close-knit Manitoba community founded by secular Jews from Eastern Europe. At the heart of her journey is the friendship that she develops with her teacher, Chaver B, a recent immigrant from Prague who is mysterious and intriguing and who Mira believes harbours a painful secret. Chaver B becomes deeply intwined in Mira's life, and their relationship evolves, especially after he offers to teach her to play the violin.
Little by little, Mira chips away at Chaver B's past and soon comes to the shocking realization of what brought him to Manitoba. What she learns about his history both outrages and saddens her, yet she cannot stop herself from uncovering the truth about his life. While Chaver B attempts to reconcile his feelings of guilt, Mira struggles to understand a world that seems to be vastly different from the nurturing and seemingly untroubled one in which she grows up. And despite what she learns about Chaver B, herself, and the world around her, when she is older, Mira yearns for the chance to go back to her childhood.
A coming-of-age story about music, love, friendship, community, and religion, Prairie Sonata is a riveting tale that will resonate with and captivate the reader.
In 2021, the INDEPENDENT PRESS AWARD had entries worldwide. Participating authors and publishers reside in countries such as Australia, Canada, India, Ireland, Japan, Singapore, Switzerland, United Kingdom, and others. In addition, books submitted included writers located in U.S. cities such as Atlanta to Santa Fe; Chicago to New York; from Boise to Honolulu, and others.