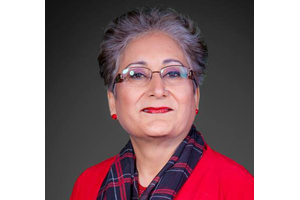 By MYRON LOVE A newly-formed Muslim organization aimed at combating Antisemitism announced itself to the world on Wednesday, April 7, with its inaugural program – a virtual commemoration of Yom Hashoah – and a Muslim call to action against global Antisemitism. In fact, the Council of Muslims Against Antisemitism (CMAA) bills itself "as the first global Muslim organization dedicated solely to fighting Antisemitism in all its guises".
"We received a fantastic response to our event," reports Toronto-based Raheel Raza, a member of the new organization's steering committee. "We had 140 people sign on and 125 watched in real time. There were naturally some naysayers, but 99% of our viewer responses were positive. We had many participants from the Jewish community."
Raza notes that while the CMAA is brand new, she and other like-minded Muslims have been working on this issue for the past decade. Her fellow steering committee members include her husband, Sohail, a frequent commentator and lecturer on international politics and Islam, entrepreneur and communications professional Rimmel Khan, York University student leader and human rights activist Salman Sima, and Muslim feminist leader Soraya Deen from California. The CMAA's advisory board is made up of seven prominent individuals from America, England, Switzerland, Saudi Arabia and Pakistan.
"We are putting together lists of supporters from throughout the Arab and Muslim world," she says.
Raheel Raza is President of The Council for Muslims Facing Tomorrow (of which Sohail is alos a director), founding member of The Muslim Reform Movement, author of the book "Their Jihad – Not My Jihad", award winning journalist, public speaker, and advocate for human rights, gender equality and dignity in diversity. She has appeared in print and on TV and radio numerous times including CNN, BBC Hardtalk, Real Time with Bill Maher, and Al-Jazeera, and has been invited to speak at universities and other forums worldwide.
She notes that she was accredited for five years to the United Nations Human Rights Council in Geneva. "There was constant condemnation of Israel," she recalls. "I visited Israel myself for the first time 15years ago and that changed the way I thought about Israel and its people. I learned about the country and have been back 13 times.
"I have spoken out on behalf of Christians being persecuted in the Muslim world, Yazidis and Uighurs. Why shouldn't I also speak out against discrimination against Jews?
"Antisemitism," she adds, "is not just a Jewish problem. It is a human rights problem and a global problem. For far too long, we have seen Antisemitism growing. Although it may be politically incorrect in some quarters to speak out against Antisemitism, it is time for people worldwide as well as in the Muslim community to stand with the Jewish People lest the next generation also becomes infected by this scourge."
Raza and her fellow CMAA members believe that education is the key to combating Antisemitism. The CMAA, she notes, will be hosting more panel discussions on the subject, providing speakers, promoting interfaith dialogue between Muslims and Jews, and publically condemning Antisemitism in any form, anywhere it rears its head.
She points out that there is a growing body of support for Jews and Israel in the Arab and Muslim world but, in the past most Muslims were reluctant to voice such views because of fear of a social backlash. However, with the signing of the Abrahamic Accords, negotiated by the Trump Administration last fall, many more Muslims have been willing to speak up.
"We have started the ball rolling," she says. "It is going to take time. But we at the CMAA are dedicated and committed to this path and will not stop until we have succeeded."