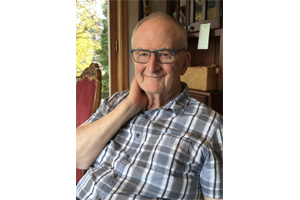 By GERRY POSNER It was not hard for me to jump on the Harry Prosen bandwagon for at least three reasons:
First, his last name is so very close to mine that I felt a kind of a brotherly connection to him. After all, Prosen and Posner have the same letters, just rearranged.
Second, Harry Prosen is likely the oldest Jewish graduate of the University of Manitoba Medical school still working in the area of psychiatry . He will be 91 in June and still counting.
Third, Prosen has serious credentials.
Prosen has had a long and illustrious career – and he did it in two countries, another remarkable achievement. Prosen can say that he has been actively involved in both clinical and teaching psychiatry for over 50 years.
From 1975 to 1987, Harry Prosen served as the Head of the Department of Psychiatry at the University of Manitoba. And then, just like a hockey player exercising his option, he was picked up by the Department of Psychiatry and Behavioural Medicine at the Medical College of Wisconsin, from 1987- 2003.
Over his entire career Prosen has been on the boards of many clinical and academic institutions, government and editorial boards in both countries, as well as serving as a consultant to many universities and other associations.
Moreover, in 1978-79, Prosen was President of the Canadian Psychiatric Association. His work at the Medical College in Wisconsin earned Harry the Distinguished Service Award. Significantly, students in the Medical Faulty in Wisconsin elected him to the Alpha Omega honorary medical society.
Not to be overlooked is that Prosen is a Fellow of the Royal Colleges of Canada, the United Kingdom, the American College of Psychiatry and a Distinguished Fellow of the American Psychiatric Association. In short, a lightweight Prosen is not. Just how did all of this happen to the Saskatoon-born Prosen?
In fact, Prosen grew up in Calgary until he was 15, when his mother, the former Ruth Prosen, prevailed on his father to move to Winnipeg so she could be close to her sister, Laura Moser.
Thus, it came to pass that Harry Prosen grew up on Burrows and later Inkster Boulevard, attended St. John's Tech High School and ultimately entered the University of Manitoba. Prosen had psychiatry in his mind and as he puts it, the path to becoming a psychiatrist was through Medicine, so that is why he entered that field. He had little in the way of Jewish trailblazers as the only other individual at the time who had gone the psychiatry route was Dr. John Matas. Harry's initial studies were at the University of Manitoba. He then finished his residency at the University of Chicago and came under the tutelage of some notable researchers, including Heinz Kohut.
It would not ba a stretch to say that Harry Prosen was in large part responsible for building the Department of Psychiatry in Manitoba. And, even to this day, Harry still attends grand rounds in Winnipeg on a regular basis – virtually, as well as in Wisconsin. Still, even with all his achievements in Manitoba, when he tried to Zoom in recently to the Psych Health Centre, he was asked who he was and how to spell his name.
Prosen, who was once the President of the Jewish Child and Family Service in Winnipeg, and therapist for a number of professionals, faced a major decision when he was 57. He had an opportunity to start a new department in Milwaukee, and as Harry puts it, his wife, the former Yvonne Schussler, told him " Harry, you are a builder, go where they want you to build. " That is exactly what he did.
One area in which Prosen became significantly involved was working with primates. That came about due to his emphasis on inter-generational issues in families, having to do in particular with empathy and empathetic deficits. If you read any of his early work on non- verbal communications and variations in facial features under different circumstances, you could get a glimpse of how he soon became so interested in working with primates, particularly bonobos. Harry's work with one particular bonobo named Brian received significant publicity as he essentially rehabilitated a very young, but disturbed bonobo and basically helped him to the point where he became an alpha male. The case was so unusual that there was an entire story about Harry and Brian in the Atlantic Monthly.
Sadly, Harry told me that Covid has negatively affected primates like Barry, who has now reverted to his original withdrawn state. Nonetheless, Harry's serious commitment to primates is confirmed by the fact that he was the psychiatric consultant to the Bonobo Species Preservation Society (Who knew?) and he continues to work with one of the largest collections of captive bonobo primates in the world at the Milwaukee County Zoo.
Find anyone else from Burrows Avenue who can make that statement.
In short, given all that Harry has done, is it any wonder that I wax more than prosaic about Prosen's accomplishments?