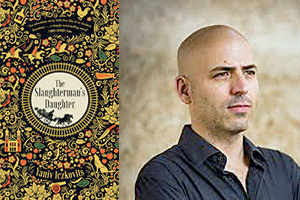 By BERNIE BELLAN
A little while ago I was sent a novel titled The Slaughterman's Daughter. What a fascinating title for a book, I thought.
The letter accompanying the book, which was sent by the Canadian publishing house for the book, explains that the author of The Slaughterman's Daughter is Yaniv Iczkovits – a name totally unfamiliar to me, but one that is bound to become renowned outside of Israel, where Iczkovits has already apparently shot to the top of literary stardom.
Soon to be available in Canada, The Slaughterman's Daughter has won several major awards in Israel, including the Agnon Prize and the Ramat Gan Prize for Literary Excellence. The book has only recently been translated into English and the copy that I was sent was an advance reading copy, meaning that it hadn't totally been edited for mistakes (of which there are very, very few that I could see… an occasional missing article, such as "the", for instance.)
That same letter also noted that Iczkovits is being compared with American writer Michael Chabon – of whom I am a great fan, and Ivan Turgenev, who was a famous Russian writer in the 19th century.
Here is a summary of the plot of The Slaughterman's Daughter: It's a sort of anarchic folk story…set in the Pale of Settlement in the final years of the Russian Empire. Set in a town by the name of Motal (which does exist), it tells the story of Fanny Keismann, the daughter of a "shochet" (ritual slaughterer), who embarks on a crazy adventure in what was formerly known as the Pale of Settlement.
As the introductory letter from the publisher noted, "When Fanny's older sister's husband disappears, Fanny leaves her own family and sets out for the great city of Minsk in search of her wayward brother-in-law, armed with her old knife (which had been given to her by her father for use in slaughtering animals on her own), and accompanied by Zizek Bershov, who is either a sly rogue or an idiot.
"Fanny's mission to help her sister turns into a misadventure that threatens the foundations of the Russian Empire. What began as a family matter in Motal, a peripheral Jewish settlement, breaks the bounds of the shtetl, pits the Russian secret police against the Czar's army, and upsets the political and social order they all live in."
Got that? In so many ways it reminds me of Michael Chabon's brilliant novel, The Yiddish Policeman's Union, in its wildly imaginative plot. Both novels take place in towns that really do exist (Sitka, Alaska in the case of Chabon's book), but completely alter them in ways that render them mythic.
At the same time though, Iczkovits provides such detailed descriptions of life in the final decade of the 19th century in the Pale of Settlement that even if you aren't necessarily interested in the dizzying plot twists, you would certainly find yourself immersed in many of the aspects of what daily life was like – especially for the Jewish inhabitants of that area of the Russian Empire.
But, as Fanny embarks on her journey to find her wayward brother-in-law, Zvi Meir, she finds herself embroiled in a maddening police chase led by an intrepid head of the Russian secret police (known as the "Okhrana") by the name of Novak.
Inspector Novak is a former colonel in the Russian Army, by the way, and two other characters who happen to be Jewish also have backgrounds of service in the Russian army. That aspect of the book allows Iczkovits to offer a fascinating glimpse into what life must have been like in that army – including how young Jewish boys were often taken from their families – never to be seen again, and forced into conscripted service in the Czar's army where, more likely than not, they were eventually converted into Christianity.
Subplots develop as new characters are introduced, but the common link all those plots share is Fanny Keismann. Interestingly, in Iczkovits's description of Fanny, he constantly refers to her "wolf-like" eyes which, combined with the knife which she wears on her thigh and which was given to her by her father, render her into a totally ferocious character – and a great, albeit totally unlikely heroine.
As Novak continues his incessant pursuit of Fanny and her cohorts in what becomes an absurd series of accidental crimes, he reminds me of thecharacter "Javert" in Les Miserables, who was obsessed with pursuing Jean Valjean. Novak has dedicated his life to reining in any would-be threats to the Russian Empire, and although he finds it almost impossible to believe that a Jewish woman might be at the heart of the most dangerous plan of insurrection ever to surface in Czarist Russia, he begins to construct an elaborate conspiracy theory that gradually ensnares a growing number of individuals whose reputations should be above reproach. (Sure sounds like Donald Trump would love this Novak character if he were working today.)
Something else that intrigued me about this book was how strong so many of the Jewish female characters were and how much so many of the Jewish men were total nebbishes. The women keep the households together, whether they are elderly bubbies, as in the case of Fanny's mother-in-law, Rachel Keismann, or Fanny's sister, Mende, who, although devastated by her husband's having left her – and who goes through a deep depression for a while, manages to rise from her sick bed and take over management of Fanny's household in Fanny's absence.
This is a very long book – and, as is the casein Michael Chabon's books, not always an easy one to read, but ultimately it proves to be a rollicking good tale. It's always exciting to be introduced to a great new author whose talent shines through on every page.
In awarding Iczovitz the Ramat Gan Literary Prize, the judges wrote: "This is a perfect, if rare, example of a contemporary Israeli narrative that is in living dialogue with the literary and historical past, drawing on it and constructing an utterly original, independent artistic structure on its foundations … Iczkovits has created a sensual, richly vibrant Jewish world devoid of stereotypes, with flesh-and-blood characters to whom nothing human is foreign. There is no doubt. Iczkovits has pulled this off with wondrous success, yielding a virtuosic novel."
I can hardly wait for Iczkovits's next novel.
The Slaughterman's Daughter is available on Amazon and, according to a spokesperson for McNally Robinson, is on order there.