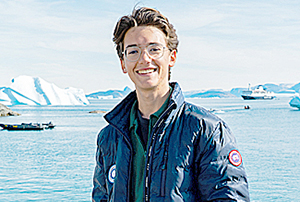 By MYRON LOVE
Last summer, when Prime Minister Justin Trudeau flew to the Inuit community of Arctic Bay in the High Arctic to announce the creation of a new long term protected area in Canada's High Arctic Basin, one of those on hand to greet him was none other tthan Spencer Bubis.
Now, you may well be wondering what a 17-year-old Winnipeg high school student was doing in Arctic Bay in the middle of the summer. And that is an interesting story in itself.
Last summer, Bubis took time out from his summer job as a counselor at BB Camp to take part in a two-week expedition to Greenland and the high Arctic, funded by a scholarship from the American Embassy in Ottawa. "Students on Ice" is a 20-year-old organization that is dedicated to taking groups of students on polar expeditions to learn about the region.
"I have always been the kind of person who is enthusiastic about trying new things," he says.
Bubis was one of 130 students (up to the age of 24) – along with another 100 experts in matters pertaining to the Arctic – who were on board an ice breaker which travelled for over 4,000 km from Greenland up to Resolute Bay and back.
"We all met in Ottawa and boarded a chartered flight to Greenland," he reports. "Fifty percent of the students were Indigenous – including Sami people from northern Scandinavia.
"It provided us with an interdisciplinary approach to learning about the Arctic and its peoples. It was one of the greatest experiences of my life to date. The icebergs are beautiful. The Arctic is a special place that more Canadians should learn about. I hope to go back again at some point in my life."
Bubis learned about Students on Ice from someone he met on an earlier trek to Ecuador and the Amazon rainforest in 2017. That visit, during which he was a Canadian youth ambassador, was organized by EF Tours Canada.
Considering his passion for travel, it perhaps came as little surprise that in 2018 he won the provincial Canadian Geographic Challenge with an accompanying invitation to be among 20 competitors across Canada for the national championships. (He fell somewhat short of the national title.)
He was also one of four winners of an essay contest – co-sponsored by the University of Manitoba Department of History and the Seven Oaks School Division – the subject being the Winnipeg General Strike.
While the son of Daniel Bubis and Jennifer Blumenthal has seen more of Canada and the world than most young people his age, this story is much more than an account of his travels. You might say that Spencer is the complete package – combining a yen for adventure, scholastic excellence, athletic ability and social activism.
"From a young age, I have been drawn to opportunities that allow me to help people," he says. "My parents raised us (Spencer and his younger brother) to have a sense of empathy."
That side of Bubis is indicated, for example, by his teaching swimming – as a volunteer – to special needs kids at the Cindy Klassen Pool. "Special need kids often love the water," he notes.
And, at St. John's Ravencourt, where he is "assistant head boy" (which he equates with being vice-president of student council), he revitalized the Philanthropy Club and initiated a Koats for Kid campaign that has collected 1,600 coats over the past three years for underprivileged kids.
He has also been an athletic leader during his time at SJR. He has most recently started a cross-country ski team. He is also on the varsity boys' cross country running team and the school's relay team, both of which earned championship banners for the school.
Nationally, Bubis has served for three years on the executive of Experiences Canada's Youth Advocacy Council and was the council president last year. The organization helps younger Canadians to get to know their country through exchange programs, forums and conferences.
"There are 18 if us on the council from across Canada," he says. "Our role is to provide feedback from a youth perspective. We also create our own goals and projects under the auspices of Experiences Canada."
His achievements in all facets of life have earned Bubis consideration for a $100,000 Loran Scholars Foundation scholarship. The scholarship would cover four years of university. He reports that over 5,000 students from across Canada applied. "I was one of 150 students who passed the first round," he says. "We took part in a video conference in December followed by a series of interviews with committee members in Toronto."
The Winnipegger was one of 88 national finalists, each of whom receives a $5,000 bursary.
For next year, Bubis says that has applied both to McGill University and Western in London, Ontario. "What I like about the Ivey School of Business at Western," he says, "is that I can spend the first two years studying Arts or Social Science. So I could earn two degrees. I have a lot of interests, but I am not sure yet what I want to do."