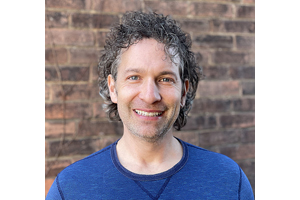 By MYRON LOVE Filmmakers Corey Marr and Matthew Bissonnette have just released their newest production, "Death of a Ladies' Man" to general acclaim. Former Winnipegger Marr reports that the film – which was unveiled in Canada on March 12th has garnered several positive reviews, is currently #6 on the iTunes charts, and has a 100% score on the popular ratings site Rotten Tomatoes.
The movie, starring internationally acclaimed star Gabriel Byrne ("The Usual Suspects", "In Treatment") and Canadian actress Jessica Paré (who may be best known for her role as Mrs. Don Draper in "Mad Men") tells the story of a carousing college professor whose life takes a series of unimaginable turns when he begins to have surreal hallucinations and learns he may not be long for this world. "Death of a Ladies' Man" is a Canadian-Irish co-production inspired by the work of great Canadian poet Leonard Cohen, and notes Marr, features some of his best known songs. Cohen gave Marr his blessing to use the music in the film before his death in 2016.
"We actually finished filming in 2019," Marr says. "Our initial plan was to unveil the film at the annual Toronto International Film Festival last September, and follow it with a large theatrical release. The pandemic had other plans for all of us."
To help promote "Death of a Ladies' Man", Marr, a former ad man and a musician himself (guitar and piano) contacted a number of leading Canadian recording artists about doing covers of their favourite Cohen songs. "We have been releasing one video a day since the movie's release," he says. "The artists have tens of thousands of followers on their platforms. This has really helped to raise awareness about the film. The response has been fantastic." The series includes covers of Cohen songs by Ron Sexsmith, Whitehorse, Jenn Grant, Dan Mangan, and others, andn can now be viewed on the YouTube channel for "Death of a Ladies' Man".
The Toronto-based Marr launched Corey Marr Productions about 15 years ago after transitioning from advertising into film production. The son of David and Terri Marr and father of two boys notes that he always had a creative bent, starting with music and acting while growing up in Winnipeg. The Grant Park High School grad first left Winnipeg in 1993, after a couple of years of study at the University of Manitoba, to finish his B.A. in Toronto and study Creative Advertising. He returned to his hometown in '97 for a couple of years before relocating permanently to Toronto.
Before hooking up with Matthew Bissonnette, Marr learned the ropes of filmmaking through development positions at Water Pictures and Heroic Film Company and as the assistant to Academy Award-winning producer Craig Zadan. He has also made a couple of short films.
Marr and Bissonnette met at a film festival. "We spoke about doing a feature film together," Marr recalls. "Matthew sent me a script and we were on our way."
Marr notes that their first collaboration – "Who Loves the Sun" – which was released in 2006 – was filmed in Winnipeg Beach and Kenora.
"We did some of the filming on an island in Kenora," Marr recalls. "We actually hired B'nai Brith Camp staff to ferry cast and crew to and from the island."
Marr himself is a Massad graduate and he attributes a lot of his creative drive to his years spent at the camp. "Massad is a place where the creative spirit can flourish." He served as camp director for one summer in 1996 and is looking forward to attending Massad's 70th anniversary reunion next year.
The award-winning "Who Loves the Sun" played numerous film festivals before being released theatrically and selling internationally.
The second collaboration between Marr and Bissonnette was the Los Angeles-set indie road trip film "Passenger Side", starring Adam Scott. The movie was described by L.A. Weekly as "a thinking man's Judd Apatow flick" and by The Hollywood Reporter as "a poignant portrait of sibling rivalry and affection". The film premiered at the Los Angeles Film Festival. "Passenger Side" won the City TV Award for Best Canadian Film at the Edmonton International Film Festival and was named to "Canada's Top Ten" by the Toronto International Film Festival. Following a successful theatrical run in Canada, the film was released internationally.
"Death of a Ladies' Man" has its U.S. premiere on March 20th. The film has been given the prestigious opening night slot at the Cinequest Film and Creativity festival in California. The virtual screening will be accompanied by a live introduction with star Gabriel Byrne and a live Q+A with writer/director Bissonnette, producer Marr and actor Jessica Paré.
Marr reports that the film is currently playing in select theatres across Canada and is available on Apple TV/iTunes, GooglePlay, and everywhere you rent and buy movies.
Celluloid Dreams, which handles international sales on the Gabriel Byrne-starring film, negotiated deals with Transmission Films in Australia and DDDream in China. The project was also picked up in Germany (MFA), Austria (Polyfilm and MFA), Switzerland (MFA), Russia (Kinologistika), China (DDDream), Middle East (Front Row), and the Balkans (Cinemania). In Australia and Zealand, the film will be released theatrically on May 20.
It was financed by Telefilm Canada, Monte Rosso Productions, SODEC, Fís Éireann/Screen Ireland, The Canada Media Fund, Ontario Creates, Bell Media's Crave and the Harold Greenberg Fund, CBC Films and the Western Regional Audiovisual Producer's Fund (WRAP Fund), and developed with the assistance of Telefilm Canada and the Harold Greenberg Fund.
In addition to his feature films, Marr over the years has produced content for Nike USA and worked on various television projects. He has also been associated with Canadaland, a news site and podcast network, funded by its audience, which focuses on Canadian media, news, current affairs, and politics.