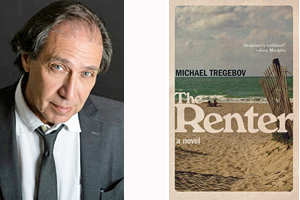 Reviewed by BERNIE BELLAN "The Renter" represents the fourth novel written by former Winnipegger Michael Tregebov, all of which have been set either in Winnipeg or, as is the case with this book – Winnipeg Beach.
I've reviewed all of Tregebov's previous books, including "The Briss" (2009). "The Shiva" (2012), and "Shot Rock" (2019). To say that Tregebov enjoys skewering the Winnipeg Jewish community in which he grew up would be an understatement, but just as Mordecai Richler used his own boyhood growing up on St. Urbain Street in Montreal as rich fodder for what later turned out to be a devastating series of satirical novels about Montreal Jews, Tregebov has been mining his own boyhood for some time now.
"The Renter", however, represents a clear departure in style for Tregebov – and one which is most welcome. Instead of filling the pages of this book with endless conversations among various characters, almost always to the confusion of the reader wondering who exactly was speaking, this time around the author takes the time to use descriptive prose to set the stage for what turns out to be a terrific story.
The hero of "The Renter" is named Bret Yeatman. Here is how he is described on Amazon: "a young man sporting a summer tan, Keds and crisp short-sleeved white shirts, and toting a transistor radio. Bret Yeatman is out to recoup the social position his father lost through financial ruin, and is determined to realize his fantasy by marrying up and into the well-to-do family of his first perfect love, Sandra Sugarman, and renouncing his easy, promiscuous life in the drug trade. But his fantasy collides with Sandra's own — stars are crossed, and the fates will have their day."
Sandra Sugarman, by the way, is a "south end" girl – and for anyone familiar with the long history of north end versus south end rivalry within Winnipeg's Jewish community, Tregebov plays to the stereotype of the rich south end girl being the fantasy object of Jewish boys of a certain era.
Bret Yeatman himself is not worldly in the way that Sandra Sugarman is, although he is certainly street smart –and, as Sandra and other female characters remark throughout the book, he's "gorgeous".
Bret's looks seem to offer him entrance into a higher social circle into which he would likely be admitted, given his dubious background as a major pot seller around town. That social circle, however, is within Winnipeg Beach's young Jewish crowd where, as Tregebov notes, in 1968 the favourite pastime was to spend hours at one of the arcades in downtown Winnipeg Beach (where a young Jack London was also fostering his own talent for assessing the character of anyone who spent time at Mrs. London's-owned Playland arcade).
The allure that Sandra holds for Bret though, and which was sparked by one very short encounter at the end of a beach pier when they were both 12, is something that preys upon him all through his teenage years.
One summer he decides to rent a cottage in Winnipeg Beach – not with the deliberate intention of drawing Sandra's attention, yet it is clearly on his mind when he happens to wander into a party going on at her own family's cottage.
For anyone familiar with Winnipeg Beach the precise descriptions that Tregebov offers of the geographic layout – which hasn't really changed much from the time in which the novel is set, will certainly be totally recognizable. One wonders though, how compelling it will be for anyone not familiar with Winnipeg Beach to be reading vivid descriptions of Bret riding his bike down Prospect every evening?
More than the way Tregebov evokes memories of fishflies and mosquitoes – too constants that one always associates with Winnipeg Beach though, what might really draw readers to this book are the wonderfully described sex scenes. (Is it appropriate in an ostensibly Jewish newspaper to mention that hormones were apparently flying in late 1960s Winnipeg Beach?)
Bret Yeatman certainly has no problem attracting girls in their late teens and early twenties. (It seems that all those stories we north end boys heard about those wild south end girls find amplification in "The Renter".)
But when Sandra Sugarman's vile cousin Marty describes how much he likes taking his boat out to BB Camp to pick up 15-year-old BB Camp girls, Tregebov might be going too far in besmirching the reputations of not just south end girls, but BB Camp girls, too. (I invite readers to chime in with their own stories of naughty escapades – send them anonymously if you like. Hey, if Michael Tregebov had enough material drawn from his own youth spent at Winnipeg Beach to produce a rollicking – and highly salacious novel, there's no reason that someone else couldn't take a crack at mining similar material?)
I mentioned that "The Renter" differs in so many respects from Tregebov's three previous novels, not just in terms of how dialogue is presented, but also in how compelling the story itself is.
There's nothing inherently original about poor Jewish boy chasing after rich Jewish girl – or, as is more often the case, Jewish boy chasing after fantasy non-Jewish girl (and I won't use the "sk….eh" term because that is so politically incorrect), but since Bret Yeatman is such a likeable hero in "The Renter", it's hard not to be pulling for him to win over Sandra Sugarman.
I won't spoil the ending by telling you what happens. Suffice to say that it's a great ending.
Let's see now: Michael Tregebov has written satirical novels about Brisses, Shivas, Jewish curlers, and now Winnipeg Beach. What's next? How about taking a run at high school students who dallied with Trotskyism, Michael, or would it be too difficult to poke fun at yourself? You're a terrific writer, but I'd like to see you make fun of yourself for a change – just because you're so adept at satirizing others from a period in Winnipeg's Jewish history with which many of us are familiar.
"The Renter"
By Michael Tregebov
Published by New Star Books, 2021
163 pages
Available on Amazon in both paperback and Kindle format