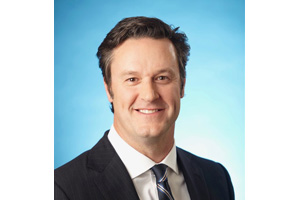 By GERRY POSNER Could you predict an Adam Rubin? Not likely. If you asked him, he would have said not at all. But Adam, the youngest child of Chuck and Naida Rubin (neither of whom is exactly unknown to many readers of the JP&N) has carved out a path which is truly remarkable in many ways.
The grandson of Sam Rubin, a farmer from near Fort William, Ontario (as it was then called), Adam was what he calls a Ramah School dropout after Grade 1. He did, however, manage to complete Laidlaw Elementary School and later was one of a handful of Jewish boys at St. Paul's High School. He was active in Kadima and BBYO and also was a camper at BB Kenora.
Then, in a an unusual step at that time, he left Winnipeg and headed east to study Economics and Political Science at McGill, living with two close friends form Winnipeg: Eric Corne and Jon Pesochin. Following graduation, Rubin headed to the University of Ottawa for an MBA. His roommate was another Winnipegger, Matt Golden. There is a theme here which Adam is quick to stress. He says, "I am still very close with Matt, Phil, Eric and Jon to this day (Phil being Phil Haid). One of the things I treasure most about Winnipeg is the lifelong friendships that have been nurtured by that city. In fact, as I am now middle aged, I look back with tremendous fondness and admiration for the strength of community Winnipeg has. It's one I have not seen replicated."
The education of Adam Rubin then expanded to include law school at the University of Calgary. Rubin thus had the package of business and law, on top of which he also completed the Advanced Leadership Programme at Harvard Business School. Upon graduation from law school, he entered the work force during the dot.com boom – followed by its bust. Rubin joined a boutique law firm specializing in corporate finance and securities law in Calgary where he was responsible for taking companies into the public domain. As Rubin reflects, "I took many of those high- flyers from the cradle to orbit – and then to the grave, in three or four years." Ultimately, Rubin wanted to develop his business side and in particular to build businesses and foster their growth. He joined a top energy company at the time – Nexen, a Calgary based corporation with a global presence. As Rubin notes, however, the "oil patch was a strange place for a Jewish boy from Winnipeg."
In 2007 Adam took what was supposed to be a two-year assignment in Dallas to help run Nexen's US operations, so off he went with his former wife and four-year-old daughter, Sam. Two years turned into five years and, even with his success at Nexen, Adam had an opportunity in 2012 to join Venari Resources LLC, a private equity funded offshore exploration company in Dallas. Adam served as Senior Vice-President, General Counsel and Secretary for Venari. He and a few of his colleagues were responsible, among many other duties, for helping to raise $2.4 billion from leading private equity firms. Adam was a founding member of the largest private equity- backed start up in the oil and gas sector at the time. You could say Adam had come a long way from his grandfather Sam Rubin's farming career, but they likely had the same work ethic. The business took off like a rocket ship, Adam states, but it also fell back to earth and, in 2019, the company's assets were sold.
And so, in 2020 (just before the pandemic hit), Adam Rubin was unemployed for the first time in his life. Rubin was delighted to be in that position. He had what he calls "catching up time" with his buddies. Adam also did what many other parents were forced to do – he became a teacher to his son, as in Grade 3 science, geography and social studies. Adam describes that as a special time for him, also noting that time included tasting defeat in a 100 yard dash with his now 17-year-old daughter Samantha (named for his grandfather, Sam Rubin).
The big thing that was very special for Adam during Covid was reconnecting with his old friends as they all hit 50. The group – which included Avi Gesser, Matt Golden, Phil Haid, my son Ari Posner, Cory Pollock, Jason Klapman, Danny Stoller, also two guys from Saskatchewan and Alberta – Terry Levitt and Rob Eichelson, would meet online. The "prairie boys", as they referred to themselves, tried to help each other navigate the new normal. They became coaches, mentors, cheerleaders and even entertainers for one another. They created a contest with each other to name that tune, with music provided by Ari.
And, what this all says to Adam is "It reminds me and affirms the great character of Winnipeg. Good people come out of that town. … Honestly, I think the best asset I have is having had the opportunity to be raised in Winnipeg. It's the foundation for what makes our group who we are."
Today, Adam is back in action working as General Counsel with another private equity portfolio company, owned by the Blackstone Group. This company is one of the largest manufacturers of highly engineered structures for the telecom and utility industries in the United States. He still makes every effort to return to Winnipeg to see his family, either in the city or at the family cottage at Matlock. He is thrilled that his oldest child, Sam, is a first year student in the Faculty of Arts at Western University. What he delights in most is watching his child come to realize the benefits of being in Canada.