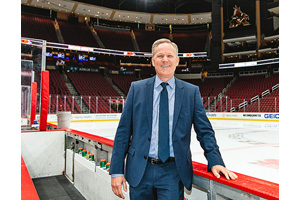 By MYRON LOVE For a Canadian kid born in Regina and raised in Winnipeg life couldn't be better for Rich Nairn.
As the long-time executive vice president in charge of communications and broadcasting for the NHL's Arizona Coyotes, Nairn, the son of well-known former local broadcaster and personality Ernie Nairn, is living the dream – and then some.
Not only does he get to work year round in a hockey environment – but also he gets to do it in a place where he never has to pick up a snow shovel or wear a parka.
Growing up in Winnipeg, one could say that Nairn had a conventional upbringing – Ramah School and Grade 7 at the former Joseph Wolinsky Collegiate before completing high school at St. John's-Ravenscourt. He earned a BA (Political Science) at the University of Manitoba and then an MA in Communications at the University of North Dakota.
Nairn got his start in the sports world when Sam Katz brought the young man on board as director of media relations for what was then the newly minted Winnipeg Thunder basketball team in the short-lived National Basketball League.
"The Thunder played its games in the old Winnipeg Arena," Nairn recalls. "When the league (and the team) shut down (in 1994), a few of the local media reached out to the Winnipeg Jets' (01 version) Vice President of Communications, Mike O'Hearn, and suggested that they hire me."
Nairn became the Jets' director of media relations. "I loved working for the Jets," he says. "I had followed them for years just like so many other Winnipeggers. And, like my fellow fans, I couldn't believe that they would actually leave the city. It was heartbreaking for all of us."
The good news for Nairn was that the team's new ownership wanted him to stay on in his position. "I was one of just 13 former Jets employees who were invited to accompany the team to Phoenix and help launch the franchise," he recalls. "While I knew that I would miss my family and friends in Winnipeg, I couldn't pass up the opportunity to continue working in the NHL.
"Twenty-six years later, I have loved every minute of it."
Now, contrary to the view that some readers may have had about the Coyotes' struggles in building a fan base in Phoenix, Nairn reports that the first seven years in the team's new home town was very much a love-in. "We owned the city," he recalls. "Charles Barkley had recently moved on from the Phoenix Suns, the Arizona Cardinals weren't playing very well, and the Arizona Diamondbacks did not exist yet.
"We also had some star players such as Jeremy Roenick, Keith Tkachuk, Teppo Numminen, Rick Tocchet, Mike Gartner and Nikolai Khabibulin, and we made the playoffs the first six of seven seasons in Phoenix.
"The team began to run into attendance problems after the team owners moved the Coyotes into a new arena in Glendale, west of Phoenix," he notes. "It became more challenging for fans to get to the new arena, which wasn't centrally located."
Despite the Coyotes' struggles over the years, Nairn asserts that the sport's popularity has increased tremendously in the region. "The number of young kids playing hockey in the Valley area continues to grow significantly," he reports, citing Auston Matthews, NHL star and the Toronto Maple Leafs top scorer, as a prime product of the area's hockey system.
The Coyotes themselves, despite having had little success over the years -the team is in last place in its division this season – is looking forward to a more promising future, Nairn predicts. "Our team is in the process of rebuilding," he notes. "It's the only way to acquire elite talent and every Stanley Cup winner has done it. Look at Pittsburgh and Tampa Bay. We have three first round draft picks and four second round picks in this July's NHL Draft. We are expecting to see notable changes in our fortunes over the next three to four years."
For Rich Nairn, being the Coyotes' point man for PR and broadcasting is a year-round job – with the only real down time coming during May and June (at least for teams that don't make the playoffs). "We have the NHL Draft in July, followed by prospect development camp, NHL free agency, the NHL schedule release and then rookie camp, veterans training camp and the regular season," he points out. "Arizona is a very competitive sports market with the Suns, Cardinals, Diamondbacks, ASU football and basketball, NASCAR and a very successful PGA tournament. My job is to be very proactive and to try and generate as much media coverage for all aspects of our organization."
His role also encompasses liaising with the Coyotes' TV and radio rights holders and broadcasters, arranging and coordinating media interviews with and talking points for management, players and coaches.
During games, Nairn can be found in the press box at Gila River Arena or on the road with the team. While he doesn't travel on as many road trips as he used to in the past, he does take advantage of the Coyotes' road games in Winnipeg to come home to see family and friends.
Speaking of family, Rich and his wife Aimee are the parents of three children: 10-year-old Jakob and six-year-old twins Harper and Jaden, who are all involved in youth hockey and soccer. The family are also active members of the local Jewish community centre.
Nairn notes that Phoenix has a large Jewish population.
No doubt that Rich Nairn is a very fortunate man indeed.