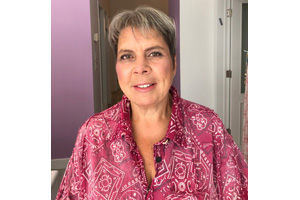 By GERRY POSNER For anyone who has spent any period of time in Winnipeg, he or she would be hard pressed not to be aware of the Kaufman family. And, for those even a bit older, like me, the names Harry and Sylvia Silverberg would also be well recognized.
The Silverberg family, including daughter Nora and husband David Kaufman were, and indeed, remain giants in the Winnipeg community, in particular the Jewish community. Our community as whole is the beneficiary of the generosity of these two families. Their contributions were many and plenty. And, by the way, Nora Kaufman recently moved to Toronto.
Joy Kaufman, the youngest of three children of Nora and Dave, has carried on in this tradition, albeit in a different way. Joy grew up in Winnipeg and her memories are vivid and strong. Those memories include summers at Winnipeg Beach and grandmother Goldie Kaufman coming for Shabbat dinners with her home baked goodies. Joy finished her high school at Tuxedo Shaftesbury High School. At 20, Joy started working for her father at Silplt Industries, a garment company and a name well known in the business world of Winnipeg. Two years later, Joy made the big move to Toronto where she enrolled in a two year programme in Fashion Merchandising at Seneca College. Upon graduation, she worked in the industry for several years. In 1991 Joy married Eric Cohen and the couple are parents of two daughters: Lindsay about to be married next month) and Loren (who begins a career in marketing for a large cosmetic company shortly).
It was in 1998 when Joy embarked on a new path – one that set her apart from most people. She became a true and dedicated volunteer. The first organization for which she volunteered was the Israel Cancer Research Fund (ICRF). Once she got into the habit of giving back, well, as Joy puts it, "She never looked back." In terms that most readers will understand, Joy, in her first year, raised the most money in ticket sales for the annual gala. Her efforts earned Joy an invitation to sit on the board and become the co-chair of the gala for three years. From this first step into the world of charity fund-raising, Joy Kaufman chartered a course that has not changed since that time. Her success with ICRF inspired her to take on other fund-raising roles within the community. For example, Joy has been a long time supporter of the Toronto Jewish Film Festival and for five years was the advertising co-ordinator for it.
When Joy's children attended the Toronto Heschel School, Joy was soon launched into an area of fund-raising that continued for many years, even after her children had stopped attending there. One of her first tasks was to be the silent auction chair, a position that required her to obtain all the silent auction items and set the auction up. A great deal of money was raised for this auction. Later, she was asked to take on the responsibility of advertising for the Heschel School calendar (in fact, that is how I first came into contact with Joy, when she called me cold since I had grandchildren at Heschel; it's hard to refuse Joy). Even last year, Joy was approached to take on the fundraising for the 25th anniversary paper calendar. She alone raised $24,000.00. It is not a stretch to call Joy the Wayne Gretzky of the Jewish fund-raising world. (Sadly, she never has received anywhere near what Wayne was paid at any time in his career, i.e., nothing).
As you might well expect, not many people take on these fund-raising tasks with the same enthusiasm as Joy. I wondered about that unusual quality. Joy states that she sets different goals each year. "I respect the fact that there are many people out there who are not comfortable asking for money, but I am not one of them… the fact that I have FNDRAZER license plates says a lot about how proud I am of what I do. I have since changed those plates as too many people were stopping me."
Joy also is clear that she strives to have a balance in her life that brings together LIVING and GIVING. She likes to say that she loves being Jewish because "my faith promotes kindness, compassion, wisdom and charity."
From Harry and Sylvia Silverberg to David and Nora Kaufman and now to Joy Kaufman. There is a common theme to this story and it is called giving money, time and energy for and to others. We all have been and are the beneficiaries of each of them and JOY radiates.