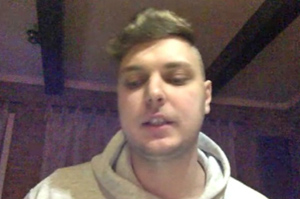 By BERNIE BELLAN Alexander Kovalchuk is a 27-year-old Jewish Ukrainian who is currently in Kyiv working with a group of young people, mostly in their 20s and 30s, called  Zgraya (https://zgraya-help.com). Zgraya means "wolf pack" in Ukrainian.  In normal times, Alexander told me that he is a video editor, "working in post production" – mostly in "commercial and music videos."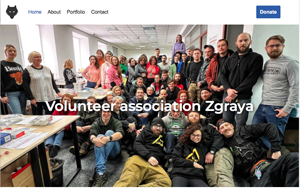 Alexander said that he moved to Kyiv about two weeks ago from where he was living. He met up with other members of Zgraya whom he knew from before and was put to work making camouflage nets for the military.
I said to Alexander that Alex Guider, who moved to Winnipeg from Kyiv 11 years ago  (and about whom we have a story at http://jewishpostandnews.ca/local/1078-jews-from-ukraine-who-have-settled-in-winnipeg-offer-conflicting-opinions-about-the-russian-invasion) told me that a lot of the members of Zgraya are Jewish. About how many were Jewish, I asked Alexander? He said that lots were but he didn't know how many.
Alexander went on to explain that Zgraya was started by a young Jewish woman by the name of Evgeniya Talinovskaya eight years ago (in 2014) when Russia seized Crimea and began to foment an insurrection in the Donbas region of Ukraine.
In short order, once Alexander came to Kyiv, he told me, he and others in the group were asked to do "cooking for our army" and for people who had come to Kyiv from other cities.
Alexander went on to describe the four areas in which Zgraya members are contributing to the Ukrainian defense effort, but frankly I couldn't understand what he said so I consulted the Zgraya website.
Here are pictures from the Zgraya website that show what kind of work the members of the group are engaged in doing: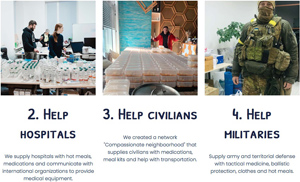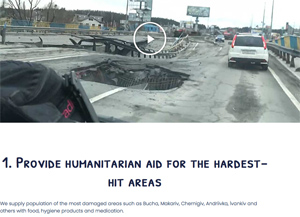 The four areas in which Zgraya is involved are: Providing humanitarian aid to the hardest-hit areas; supplying hospitals with hot meals and trying to contact international organizations to access medical equipment; supplying civilians with medications, meal kits, and transportation – and helping Ukrainians who have moved to Kyiv to find places to live; and helping to supply the military with clothing, ballistic protection, medicine, and hot meals. (The Zgraya website – zgraya.help.com has more detailed information.) Later on, Alexander added that Zgraya is now involved in evacuating Ukrainians from areas that have been liberated from Russian control. (More about this later.)
Insofar as obtaining medicines goes, Alexander explained that it's not simply a matter of finding drugs in whatever drugstores might be open. "People have no money for buying it," he says, "and a lot of drugstores that are open, they doesn't have special drugs that people need."
"But," he added, "we are finding it, we are buying it." Alexander went on to note that there are about 15 people in the group who are doctors who are devoting themselves exclusively to "helping people with what they need" in terms of medicinal requirements. If certain drugs are not attainable, then the doctors will try to find suitable substitutes, he said, but for so many people, having the money to pay for drugs is simply impossible. Zgraya provides the medicines at no cost, but clearly the group is desperate for outside donations in order to keep going.
"We have a large volunteer group that can deliver medicines and food," Alexander said, because "a lot of people can't even go from their home to go to the store. It was a problem even before the war," he added.
Buying food is also a challenge, but the biggest financial problem for Zgraya, Alexander noted, is paying for the evacuations of civilians from areas near Kyiv that were hit hard by the invading Russian forces – but that have now been abandoned by the Russians.
"One evacuation will be for 120 people," he explained, but it costs in the neighbourhood of "7,000 Euros" (approx. $9600 Cdn.) for one evacuation.
"When we are going to a city (or town) we are delivering food, we are delivering drugs…and we are bringing back 120 people, but every day we receive requests for around 300 people – it's mothers, it's children, it's old people who need to be evacuated.
"Every day Zgraya spends something like 16,000 Euros. You need to understand we don't have big donations from anyone. Most of our donations are from just regular people who are trying to help us."
I asked Alexander whether he's married.
"No, I'm not," he answered. "I have a girlfriend and of course, I was worried about her – maybe she don't want to hear it. I was trying to force her to move to Lviv once the war started. She has the possibility. She has family in Prague, but she doesn't want to go."
I said to Alexander that I would do whatever I could to raise awareness of Zgraya – whether it was through our newspaper, our website, or our Facebook page. I told him to keep in touch.
Later, after we had finished our conversation, Alexander sent me a message, asking that if anyone does want to make a donation through the group's website https://zgraya-help.com please send the money through Paypal, if possible. "Paypal is the fastest and greatest way," he wrote. "Now every day is count."