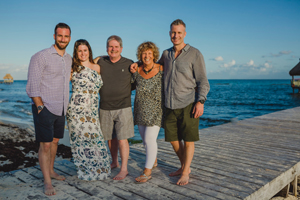 By BERNIE BELLAN While there has been a large influx of Jewish immigrants into Winnipeg over the past 25 years, perhaps one of the most interesting stories of how one family made the decision to come here is the Zylberman family's – when one learns how much their decision to come here was totally a matter of chance.
Mauricio and Marta Zylberman, along with their three children: Ariel, Leandro, and Melina, arrived here in 1997 – during one of the worst snow storms in Winnipeg history, and just in time for what became the "flood of the century."
But how the Zylbermans ended up in Canada – and a city about which they knew almost nothing at the time, is quite a fascinating tale. Although their decision to come here was taken somewhat arbitrarily, the Zylbermans quickly established strong roots in the community and have been deeply involved not only in Jewish life, but many other aspects of life in Winnipeg as well.
The story begins with a turbulent period in Argentina's history, when the economy was cratering and Argentina was about to enter into a period that is now referred to as the "Argentine Great Depression," which lasted from 1998-2002. Prior to that period Argentina's economy had stagnated severely. Not only that, Buenos Aires, which is where the Zylbermans lived, had become a dangerous place where, as Mauricio Zylberman explains, the "corruption" and crime were terrible.
He says that every night, when he would come home from work, he "would have to drive around the block to make sure no one was waiting for me before I would get into my house."
And yet, as Marta Zylberman describes their situation at the time, "we were very successful." Their wanting to leave Argentina, she observes, "wasn't about money. We were trying to get a better future for our kids," she notes.
I asked them what they did in Argentina. Marta says she was a "stay at home mom and Mauricio was an accountant."
The two boys were teenagers in 1997; Ariel was 16, Leandro was 14, and Melina was 11. Mauricio and Marta were themselves already in their 40s, so picking up and starting over in a new country – without even knowing where they might go, was definitely a challenge not for the faint of heart.
Their first choice was to get a green card for the United States, but "we couldn't get it," Marta says.
So, as she notes, in 1996 Marta decided to contact three different embassies: the Canadian, the Australian, and the New Zealand embassies and, as she puts it, "whoever is going to give us an answer, we're going to go for it."
"Canada and New Zealand were very welcoming," Marta says, but "not the same situation with Australia."
Eventually the Zylbermans were invited to an interview at the Canadian embassy.
I asked Marta and Mauricio whether they were even thinking about coming to Winnipeg at that time? "Was Winnipeg even on your map?" I asked them.
"No," Marta answers. "We didn't even know about Winnipeg." (What eventually would turn into a major initiative undertaken by the Winnipeg Jewish Community Council – later to become the Winnipeg Jewish Federation, to attract Argentineans to Winnipeg had not yet begun.)
"When we put in the application and we were asked where we wanted to go, we said Toronto or Ottawa," Marta says.
The Zylbermans could have gone anywhere they wanted in Canada because they were approved for visas but, at the end of their interview at the Canadian embassy, Marta says that the woman who was conducting the interview showed them some flyers that she thought might help them in their decision-making process.
According to Marta, that woman said, "You're not going for an exploratory visit anywhere. But because you are Jewish and you have teenagers, and you are a family of five, why don't you take these flyers that are related to the Jewish community in Winnipeg, so if you decide to change your mind and you want to go to Winnipeg (instead of Toronto or Ottawa), just let us know."
The Zylbermans looked at those flyers. Marta notes that the flyers talked about how many restaurants there were in Winnipeg per capita, how many lakes were nearby – but there wasn't anything about "the temperature" in Winnipeg, and there certainly wasn't any mention of blizzards !
Mauricio picks up the story at that point, saying that when they got back from the embassy, he was intrigued at the notion of moving to a city with an established Jewish community, one that the individual at the embassy described in glowing terms. That very same day, he says, he sent a fax to the Winnipeg Jewish Community Council (noting that this was before the advent of the internet), expressing an interest in coming to Winnipeg.
Apparently that fax was fielded by Evelyn Hecht, who was the Community Relations Director for the WJCC at the time, and within a couple of hours Mauricio said he received a fax back from someone in the Manitoba government asking how could they help with the Zylbermans settling in Winnipeg.
Mauricio says that it was "astonishing to have an answer back within a couple of hours. I said to Marta, 'If these people are giving an answer back in a couple of hours, that's the place we should go'."
Mauricio points out that the Provincial Nominee Program, which was begun by former Premier Gary Filmon, had not yet been established. It was that program, along with the concerted efforts of individuals such as Evelyn Hecht and Bob Freedman, who was executive director of the WJCC, along with the late Larry Hurtig, a Past President of the WJCC, and the aforementioned Gary Filmon – who all saw the potential benefit of trying to attract Argentinean Jews to Winnipeg that led to a largescale immigration to Winnipeg at the end of the 1990s and in the first decade of this century..
As Mauricio points out, however, when the Zylbermans arrived in Winnipeg that fateful day in April 1997, "there were only three other Jewish Argentinean families that had moved within recent years to Winnipeg." (Eventually the number of Jewish families or individuals to arrive here from Argentina grew substantially, to the point where the figure of 400 individuals was bandied about as the number of Argentinean Jews who had immigrated to Winnipeg. However, as Mauricio acknowledged during our conversation, many of those individuals used Winnipeg as a stepping stone to eventually relocating elsewhere in Canada. It's difficult to know exactly how many Argentinean Jews have remained in Winnipeg, but according to the 2016 Census there were only 475 individuals of Argentinean descent living in Manitoba that year. It's possible that the majority were Jewish, but the fact is that, like most questions revolving around how many Jews actually live in Winnipeg, we really don't know the answer.)
As I already noted, the Zylbermans didn't have a clue what was in store for them as far as Winnipeg weather was concerned. For anyone reading this who was here at the time, memories of the blizzard that began on April 5 of that year, and which saw a total of 48 centimetres of snow fall in a 24-hour period are probably still quite vivid (along with the memories of a good part of southern Manitoba turning into one vast lake).
Yet, even before that blizzard began to hit, Winnipeg was already under a heavy blanket of snow. As their plane began its descent into Winnipeg, Marta says "all they could see was white." She turned to Mauricio and said, "Omigod – what are we doing here?"
But, when the Zylbermans saw the large troupe that had turned out to greet them upon their arrival here, including Evelyn Hecht, along with Roberta Hurtig (who, along with husband Larry, Marta described as their "Winnipeg family"), as well as a representative from Toronto for JIAS (the Jewish Immigration Aid Service), they felt quite relieved.
Another individual who provided invaluable help to the Zylbermans was Gustavo Rymberg, who was a graphic designer working for the YMHA at the time, and who had arrived in Winnipeg just a few months prior to the Zylbermans' arrival. Gustavo has gone on to forge a successful career working for other Jewish federations in Canada, first in Ottawa, and more recently in Hamilton, where he is now executive director of the Hamilton Jewish Federation.
Marta acknowledges how hospitable members of the Jewish community were when the family first arrived in Winnipeg. "We were invited to so many houses, but it was exhausting," she says.
"We had to translate in our minds what they were saying – and then put into English what to answer." (I remarked though that both Marta's and Mauricio's English is now quite good.)
It wasn't only members of the Jewish community who rolled out the welcome mat, Marta adds. She recalls how friendly and helpful many individuals were to her when the Zylbermans first arrived here and she was shopping for such things as winter boots – even for a car.
And, despite the snowstorm that greeted the Zylbermans soon after their arrival, according to Marta, their biggest problem wasn't getting used to the snow, "the fateful moment was when Mauricio realized that he wasn't recognized as a CGA here," which is what he was in Argentina.
I asked the Zylbermans whether they didn't know that Mauricio would not be able to practice as an accountant before they got here?
"No, we didn't know anything," Marta answers.
As Mauricio adds, when they visited the Canadian embassy in Buenos Aires, they were told "the number one thing we need in Canada is accountants."
Unfortunately, despite Mauricio being fully credentialed as an accountant in Argentina, and having had years of experience practicing the profession there, upon their arrival here he was told "you're not certified here. Become certified – and you're good to go."
Mauricio explains that prior to coming to Canada he had contacted the California body responsible for certifying accountants in that state (and remember – the Zylbermans' first choice was to emigrate to the US, preferably California) and was told that all he needed to do was take the qualifying exam in that state in order to be licensed as a Certified Accountant. Mauricio assumed that the same rule would apply in Canada, hence his surprise and disappointment at finding out that wasn't the case here.
As a result, Mauricio says he spent almost four years taking the courses required to be certified as an accountant in Manitoba. He did find work related to his training, he says, but for four years Mauricio explains that he would work from 9-5, then head to Red River College to take accountancy courses in the evening. Eventually he completed the required courses and was certified again as a Certified General Accountant.
As things turned out, the relocation of the Zylberman family to Winnipeg proved fruitful for every member of the family. Ariel, Leandro and Melina went on to spend many years dancing with the Chai Folk Ensemble. Marta and Mauricio became part of the Chai family as a result and made many lifelong friends.
Both Marta and Mauricio have also been heavily involved with the Israeli pavilion at Folklorama. It was there that they met Richard Swyston, Mauricio notes, who has also been a longtime volunteer at the Israeli pavilion. The Zylbermans now count Richard and Gemma Swyston among their friends.
Ariel and Leandro attended Kelvin High School upon their arrival in Winnipeg, and both went on to university here. Ariel was actually a Rhodes Scholar and ended up obtaining a PhD in Philosophy. (I noted that he's a Doctor of Philosophy who is a real "Doctor of Philosophy".)
Marta recalls how impressive an achievement Ariel's becoming a Rhodes Scholar was: "Here he was, not only an immigrant, but a Jewish guy," she remarks.
Marta says though that unfortunately, Ariel was unable to find work in Winnipeg and, as a result, he is now teaching in the US.
Leandro and Melina, however, have remained in Winnipeg, where Leandro works as a lawyer and Melina as a doctor (psychiatrist).
Marta has also gone on to forge a career in real estate, but she waited until she felt comfortable enough with her English to pursue that career, she says.
At the end of our conversation, I said to Marta and Mauricio what a nice gesture it is for them to thank the Jewish community for welcoming them here. (As a matter of fact, the Zylbermans also thanked the community within the pages of this paper 15 years ago, upon the 10th anniversary of their having arrived here.) I noted though that, considering the Zylbermans' arrival in Winnipeg coincided with what became the "flood of the century" and, with all the snow we've had this winter, I hoped that reminding readers of what we went through 25 years ago wasn't going to cast some sort of jinx on us – and lead to yet another weather catastrophe.
The Zylbermans, however, insist that for all the harping that people do on the weather here, this is one fabulous city – and despite how arbitrary their decision to come here may have been, it is one that they and their children will always think of as the best decision they could ever have made.