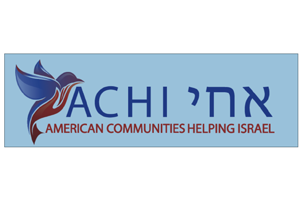 ACHI, American Communities Helping Israel, was founded in 2004 after the Second Intifada to boost the economy and morale in Israel, and to keep Israel in the hearts and minds of this generation and the next. Most recently, they have created an online market to help Israeli vendors who have been impacted by the COVID-19 pandemic.
ACHI LAUNCHES PASSOVER MARKET FOR THE UPCOMING HOLIDAY
With Passover just around the corner, you may be looking for some new Judaica for the holiday. Whether you're in need of new kiddush cups, seder plates, matzah covers, serving dishes, or even afikomen presents for the kids, look no further than the ACHI market. Items for Passover range from moderate to high end, traditional to whimsical. Looking to thank your significant other for working so hard in preparation for the holiday? ACHI vendors sell gorgeous and unique jewelry pieces, accessories, ceramics, body lotions, cosmetics, and more. Just head to https://www.achi613.org/achi-market/pesach to see the wide array of products available.
ACHI (American Communities Helping Israel) supports an online market with more than 150 Israel-based vendors. The non-profit's slogan is "Think Israel. Buy Israeli." and acts as a counterpunch to the BDS movement.
The Market sells Judaica, art, cosmetics, fashion, food, jewelry, photos, toys, and wines of Israel. One section offers customers the option to purchase Israeli goods online to be delivered to friends and family living in Israel.
Photos of products on site are available upon request.
Think Israel. Buy Israeli. Shop www.ACHI613.org
Any vendor who sells a product online that can be shipped from Israel who is interested in being included in the ACHI Market can email the team at contact@ACHI613.org.