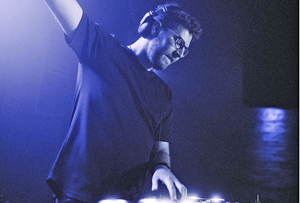 By MYRON LOVE Since the time of Elvis, teenagers have been picking up guitars, forming bands and hoping to reach the stars. Jorel Minuk was one of the many struggling to break through.
The son of Cindy Bass and Morley Minuk would seem to have succeeded.
"I had always wanted to be a musician," says Minuk, who was born in Toronto but grew up in Winnipeg. "As a teenager, I had been part of several bands – but never could find a group of solid guys who were serious about taking our music to the next level."
The Gray Academy graduate's musical life changed dramatically about 12 years ago when he was first exposed to electronic music. The performer who inspired him was a young American DJ, record producer, musician singer and songwriter who goes by the professional name of Skrillex.
In an interview that he did with Canadian Beats Media two years ago on the release of hisw new EP "Trenchant", Minuk recalled that in his early years, he was a die-hard classic rock fan. However, after hearing the sounds in electronic music, he was immediately captivated by the unique flavours produced by some of his early heroes."
"I thought that electronic music was super cool," Minuk told this interviewer. "I really liked the vibes."
In 2010, while still in university – he is a graduate of the Asper School of Business with a degree in marketing and human resources – he transformed himself musically-speaking into a DJ going by the moniker "PRZM".
"I started as a DJ working the wedding circuit and local socials," he says. "By 2014-16, I was doing bigger events and productions. Since 2016, I have been performing at clubs and electronic music festivals across Canada and even performed at a bar in New York."
As Minuk – aka PRZM – has grown musically, his music has evolved to incorporate different genres and moods. In that interview with Canadian Beats Media, Minuk noted that he has a particular fondness for half-time bass music.
"My favourite thing about half-time music is the groove. I am obsessed with creating drums that can make people move at a slower bpm," he told the CBM interviewer. "One of the things I love about bass music is how you get to experiment with it.
"The more obscure the sounds are, the more I like it. I appreciate all my peers who can produce music like this because it's not easy to create music that blends such weird sounds, and yet sounds good."
PRZM's music has been featured on various labels such as: Tribal Trap, brednbutter, Phuture Collective, Gravitas and supported by the likes of Stylust, MORiLLO, and Perkulat0r and is available on Spotify, Applke Music and all the other streaming platforms.
Four years ago, Minuk joined musician friends Adrian Klassen and Marco Tummillo to form MAP (Mortar & Pestle). As reported last October on a website called "HAPPENINGNEXT", "after releasing their debut EP 'Grant Ave.' on Admit One Records in July, 2018, MAP has received massive support from their peers and has had their music played at several major North-American festivals including Shambhala, Dirtybird Campout and EDC Las Vegas. Following their Admit One Records debut, they have since released music on notable labels like Chub Rub, Rock Bottom, Late Night Munchies, Groovy Bone, and OFDM."

"Most of our music is original," Minuk points out.
Coming performances for MAP include an Exchange Event Centre program online and the Summer of Sound fro Friday, June 10, at Assiniboia Downs.
While Minuk enjoys his day job as digital marketing manager at Web Wizards Inc., he says that he hopes one day to be able to make his living as a full time musician playing festivals throughout North America.