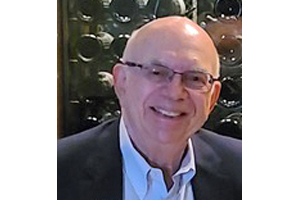 By GERRY POSNER The Lyons name is well known in Manitoba, particularly in the medical field. Just think: Dr. Ruvin Lyons, his son Dr. Ted Lyons, Dr. Ben Lyons and his son Dr. Roger Lyons – all physicians. That is quite a family medical history. Many readers will recall Ruvin Lyons as the go-to guy as an obstetrician; Ted as a world renowned radiologist and a pioneer in ultrasound; Ben Lyons, Winnipeg's first cardiologist and the man who established the stress test for cardiac patients in Winnipeg; and Roger, listed in "America's Top Doctors from 2000 to the present" for his work in hematology. Now that is serious talent. And I suppose you would not be surprised to learn that they are related. Ruvin and Ben were first cousins.
Roger Lyons is a graduate of the University of Manitoba Medical School and is proud of it. You might not have predicted his rise to fame as, rather than seeking the limelight, he was content to stay in the background. The son of Ben and Sybil (Wasserman), Roger was born in 1943 in Prince Albert, Saskatchewan – close to where his father had a medical office in Birch Hills.
Roger grew up in the south end of Winnipeg, graduating from Kelvin High School. He was what might be called an indifferent student. But, as soon as he hit medical school, his stock appreciated. Roger has said that he had a passion for medicine which has never diminished throughout his entire life.
Following graduation from the University of Manitoba Medical School in 1967, he interned and was a Junior Resident in Medicine at the then Winnipeg General Hospital,l as well as a Research Fellow at the Manitoba Cancer Research Foundation. He and his wife Barbara then left for St. Louis, where he became a Senior Resident in Medicine and then a Clinical Fellow in the Department of Hematology at Washington University School of Medicine in 1971-73, followed by a stint as a Research Fellow at the same university from 1973-75.
In 1975 Roger accepted an offer to become a part of the Faculty of Medicine at the University of Texas Health Science Center at San Antonio, Texas. Roger remained there for five years, then his career course changed. In 1980, he established a private medical practice with his wife Barbara initially present as both the office manager and chemo nurse. Barbara was well qualified as she was a graduate of the Concord Repatriation Hospital Nursing School in Sydney, Australia. That practice, which began with Roger and Barb, has now grown to include 45 physicians.
In 1984 and 1985 Roger served as Chief of Hematology/Oncology Section at both the Methodist and Humana Hospitals in San Antonio. He later was appointed Vice-Chief and later Chief in the Department of Medicine from 1987-1990. For 14 years (from 1983-2005), Roger was the Chief of the Therapeutic Plasmapheresis Committee. He was also President of the Cancer Care Centers of South Texas for 37 years.
His practice grew and Roger and Barb decided to join USONCOLOGY. From 2012 to the present, he has been the Director of Hematology and the Medical Director of Laboratory Services for USONCOLOGY, subsequently for Texas Oncology as well. These groups are the largest private practice Hematology/Oncology groups in Texas and the USA. Yes, like his cousin Ted, Roger is still working in his field. In short, Lyons has a major professional history which has made him a big name in the Hematology world.
Moreover, Roger was affiliated with and still remains affiliated with at least five different hospitals in the San Antonio region. Over a period of 42 years he has been active on various committees related to the field of blood, cancer and leukemia, not to forget the multitude of other committees he has served on over the course of his career. As well, various medical societies and organizations have all been a component of Roger Lyons' medical record.
What has also been a source of satisfaction to Roger is his ongoing involvement in clinical research – with 95 published articles in peer reviewed journals. And again, just like his cousin Ted, Roger has been active in his community. He is a former member of the South Texas Regional Blood Bank, and an editorial Board Member of ClotCare Online Resource. As well, Lyons serves as a member of the Finance Committee of Agudas Achim Synagogue in San Antonio and as a member of the Board of the Hebrew Free Loan Association. It is likely not a stretch to say that at one time his ancestors might have been on the receiving end of one of those loans when they first came to Canada and settled in Saskatchewan. The circle would be complete.
Roger's and Barbara's three kids all have followed their impressive father. Andrew Lyons is an author, daughter Alisha, a business owner and son Jonathan Lyons, an intellectual property lawyer. To top it off, Roger and Barb have seven grandchildren.
To reach the age of 78, albeit working a reduced schedule, yet still considered to be a star in his area of medicine, Roger Lyons has something going for him. He would attribute some of his success to having benefitted from the efforts of his wife Barbara, a past president of multiple Jewish organizations, including the Jewish Community Centre and Agudas Achim Synagogue, as well as a member of multiple Jewish and community foundation boards, and a woman whose management skills made Roger's ascent possible. Roger also attributes his growing up in Winnipeg in a nurturing and supportive environment as having laid the groundwork for his success to this day. He is not "Lyin". I should know. He and I have been friends for 75 years and he was my very first friend.