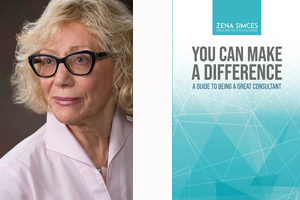 In a new book written by former Winnipegger Zena Simces, titled "You Can Make a Difference: A Guide to Being a Great Consultant",  Ms. Simces offers advice based on her own longtime career as a consultant.
A description of the book says:
Zena Simces is a Consultant for Strategic Change with over 30 years of experience in the health, social services, education, justice and employment areas in government, not-for-profit and private sectors
Whether you are considering a consulting career, wishing to be even more successful as a consultant, or have a leadership or management position in any sector, this book will be of value to you.
The book takes a comprehensive look at how to make a difference as a consultant in today's complex world and meet future challenges. Through my narratives, research and tips, she offers useful information to determine if consulting is for you, how to get started, the technical skills required and, most significantly, the soft skills needed to guide you on a successful path.
Ms. Simces discusses the top 10 skills to becoming a great consultant. Being a great consultant, according to Ms. Simces, means building trusting relationships, understanding the culture of the organization, being a good listener and communicator, upholding ethical standards, focusing on the big picture, and being a catalyst for change, an influencer, and a leader.
According to Ms Simces, it is more important to "get it right" than "being right," and to do the job "with" your clients and not "for" them. "Before people care about what you know, they want to know that you care."
In biographical information sent to us by Zena, she noted that "She has managed many complex projects and has extensive government and voluntary sector experience as a manager, consultant and change agent working at a national level, and at a provincial and community level in the provinces of New Brunswick, Ontario and British Columbia.
"She has supported organizations in understanding and implementing reforms and undergoing transformation both within their groups and across systems and has worked to build effective teams, partnerships and multi-sector coalitions to enhance collective impact.
"Zena has facilitated numerous consultation sessions with a wide range of community organizations, professional groups, academics, diverse cultural groups, First Nations, women, seniors, families, youth, people with mental and physical challenges and the general public.
Among her many volunteer activities, too numerous to list here, Zena has served as
• May 2001-03 (three-year term) – Chair of the Canadian Jewish Congress- Pacific Region.
• Past Chair of the Social Action Committee, Canadian Jewish Congress – National Executive.
• Past Chair – Advocacy Committee – Jewish Federation of Greater Vancouver.
Zena's book is available as an ebook or in paperback on Amazon, Chapters/Indigo and Barnes and Noble. (The link for Amazon is https://amazon.ca/dp/0228843812.)