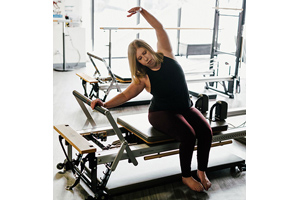 By REBECA KUROPATWA Growing up in Winnipeg, Norah Myers (34) enjoyed spending a lot of her time reading. Born prematurely -when Norah was only eight-days-old, she suffered brain trauma.
As a result one year later, Norah was diagnosed with Cerebral Palsy, a disability that affects her movement and posture.
Despite having Cerebral Palsy, and its attendant physical challenges, Norah's intellectual abilities developed quickly.
Norah began writing fiction at a very young age, eventually getting into writing professionally (attributing her creativity in writing and the arts to her Jewish father's side of the family). "My first career was in the publishing industry," said Norah.
"After seven years, I decided to become a Pilates instructor. I've been practicing Pilates for 12 years now."
Last September, Norah received her instructor certification in Pilates. She now specializes in using Pilates for individuals with certain disabilities and pregnant women.
Norah's passion for Pilates came about in 2008, when her massage therapist said she needed to be exercising more in order to obtain the full benefits from her massage treatments.
As it happened, there was a Pilates studio right up the road from her massage therapist's office, so she decided to try it.
And, since then, Norah has never looked back.
Some may assume that Pilates is an exercise that is geared to rehabilitative treatment for chronic pain post-trauma, like a car accident or stroke. But it's much more than that, Norah explained: "Pilates is also a preventative treatment you can do when you're healthy and strong, to prevent injuries and prevent things from happening.
"Lots of people come to Pilates only when they're at the end of their wits, because other things haven't been working. But, you can also do it when you're healthy and you're not injured. And, you can prevent injuries as well."
According to Nicole, "Pilates is focused on dynamic movement. With Pilates, you are always moving. You are on the ground, you are standing up…you are in constant movement the whole time. It is exercise done on a mat and on equipment – usually in an hour-long exercise class designed as injury rehabilitation or prevention."
As for her own experience with Cerebral Palsy, Norah has found it is a big help in maintaining her balance, strength, and posture. "It has helped me a lot with just becoming stronger," she said. "I have ab[dominal] muscles now. And, I have way better body awareness and body control, because of regular Pilates classes. You are correcting muscle imbalances. You are improving your strength, your balance, and your coordination.
"It really helps with everyday things – being able to do housework…and, if I drop my keys, I am able to bend to pick them up. Also, if I need to carry the groceries from the car to the house, I can do that.
"If you are picking your grandson up out of the highchair, and holding him, you can do that…it just makes everyday things doable. Even going outside – if you slip, Pilates helps you to develop fast enough reflexes that, if you stumble, you can actually catch yourself before you fall down."
Different Pilates exercises are designed to help with lifting, carrying, balancing, and moving. These are referred to as "functional exercises," ones that help in your everyday life.
"I work with a lot of pregnant women," said Norah. "Pilates really helps you to have a safe, uncomplicated, easy delivery. And, it helps you recover fast and in a healthy way. All the women I have helped have had a really easy, safe labour, and have recovered very quickly."
When it comes to reaching the disability community, Myers has found that, while the response so far has been good, she realized right away that individuals with disabilities are often not aware that doing Pilates is within their capabilities, or that it helps with pain management, stress, and everyday life.
"I partnered with a couple disability organizations to offer classes to their members," said Norah. "I've been doing Pilates instructing for a year-and-a-half now, and I've noticed there is a very common assumption that Pilates is only for people who are already in shape…or people who are flexible, or who are dancers, or who already have a certain amount of strength or body control.
"But, that's not the case. People come to Pilates after severe accidents, after surgery, when they have cancer, when they have a broken arm, or a broken foot, or whiplash, or whatever it may be."
For now, all of Myers' classes are offered online over Zoom. In-person classes at Pilates Winnipeg, in St Vital, will be available once some degree of normalcy returns post-Covid restrictions.
Myers teaches classes everyday. They are semi-private and in groups of three online. These, as well as private classes will resume once Pilates Winnipeg reopens.
No equipment is needed to start Pilates, apart from an exercise mat. Norah added, "If support is needed for knees, back, or shoulders, I'd also recommend a pillow or a rolled up towel. Equipment is good to have, but it's also good to start without it – just to see how you feel, so that you don't spend a bunch of money on equipment you may not ever use."
For more information, visit www.wellnessbynorah.com.