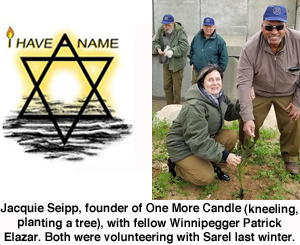 By BERNIE BELLAN
A while back I was speaking with Jacquie Seipp who, four years ago, came up with a novel and very thoughtful idea: Invite individuals and groups to participate in commemorating the memories of the "1.5 million children murdered in the Shoah".
We've written before about Jacquie's project, which became known as "One More Candle" – and Jacquie herself has produced an excellent brochure describing how One More Candle came about. As well, last year Sharon Chisvin wrote a very good article for the Free Press which you can access online titled "Non-profit remembers lost generation".
Recently, I had a long conversation with Jacquie during which we discussed the history of the project which she had started – and how successful it's been, but it was when Jacquie told me that she had spent the winter in Israel, I began to think that, if I were to write about One More Candle, I would also want to include a mention of what Jacquie had done in Israel this past winter as well – which really has nothing to do with One More Candle.
Here then is a brief description of what One More Candle is all about, taken from the brochure that Jacquie has put together:
"More than a decade ago at Yom Kippur High Holy Day services, while remembering the Shoah (Holocaust)…the story that 93 girls chose to take their own lives rather than allowing their bodies to be used and desecrated as sexual objects for Nazi officers…caught me in a way that I had not felt before. Their last plea was 'all we ask is, say Kaddish for us. For all 93, say Kaddish'."
The brochure goes on to describe how Jacquie began to formulate an idea in her mind that would involve getting people to light candles for each of the 1.5 million children who perished in the Shoah. She discussed her idea with Rabbi Green at the Shaarey Zedek, who was extremely supportive. Eventually she fleshed out the idea with members of the congregation.
Jacquie took her idea to representatives of Yad Vashem, which provided a database of names of children whose memories could be preserved through One More Candle.
Then, in the midst of planning One More Candle, as Jacquie notes: "While considering how to move forward on this, my mother (z"l) passed away.
"From sad things, good things happen," she writes in the brochure.
In November 2015 the Manitoba Theatre Centre produced a play titled "Wiesenthal". As Jacquie explains, attending that play "helped solidify the idea" of bringing One More Candle to fruition.
In her words, "Wiesenthal" is "about an ordinary man who acted extraordinarily to bring light to the darkness of the Holocaust. Simon Wiesenthal always had a sunflower on his desk as he searched for the murderers of six million Jews….As each show ends, as he leaves the stage, Wiesenthal takes the sunflower, and gently hands it to one person in the audience." (Jacquie was the recipient of the sunflower the night she attended the theatre.)
"Receiving that sunflower broke me," she write. "I knew that One More Candle was bashert (meant to be) and that I, an ordinary woman, have been divinely given an extraordinary task.
"One More Candle took form in April 2016."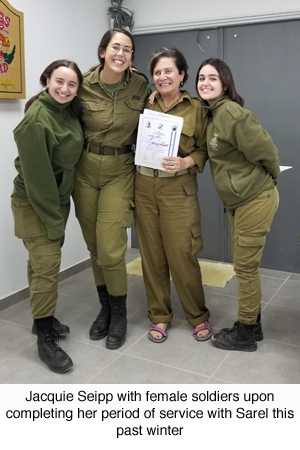 The One More Candle brochure goes on to describe what individuals can do to help perpetuate the memory of one of those 1.5 million children murdered in the Shoah:
Contact One More Candle at www.onemorecandle.org
"Upon adopting a child of memory, light a candle on the yahrzeit (anniversary) of the child's passing. (Reminder: add your adopted memory's name to the yearly yahrzeit list at your synagogue.)
"Lighting a candle in honour of those who have passed is a tradition to express what we cannot communicate with words.
"With each candle, the life of a child who lives – and was murdered, is remembered and honoured."
Although One More Candle is a registered charity, "there is no charge to adopt a memory", the One More Candle brochure states, noting though that "donations are graciously accepted and contribute to honouring the memories of children murdered in the Shoah."
In the fall issue of the Shaarey Zedek bulletin, known as the "Shofar", Jacquie provided an update of how One More Candle has progressed.
Shaarey Zedek was the "first synagogue to accept the adoption of the memories of 399 children (365 + 29 – can't forget the leap month of Adar II) who were murdered in the Shoah. Each one of their names is called daily at minyan services throughout the year.
"Since the inception of One More Candle in 2016, there are synagogues across Canada – in Ontario, Manitoba, Alberta, and Saskatchewan, as well as the United States, that support the project. People from around the world have also chosen to adopt the memory of a One More Candle child.
"Bar and Bat Mitzvah children have also made the commitment of adopting a memory."
As the back of the One More Candle brochure says: "We are committed to one simple act: Remember."
As I noted at the beginning of this story, Jacquie also spent a good part of this past winter (prior to the onset of the pandemic) in Israel, volunteering on a military base with Sarel, the organization for older volunteers who would like to contribute in some way to the Israel Defense Forces.
While on the base (Base 559, Mishmar Ha Negev, west of Be'er Sheva), Jacquie says, she was joined for two weeks by Patrick Elazar, who is well known to many Winnipeggers for the many ways in which he contributes to our community.
During their time together Jacquie and Patrick planted a tree together. I asked Jacquie if she could send me some pictures of her and Patrick, which we have included with this story.