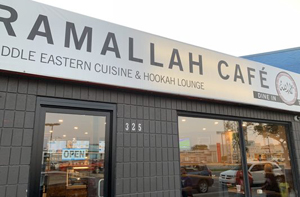 By BERNIE BELLAN
In recent weeks I've had occasion to meet the owners of some Arab restaurants in this city. Sure, it was to talk to them about advertising – but it was also a chance to discuss their feelings about relations between Jews and Muslims.
If you've been following news from Toronto of late you'd be aware that there's palpable tension in the air there over what have been overt displays of anti-Israel behaviour. In our last issue we reported on the disturbing situation regarding a particular food establishment known as Foodbenders and how the owner of that establishment seemed to be going out of her way to foment hatred toward anyone who was pro-Israel.
I'm glad to see that many other food establishments that had been buying food from Foodbenders have now canceled their orders and that many public figures in Toronto came our four square against the stance that Foodbenders had taken.
Then, a couple of weekends ago, there was yet another display of crude anti-Semitic behaviour in Toronto – this time at a rally organized by pro-Palestinians where the slogan "Palestine is our country and the Jews are our dogs!" was chanted by some of the attendees. (See the report from B'nai Brith about that rally on page 15.)
Now, while it's not unusual for there to be displays of hostility toward Israel on university campuses throughout North America, with everything else that's going on in the world it seems a little confounding for outbursts of anti-Israel behaviour to be occurring in Toronto right now.
There is a certain element of spill-over from the Black Lives Matter movement that can't be denied as having something to do with these displays of overt hatred for Israel but, by and large, while there are undeniably certain individuals who are prone to displaying abject ignorance about Jews within the Black Lives Matter movement, these two recent examples of extreme hostility toward Israel in Toronto would seem to be exceptions to the relative indifference most Canadians have toward Israel (except, of course, for those of us watching the apparent re-emergence of COVID in Israel on a massive scale).
On top of all that, it looks like Netanyhau's putative move to annex parts of the West Bank (and I use that term deliberately – not the term "Judea and Samaria", which has a different connotation) has been put on hold for the time being. Apparently word has come out even from the Trump camp that annexation would not be viewed positively within Trumpland. That's a little bit hard to understand since Trump has made it a policy to defy traditional thinking whenever he can.
Still, there doesn't seem to be anything going on within Israel or the West Bank that might be considered all that provocative right now, preoccupied as most people there are with fending off COVID – so why there should be outbursts of anti-Israel sentiment at this time is a little hard to understand.
So it was that I met with the owners of two popular Arab restaurants in Winnipeg – and while we didn't talk politics much, I was interested to hear that both Ramallah Cafe on Pembina and Arabesque on Corydon have many Jewish patrons, especially Israelis.
I wrote about some other Arab restaurants two summers ago, including Yaffa Cafe on Portage Avenue and Les Saj on St. James Street in an article titled "In search of Israeli cuisine – in Winnipeg".
(I also wrote about Joy Coffee Bar on Roblin Blvd., which is owned by Israeli Alex Meron-Gamili and serves some Israeli foods although Alex takes pains to explain that his specialty is coffee, not food; and, of course, Falafel Place, which serves some Israeli foods. At the time that I wrote the article Bermax Caffe was also still around and I wrote about that place as well. Don't bother asking me if I know what's happened to the owners of that establishment. I don't.)
That article prompted some readers to suggest other places that serve great food that would be familiar to anyone who's been to Israel: Baraka Bakery on Main Street and the aforesaid Ramallah Cafe. (I've also been to Blady Middle Eastern on Portage Avenue and had something delicious there, but for the life of me I don't know what it was. I just said to the person behind the counter: "Give me something delicious" – and he did.)
There are also loads of shawarma restaurants now in Winnipeg – something that anyone who has been to Israel would find quite familiar.
So – if you're looking to try some of the foods that you might have eaten when you were in Israel, well – there is certainly a wide choice of establishments available here from which to choose. Unlike a city such as Toronto, however, which has a huge expatriate Israeli community, Winnipeg doesn't have a uniquely Israeli restaurant.
I'm sort of surprised at that. I know there have been attempts in the past to have an authentically "Israeli" restaurant in Winnipeg, and what with the fairly large influx of Israelis we've had move here over the years, you would think that someone would have tried to create an Israeli restaurant catering to that specific community.
But, just as in Israel, where Jews and Arabs eat so many of the same foods – over and over again whenever I've asked the owners of Arab restaurants here whether they have many Jewish customers, they all answer in the affirmative, noting in particular that many Israelis come to their restaurants.
But, let's be honest: There are readers of this paper who wouldn't dare set foot in a restaurant called "Ramallah Cafe" (and I've been to Ramallah – it's not my favourite place to visit, I'll admit, but it did have some great food).
When I met with the owners of Ramallah Cafe and they told me they'd like to advertise in this paper, I wanted to ask them whether they'd consider changing the name of their restaurant to "Tel Aviv Cafe" – just for a short while, so that some readers of this paper who would never consider entering an establishment called "Ramallah Cafe" would give them a try – but I didn't end up suggesting that after all.
They're really nice guys though – and, just like every other restaurant in this city, the pandemic and resulting lockdown has really hurt them, but they seem confident they'll weather the storm.
By the way, it was Ami Hassan of Falafel Place who told me about the latest Arab food establishment to open here, called "Tarboosh". It's also on Pembina Highway – in Fort Garry, and it's owned by the same two people who own Arabesque on Corydon.
I stopped in there one day when I was cycling down Pembina Highway and noticed the sign. It's still under construction as they haven't opened the restaurant portion yet, but wow – is it ever big – and what an assortment of foods and spices it has!
I was talking to a charming young woman by the name of Heba Abdel-Hamid while I was there. Heba is co-owner of both Arabesque and Tarboosh. She told me she's from Montreal originally and grew up in a largely Jewish neighbourhood where she had many Jewish friends.
She agreed with my observation that people generally get along in Winnipeg – in contrast with Montreal and Toronto, which both have quite a bit more ethnic tensions among residents, I think it's fair to say.
Maybe I'm just naive but I know that individuals such as Belle Jarniewski have done much to bring disparate groups here together over the years – and I don't recall a single instance of hearing about an imam in a mosque here ever delivering the kind of hateful sermon against Jews that we read about from time to time as having happened in Toronto, Ottawa, or Montreal – and not too long ago, in Calgary as well.
So, when Heba Abdel-Hamid told me that she's also a part of the Arab-Jewish Dialogue, it served as a reminder how lines of communication are more open in Winnipeg than many other cities. Since we don't have Folklorama this year, if you're interested in replicating to some extent the experience of enjoying various ethnic foods, then some of the restaurants I've just mentioned here might be worth a try. They all have take-out by the way.