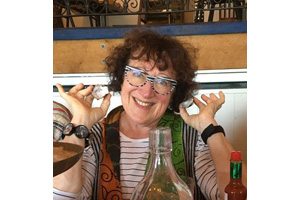 By GERRY POSNER
I have often written in this paper about the huge contribution that Winnipeg Jews have made to the arts. To tackle this topic and omit Gail Singer would be a major omission.
I suspect many readers might be familiar with Gail's works, but they may not realize that she is the same Gail Singer from Winnipeg and the same Gail Singer who ran a prominent business in Osborne Village for several years in the late 60s and early 70s known as Kitchen Things. Well, that was just the beginning.
Gail's career has been both varied and long. To compress it into an article for the JP&N is not to do justice to all that she has accomplished (and, I might add, is still accomplishing to this day). As Gail likes to put it "her biography reminds the reader of Neapolitan ice cream: many colours and flavours." In a broad way, her work has encompassed both life-changing documentary productions and late-in-life full time art school; through it all the undercurrent is food in all forms.
A product of the south end of the city (though the first eight were in the north end), a graduate of Kelvin High School, and later the University of Manitoba, Gail Singer had an entrepreneurial bent with her store in Winnipeg. Later, she moved into the early days of cable broadcasting (though she did not realize that then) with a cable-style local news show for what was then a newly "wired in" vast co-op housing community. She helped create an art video for the legendary "Assessippi Show" at the Winnipeg Art Gallery. She then made educational TV for isolated northern locations, worked with labour unions, Indigenous people and bureaucracies. She soon moved into documentaries.
But it was film that attracted Gail and which led her moving to Toronto. In Toronto, Gail began her film initiation with films championing the people of the north, their traditional aboriginal practices and the injustices committed against them. (Gail was ahead of her time). As a result of her work, she was approached by the National Film Board to delve into another area featured in the news even to this day, and that is battered women, a subject previously unknown to the River Heights-born and bred Singer. Gail spent time in a women's shelter to understand better how isolated these women were.
The film that resulted, "Loved, Honoured and Bruised", changed Singer's life and indeed thousands of other women's lives (the film was translated into a dozen languages).
Lawmakers took notice and the film was awarded a number of prizes around the world. It was not long after that Singer attracted the attention of John Hirsch, then the head of CBC Drama and a name familiar to readers of the JP&N, with the result that she was soon involved in making more award winning films such as "Portrait Of An Old Lady" and short dramas like "Is Everyone Here Crazy?".
The next major project Singer launched was with with the National Film Board in Montreal: a story bout illegal abortion clinics operating in Columbia, Peru, and Thailand. That film was ultimately named as one of the ten most influential documentaries in the world, even garnering a special citation at the Oscars.
After a short break, Singer retuned to her roots and did her first feature film, set in Winnipeg in the 1950s. Does anyone recall the movie, "True Confection", followed by a comedy, " Wisecracks", about female comedians? That was Gail Singer. Her first dramatic script was nominated for several awards and Singer was delighted when the BBC gave her film rave reviews. "Wisecracks" was her biggest financial success and the film still runs on network and cable television.
Along the way, Singer taught part time at Ryerson, York and the University of Toronto. Her success as a filmmaker was followed by an award as the YWCA Outstanding Woman of the Year and an appointment as the Barker Fairley Chair in Canadian Culture at the University of Toronto.
Singer briefly morphed her talents into TV as a director in a series about food. One of the more well known shows was "Loving Spoonfuls", which told stories about ethnic grandmothers and the foods they brought with them to Canada from countries all over the world. Readers might recall other former Winnipeggers playing a large part in that show, including producer Allan Novak, and host David Gale.
Her Winnipeg links were recognized over the past decade when Gail was invited to headline the "Distinguished Speaker " program at the Winnipeg Art Gallery. (Singer entertained the audience that night with an a cappella version of "These Foolish Things Remind Me Of You"). Recently, Gail was thrilled to participate on a panel at the invitation of former Winnipegger Leo Panitch on the significance of the 100th anniversary of the Winnipeg General Strike.
Recently Gail was involved with advising on a project in which seniors were taught how to make a film on YouTube – thereby creating new skills for many people living in seniors' residences. As well, she has directed various sequences of CBC dramatized productions over the years and, most recently (until halted in mid-film ) was involved in a documentary about the young heroes and heroines of Grassy Narrows: the politicians, writers, painters, singers, music producers and actors, all of them despite terrible neglect by all levels of government of this Ojibway community.
What does all of this add up to for Gail? If you ask her, she is grateful for a lifetime of unexpected projects in unrelated fields with twists and turns along the path. She presently lives in a home in Toronto with a dog, a fridge filled with good things for people to eat, a bar, and more books than she could ever read. And aside from making soup for less privileged folks in the pandemic, Gail has resumed another passion- art. In short, Gail Singer could be the poster child for versatility in the Arts. It has been a remarkable run and the run continues to this day.