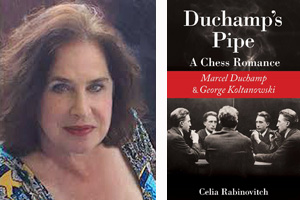 By SIMONE COHEN SCOTT
I first began to write this piece as a review of Celia Rabinovitch's recently launched book "Duchamp's Pipe, A Chess Romance", but it turned out to be much more than a book review.
Celia, if you didn't know, is a Winnipegger and, ever since we first met, I have thought her to be one of the city's best kept secrets. She is an internationally known artist, cultural historian, author, educator, scholar, and speaker, and except for some slight exposure here in reent years – speaking at the Rady JCC and at the Remis Forum, she keeps a very low profile in her charming River Heights bungalow.
During the years 2002-2008 Celia was professor and director of the School of Art at the University of Manitoba. Her works have been exhibited at the Winnipeg Art Gallery and at the Plug In Gallery in Winnipeg. Elsewhere in Canada Celia has staged exhibitions at the Emily Carr Gallery of Art and Design and, in 2016, at the University of Victoria, where she was artist in residence. She has had broad exposure in Europe and the United States as well – exhibiting, teaching, and lecturing – in Florence, Vienna, New York, California, Cleveland, and Colorado. Her PhD, from McGill University, was on the history of religions and art history.
We first met in Israel, where she had been invited to give a seminar and lecture at the Israel Museum on components of the surrealism exhibit being held there.
Now – about the book: A number of years back Celia was asked to authenticate the provenance of a smoker's pipe that had been given by renowned modern artist Marcel Duchamp to Grand Master of Blindfold Chess George Koltanowski who, in turn, had given it much later to Nikki Lastreto, his editor at the San Francisco Chronicle.
Celia's research skills in the art world are well known, and tracking the path of the spiritual connection through the lives of two men, a game, and an artifact, from the late 19th century, when Duchamp learned to play chess, through to the early 21st century, when the pipe was sold at auction, was right up her alley.
She was able to establish that the pipe did indeed belong to Duchamp, and as such it was sold at auction by Christie's New York for $87,500 US on the 21st of May 2016 – quite a windfall for Nikki Lastreto.
Celia's detective work became the matrix for this book. She traces several elements throughout the saga – the two men of course, whose principle pastime was playing chess, but also the nature of the game as an entity in itself, the act of pipe-smoking as another, and time – the thread that weaves the story together.
In the author's hands, time is not chronological. Celia weaves her story forward and backward as she develops her theme and explores each facet of the ethereal relationship between people and objects. Not to worry, though, because she thoughtfully provides a time-line in the back pages for readers who might like to sort things out.
The story becomes a beautifully written history book of sorts, as the atmosphere of the surrealism period of modern art begins to permeate the senses. It was a time, pre WWI, when certain groups of artists wished to jar the sensibilities of people living in what has since been referred to as "the age of innocence".
The work that brought Duchamp to worldwide attention was his then shocking painting, 'Nude Descending a Staircase', which he entered in the Armory Show in New York in 1913. Later, he became even bolder, positioning a urinal in a photograph and calling it a fountain. (Dada art takes getting used to. Personally, I'm saddened that the artist's inclination to shock the bourgeoisie has drawn attention away from the skilled painter and original colourist that he was.)
George Koltanowski, International Master of Chess, and Honorary Grand Master, was giving chess exhibitions in Guatemala and Havana, Cuba when the Nazis invaded Belgium. His family in Antwerp, including his mother and his brother, Harry, perished in the Holocaust. The U.S. Consul in Cuba offered him a U.S. visa. George could play chess while blindfolded – and win. He had, he said, a "phonographic memory", and remembered, once told, what was in each and every square on the chessboard. He made his living at chess, both by playing in exhibits and tournaments all over the world, also by promoting tournaments and chess clubs himself, lecturing, and writing. His column in the San Francisco Chronicle ran for 56 years. In 1986 he was inducted into the U.S. Chess Hall of Fame.
The game itself is another character in this blend of personalities. Chess is comprised of so many exquisitely fascinating features: its age, its forms, and the hypnotic involvement it seems to provoke (all right – call it addictive). Chess clubs were popping up everywhere in that day, some even founded by Duchamp and Koltanowski. Every city they happened to visit needed a venue where they could find partners, although Koltanowski was known to have played against a machine – even an elephant (Ed. note: I din't know elephants could play chess. Who won the game, Simone?)
Duchamp became obsessed with the game, all but giving up his vocation. He created several sets of chess pieces, which sold successfully . (Although from a well-heeled family, he needed to scrounge for a living like everyone else in Greenwich Village.)
Chess pieces are objets d'art in their own right, but one can also appreciate the artistry that goes into the design of a pipe. A smoker's pleasure comes from the shape and material – the heft if you like, of the pipe, as much as from the tobacco a smoker uses.
The specific pipe that is the star of the book is a rather chunky, boxy, artifact. It must have been one that Duchamp particularly liked because the author describes the giving of it to George as a gesture of regard, meant to mark the former's appreciation of their friendship.
If this book were a book club choice, there would be terrific areas for discussion. Every aspect, the times they played chess together, other encounters and journal entries on the part of these two men and their friends, give such nuanced glimpses of character and personality. Chess is – remember, a game of thinking and strategy, although smoking was often a complement to chess in the past: Smoking while studying the board, smoking while visualizing moves, smoking, thinking, imagining, and finally just smoking.
Meanwhile, life, including two world wars, was whipping around the two main protagaonists in the book. Celia has a previous book (2002) entitled "Surrealism and the Sacred: Power, Eros, and the Occult in Modern Art". That information is important to bear in mind because of the mystic quality the author perceives between people and objects and time, in other words, in existence.
Another Winnipegger, Irwin Lipnowski, has an essay towards the end of this book. Irwin, as we know, is a chess champion in his own right. Here, he speculates on the future of chess cafés in an era subsumed by technology.
Something else interesting about chess: As the Parshas on the last couple of Shabbats were about the naming of Beersheva, I decided to look up that Israeli city on line. Here's what I came upon, from an article written in October, 2009: "With eight Chess Grand Masters calling Beersheva home, the city has more International Grand Masters per capita than any other city in the world." Hmm!
"Duchamp's Pipe, A Chess Romance" was launched via Zoom on November 19th, to an international audience. Celia spoke about her experiences writing the book with Ann McCoy, an artist and writer herself, and their conversation is now on YouTube – a worthwhile watch.
"Duchamp's Pipe: A Chess Romance"
By Celia Rabinovitch
Published by Pengin Random House, 2020
256 pages