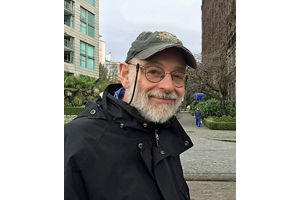 By MYRON LOVE While graphic designer Steven Rosenberg's name may be unfamiliar to most readers, his work is not. Rosenberg is a partner in Doowah Design. Every time you see a brochure, a poster or online art promoting the Winnipeg Art Gallery, the Manitoba Theatre for Young People, the Winnipeg Jewish Theatre and a host of other arts bodies, you are most likely looking at Doowah's creations.
Over a career spanning more than 45 years, he has become the go-to guy for the graphic arts needs of Winnipeg's art and theatre community. Past work has included the Manitoba Theatre Centre, the Royal Winnipeg Ballet and Prairie Theatre Exchange.
Rosenberg notes that there is only one graphic designer in Winnipeg who has been in the field longer than he has. In 2000, he was named a Fellow of the Graphic Designers of Canada (GDC) – one of just two designated Fellows in Manitoba – in recognition of his leadership role in the formation of the Manitoba Chapter of the GDC as well as in the national GDC organization.
The citation noted that "the number of awards that he received testify to the professional respect he has earned from his peers. Drawing from his experience of working with many non-profit and cultural institutions, he has written the rule book on working with pro-bono clients: the info sheet now included in our national binders. This is typical of Steven—he always establishes a solid methodology—even for projects that don't pay".
Although there are a few fortunate people who know from an early age what they "want to be" when they grow up, Rosenberg – like most of us – found his calling by a somewhat roundabout process that led to his seizing an opportunity.
"When I was growing up, I was the kid in the class who was always drawing things," recalls the son of the late Morrie and Norma Rosenberg. "I have found though that learning to write precis (short summaries) in high school has turned out to be really useful in my work," he notes.
When Rosenberg started university (at the University of Manitoba), it made sense to him, he recalls, to enroll in Fine Arts. But it was not what he expected. He realized that he was more interested in design.
After a year in Fine Arts, the future graphic designer switched to the regular Arts program. After university, he took some time for the de riguer – for recent university graduates of that era – tour of Europe. When he got back, he landed a job with a Federal Government-funded Opportunities for Youth program – working on a monthly titled Inland Magazine.
"I learned graphic design on the job during my two years working for the magazine," he says.
The next stage in his career was with Credo Group which, he explains, was a community resource as well as creative development organization. "We produced animation, live films – and print materials on the side," he recalls. "When Credo decided to drop its print operations, I took on those clients."
For ten years after he parted company with Credo, he worked on his own. In 1989, he partnered with Terry Gallagher in founding Doowah Design Inc.
Early on, Rosenberg and Doowah Design's services were much in demand for the National Film Board and Cinematheque. "Over a period of 10 to 15 years, we helped develop proposals for projects, created fact sheets and became involved in marketing," he notes. "We worked with filmmakers such as Norma Bailey and Dave Barber (the guiding hand behind Cinematheque and godfather of our community's filmmakers who passed away a few months ago)."
Over the years, he notes, Doowah Design's client base has grown. "We focus mainly on the arts and non-profit organizations," Rosenberg points out. Among the latter are Assiniboine Park and the Zoo and Rossbrook House, an inner city drop-in centre for youth – founded in 1976 by the Sisters of Sion – which provides a safe space for children and teens to congregate and learn.
"We also work with small publishers and musicians designing CDs, book covers, posters and occasionally promotion materials for concerts," he adds.
One of his more unusual contracts was working with a church to market a columbarium (which is a repository for the ashes of cremated individuals).
One of Rosenberg's highest profile assignments in recent years – in partnership with Terry Gallagher – was his central involvement in the development of Quamajuq, the Winnipeg Art Gallery's all-new, standalone Inuit art gallery, home of the largest public collection of contemporary Inuit art in the world. "One of our challenges was developing strategies to help the public understand what the gallery is about," he says. "That included educating people as to how to pronounce the name (KOW-ma-yourk).
"Generally, we work with clients with limited funds for promoting themselves," Rosenberg points out. "We work to understand our clients' needs and the messages they want to put out to the public and devise strategies to deliver those messages as truthfully as possible."
Doowah Design, Rosenberg notes, consists of himself and Gallagher and designer and illustrator Prascilla Castro. Now in his early 70s, Rosenberg reports that his role in the company has changed in recent years.
"I am doing less actual design and more strategizing and research," he says.
In his free time, he notes, he and his wife Susan regularly exercise (at home) and enjoy watching old movies, documentaries and British police shows.