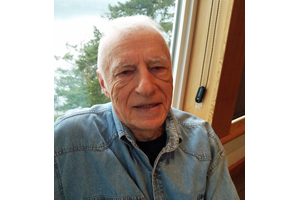 By GERRY POSNER If you want to find a life that has had a series of twists and turns mixed in with a wide variety of experiences, look no further than Joe Diner. He has had a lifetime of what I would call rich experiences in many different places and settings.
It began simply enough as Joe was born in 1942 to Clara (Brenner ) and Lou Diner, the middle child of three boys (including the late Alex and Richard). Until Joe was nearly 12, he was raised in the north end of Winnipeg. In 1954 the family moved to 621 Waterloo Street in River Heights.
Joe went to Kelvin High School and later obtained a BA from Moorhead State in Minnesota. That might well have led to the start of a different path for Joe as compared to most of us. Who could have predicted what would follow?
His first job upon graduating was with the Department of Education on the Peguis Indian Reservation, where he was a teacher of an adult upgrading program. Before he could even blink, he was promoted to assistant to the supervisor. As part of his work he travelled to several reserves and, in fact, had a two-month assignment administering a new course in Churchill, Manitoba.
Joe wrote a social orientation programme; however, in doing that he ended up losing his job – at the behest of the then Minister of Education, because Joe had dealt with the Federal Government without authority.
Joe Diner was not afraid to speak up then or now. That firing prompted him to connect with a former professor from Moorhead State. Subsequently, that led to Joe's going to New Orleans, where he had a teaching assistantship in a Master's program in government.
While in New Orleans, Joe did what he has always done best: he made a series of connections that proved to be fortuitous. One summer in Louisiana he worked as a jockey's agent for the renowned jockey, Esteban Medina, followed by doing the same with the then leading apprentice jockey, Harry Lee Patin, and others. How that came about surely is a story waiting to be told in greater depth.
Joe was even befriended by the famous breeder, trainer and horse owner, C. Wade Navarre, and the leading quarterhorse jockey, Leroy Miller. Joe had the opportunity through these contacts to take a champion horse by the name of Tru Tru to New Mexico for high altitude training prior to competing in the most prestigious of all quarterhorse races, the All American Futurity race, which had a purse of $ 1,000,000 – back when that was a lot of money! It is certain that Joe did not pick up those horse skills on Waterloo Street.
Soon thereafter, Joe accepted an offer to work as an assistant to one John W. Mecom, the king of deep sea oil well drilling. Mecom happened to be a very well known horse breeder and owner, as well as being the owner of an NFL football team, the New Orleans Saints. That job might have continued a long time but sadly, Joe was asked politely to leave the country, as he was living there on an expired student visa.
What might have seemed calamitous in fact created yet another twist and turn for Joe – and ultimately led to his finding his true vocation. He reached out to an old friend, Len Steingarten, who was the accountant for a prominent realtor in Winnipeg, J.J.Gibbons and it was not long before Joe was working for that firm. Joe's friend, Michael Nozick, provided him with substantial business at the beginning of his career and that business has continued ever since for Joe. It's allowed him, as Joe puts it, "to make it" in the real estate business.
That training period with Gibbons ultimately led to his purchasing (with some financial assistance) the former Aronovitch & Leipsic empire (a rather remarkable accomplishment) and later, to his becoming a member of the Canadian Commercial Real Estate Network. In fact, Joe suggested that all independent associates give up individual names and instead adopt the national name of JJ Barnicke Ltd. Sure enough, A & L became JJ Barnicke.
Joe Diner became very friendly with JJ Barnicke himself and was so well regarded within that company that he received the JJ Barnicke Lifetime Achievement Award. His success in real estate led to Joe's acquiring such major clients in Winnipeg as Michael Nozick (Fairweather Properties), Monte Nathanson (United Equities-MPN Holdings), and Arni Thorsteinson (Shelter Canadian Properties).
As part of his work in real estate, Joe also became a consultant for both the Province of Manitoba and Government of Canada. One major assignment that he was given was an invitation to present a marketing plan for the redevelopment of the old CPR rail station. It was Joe's idea to sell the station to Aboriginal organizations, which would then own, occupy and manage the site for themselves. Joe also was able to arrange financing for the project. Now that was an idea that was highly original for that time.
As anyone who has been to the site would recognize, Joe's concept succeeded beyond expectations. In addition, Joe has been a part of major real estate shopping centre developments, including Madison Square, the Brick Centre, Leon's Centre, and even the Eaton's Warehouse Building, also the Free Press downtown building.
Perhaps one of Joe's greatest coups was his work on a voluntary basis as agent for the Winnipeg Jewish Community when he engineered the acquisition of the present 13-acre Asper Campus site. He also aided the Assembly of Manitoba Chiefs and Southeast Resource Development in several major acquisitions. In short, over a span of 40 years, Joe Diner was been a pivotal figure in the city of Winnipeg. You probably just didn't know it.
However, Joe would consider his greatest project one he undertook for himself and his wife, the former Sandi Kraut, whom he married in 1980. In 1989 he purchased a waterfront lot on Salt Spring Island, BC, and some twelve years later, he finished the building of their home there. As Joe puts is so well, that is where "they live and smile today."
Joe Diner has a been through a lot in his lifetime, but he would say much of what he did was because of what he learned and absorbed at the feet of his parents. Joe says that his mother Clara was up ever day at 7am, baking, cooking and cleaning, in addition to being very active in Hadassah and Meals On Wheels later on in her life. His father Lou, a former sargent major in the Canadian army during WWII, a founding member of Rosh Pina Synagogue, a councillor on the town council of Winnipeg Beach, a past president of the Maple Leaf Curling Club, and a supporter of many community causes, provided Joe with what might be called perspective in life by his appreciation for "having lived to see stage coaches across the west all the way to a man on the moon." Based on what Joe told me about his life, I would say that he was a good student and learned his lessons well.