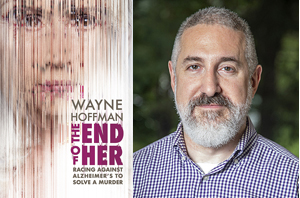 By BERNIE BELLAN In November 2016 we received a very interesting email from someone by the name of Wayne Hoffman. As it turned out, Wayne was the executive editor of Tablet magazine, an online Jewish magazine, from which we've run stories from time to time.
But the reason for Wayne's email was quite fascinating. As he wrote back then, "My great-grandmother Sarah Feinstein was murdered in her sleep in 1913 in the North End of Winnipeg. It was a huge event at the time, staying on the front page of the daily papers for weeks. The funeral drew some three thousand people, and the investigation dragged on for weeks before ending without resolution. It was one of the most brutal crimes the city had seen, drawing a record reward from the city and provincial governments, to no avail.
"I'm attaching the front page of the Tribune from August 1, 1913, the day of the murder, to give you an idea of how big the story was. There were dozens more stories following up.
"I've been researching the story of Sarah Feinstein (sometimes spelled Fainstein) – my mother's mother's mother – for a few years. Allan Levine met with me in 2013 on a visit to Winnipeg, as did Ava Block-Super. I also went to visit her grave in Transcona…"
In March 2017 Wayne followed up that initial email with another one, this time asking for help in finding relatives who might be in Winnipeg. Here's what he wrote then:
"I don't know if I have distant relatives still living in Winnipeg – I think I probably do, even though most of the more immediate family moved away in the 1950s. But there may still be people connected to the family, and my murdered great-grandmother in particular, who still live there…
"I'd love to find people who are related to Harry Fainstein, Louis Fainstein, Morris Fainstein, Isadore Fainstein, Harry Dorfman, Louis Gelmon, or Joe Gelmon; those were my great-grandfather David Fainstein's brothers and brothers-in-law back in the 1910s. I can figure out if there's a connection if someone isn't sure. Mostly, I'm hoping to get more information about the family – not just the murder of my great-grandmother, but how the whole family lived before and after that. Any information would be much appreciated (and might, just might, help solve a hundred year old murder!)"
As it was, Wayne did connect with three long-lost relatives upon his visit to Winnipeg in the fall of 2017 (when I also had the chance to meet with him in my own home):
"Beth Goldenberg, Linda Katz, and Lisa Fainstein — all my second cousins, once removed." (By coincidence, when Wayne mentioned that after he was going to leave my house, he was going to be going to Beth Goldenberg's house for lunch, I told him he didn't have far to go. "Beth lives right behind us," I said.
Then, in February 2019, Wayne sent me a story that also appeared in "Tablet" magazine, titled "My Great-Grandfather, the Jewish Cowboy".
Here's the introduction to that story:
"While I was doing research for a book about my great-grandmother's murder, I discovered stories I'd never heard about my great-grandfather–stories of gambling, wild horses, organized crime, and a forgotten slice of Jewish life on the Canadian prairies."
Now, with all that as preamble, I'm delighted to report that Wayne Hoffman did finish his research into his great-grandmother's murder in 2013, and he has turned that story into a fascinating book titled "The End of Her", which is just about to be released.
The title, "The End of Her", however, has a double meaning for, at the same time that Wayne was beginning his long investigation into his great-grandmother's still unsolved murder, he was also dealing with his own mother's worsening dementia.
Since the story of Sarah Feinstein's murder and his own mother's quite apparent slipping into dementia were approximately 100 years apart, Wayne decided that it would be appropriate to combine the two stories into one.
What follows, therefore, in "The End of Her" is both a murder mystery and an agonizingly personal account of Wayne's watching his once brilliant and vivacious mother deteriorate into a shell of her former self. The stories are intertwined and, while I'm sure Winnipeg readers will have a particular interest in reading the very detailed accounts of the murder and the follow-up reporting in Winnipeg newspapers at the time, the description of Wayne's watching his mother's deterioration is moving to the point where it is impossible not to feel so totally saddened at the tragedy that has befallen the two women in his family who are the central characters in the book.
Focusing on the Winnipeg aspect of the story, however, as any good reporter would do, Wayne examined every last shred of reporting that he was able to find about a story that absolutely gripped Winnipeg in the summer of 2013. By quoting from the actual newspaper accounts of the day, Wayne is able to take the reader back to a time when newspapers competed with one another on a daily basis to try and get one more scoop – often resorting to all sorts of chicanery to achieve that goal. In fact, as Wayne shows, much of the reporting was horribly inaccurate, with a variety of explanations constantly being put forward for Sarah Feinstein's ultimately inexplicable murder.
As someone for whom writing is his profession, thrusting himself into a search for clues as to why his great-grandmother might have been murdered offers Wayne the opportunity to demonstrate both his admirable investigative abilities along with a mastery of the English language – as one could see even in those brief excerpts of emails that Wayne sent to us over five years ago.
In the days to come you're going to be reading and hearing a lot more about Wayne Hoffman and "The End of Her", as the Free Press is also going to be reviewing his book, plus providing an excerpt from it.
On February 20 at 1 pm, noted historian Allan Levine will be talking to Wayne Hoffman about his new book in a program sponsored by the Jewish Heritage Centre of Western Canada. See the adjoining notice for information about that program.