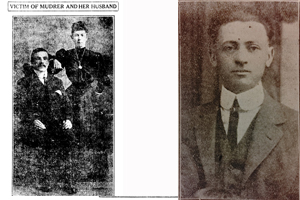 By BERNIE BELLAN The story you're about to read started off in one direction – then, following a phone call I received Tuesday evening, January 25, took a completely different – and frighteningly eerie direction.
My original story was going to be about a new book that is about to be launched titled "The End of Her". The book's author, Wayne Hoffman, is someone who first came to my attention, and subsequently the attention of our readers, in 2015 when he sent me a tantalizingly provocative email whose subject was the long-ago murder of his great-grandmother, Sarah Feinstein.
Mrs. Feinstein was only 26 years old at the time of her murder and, although as Wayne Hoffman notes in his book, there have been many theories advanced as to who could possibly have wanted to murder such a young, innocent woman, the case remains a total mystery.
(You can read my story about "The End of Her" elsehwhere on this website.)
Now, the story of how Wayne Hoffman came to write his book is in of itself quite a fascinating one, but that January 25 phone call really sent my head spinning.
The caller, as it turned out, was a woman with a relatively deep voice. She began by saying that it had just been brought to her attention that there is a Jewish newspaper in Winnipeg. Not only had she never heard of The Jewish Post & News, she said, she wondered what any Jewish newspaper would be all about? Would it be religious in content? she asked. When I assured her that this paper is mostly secular in content she seemed more interested in perhaps taking out a subscription.
We were enjoying a lengthy conversation when the caller sprung this one on me – totally out of the blue: Her grandfather, whose name was Robert Cohen, she told me, had been murdered in Winnipeg in 1928.
"Really?" I asked. "That's an amazing coincidence," I said. I explained that I was going to be publishing a story about a new book whose subject was also a long-ago murder of a Jewish Winnipegger.
"I actually have a copy of his obituary," the caller continued. "But it's in Yiddish – and I can't read it."
She wondered in which newspaper it might have appeared. I said that the main Yiddish language circulation newspaper in Winnipeg at that time was something called Der Yiddishe Vort. I told the caller that I was going to try and see whether there was anything I could find out about her grandfather's murder and that I would get back to her.
The next day I contacted Stan Carbone, curator of the Jewish Heritage Centre, and asked him whether he or Andrew Morrison, the Centre's archivist, could help me find the obituary of Robert Cohen from 1928.
Andrew was quick to respond, writing me that when he did a search he was able to come up with one reference to a Robert Cohen in a February 27, 1928 edition of the Israelite Press (which was called Der Yiddishe Vort in Yiddish.)
Andrew sent me the link to the story, which I was able to access on the Jewish Heritage Centre website. What I found was a pdf of the front page from that February 1928 issue which had a story about someone named "Ruven Cohen", not Robert Cohen. (I can read Yiddish somewhat but my understanding is quite limited.)
But, it was a front page story in that pdf – not an obituary. I realized immediately that the story was about Cohen's murder.
Next, I contacted Rochelle Zucker, host of the Jewish Radio Hour, and asked her whether she might be able to translate the story for me. Rochelle obliged me that same evening.
Here is the shocking translation of that story , as provided by Rochelle Zucker:
Feb. 17, 1928 Israelite Press
Young Jewish Man from Winnipeg Mysteriously Murdered
R. Cohen murdered in the area of Shell Lake Sask.
Shelbrook Sask, – From the coroner's inquest of the mysterious death of Ruven Cohen, a cattle merchant from Winnipeg it was found that the $1190 that he had with him when he was leaving the area remained in his pocket. Therefore, the motive for the murder could not have been robbery. The tragic death of R. Cohen, a young man from Winnipeg, made a deep impression here in the city. His body is expected to arrive tomorrow.
According to the information that has been received to date, Mr. Cohen, on his buying trip, had found merchandise in the area and had telegraphed to Winnipeg for money. He got the money and according to reports from the town of Kenwood in that area, he deposited $2000 in the bank. Monday, he took out $1200 and took it with him to pay the farmers for the animals that he bought.
He borrowed a horse from Alfred Schwartz, a Jewish farmer from the area, and rode on horseback in the area. Tuesday, the horse came back home with Cohen's dead body on it. His hands and feet were tied to the saddle.
Mr. Schwartz and Harry Adelman, a merchant from Shell Lake, traveled immediately to Shelbrook, 40 miles from there and notified the police who immediately started an investigation.
The deceased left behind a widow and 4 children.
Wow! I thought – Mr. Cohen was murdered, but apparently he was not robbed – even though he was carrying a huge amount of cash on his person! And he was in Saskatchewan buying cattle! Sarah Feinstein's husband, David, was also a cattle buyer who was in Canora, Saskatchewan at the time of her death.
How similar though was Ruven Cohen's murder to Sarah Feinstein's I asked myself. Here were two Jewish Winnipeggers, both murdered in the early part of the 20th century, yet with no apparent motive for either one's murder.
Yet, there was much more to the story, as I was to find out. The next day I contacted the woman who had called me Tuesday evening to tell her what I had found out, including that her "grandfather" was murdered in Saskatchewan, not Winnipeg. But then I was in for another surprise when the woman with whom I was talking told me that she was 19 years old.
"Nineteen?" I said. "But you sound so much older." After I got over how young this woman was it dawned on me that something else didn't make sense.
Robert or Ruven Cohen – as he was referred to in the Israelite Press, couldn't have been her grandfather. She's much too young to have had a grandfather who was murdered as long ago as 1928. "He had to be your great-grandfather," I said to her.
"I guess," she answered. "I hadn't really thought about it much." I told her that I was so caught up in this story now that I was determined to try and find out whether there was anything else that I could find out about Mr. Cohen's murder.
Subsequently, I renewed my subscription to something called newspaperarchives.com, which is a fabulous source for investigative reporters. I had actually taken out a subscription to that service a year and a half ago when I was pursuing the mystery of why someone named Myer Geller had left $725,000 to the "Sharon Home" after he died – without offering any explanation.
It was after searching newspaperarchives.com that I came across a story that was every bit as tantalizing as that initial story from the Israelite Press.
Here is that story, from the February 15, 1928 issue of a newspaper called the Shelbrook Chronicle:
R. Cohen of Winnipeg tied hand and foot to saddle
Horse returns home with dead body
Grim tragedy stalked through the little hamlet of Shell Lake on Tuesday morning when the dead body of Robert Cohen, cattle buyer of Winnipeg, was found tied to the saddle of the horse he was riding. The horse, which Robert Cohen had borrowed from Perry Turrell on Sunday afternoon to go to Kenwood, returned early Tuesday morning to the farmstead of his owner dragging his dead body, and when Mr. Turrell found the body the hands were securely and apparently expertly tied together and then tied to the stirrup of the saddle. The feet were likewise securely tied and the body apparently thrown over the saddle and the feet and hands tied to the same stirrup by the same rope passed underneath the body of the horse. The conjecture is that when the horse was started off the saddle turned under the horse and the body was then thrown under the horse and dragged. The head was severely bruised and lacerated.
It is alleged that a sum of money was sent to Cohen through the bank at Kenwood by his Winnipeg partner and the purpose of his trip to Kenwood was to draw out some of the money for the purpose of buying cattle in the country about Shell Lake.
He is alleged to have withdrawn $1300, distributed about $100 in Kenwood and started for Shell Lake with about $1200. He borrowed the horse – a rather spirited one from Perry Turrell on Sunday afternoon and rather late in the afternoon left for Kenwood. Monday he spent in Kenwood. When interviewed by long distance the pioneer cattle buyers of Kenwood said that Robert Cohen was a stranger to them until his visit of this week.
On Tuesday morning Turrell rose early, noticed that the yard about his buildings was marked as if by an object dragged over it. On examination he found blood stains and then noticed the horse in the yard riderless.
On going over to investigate in the half light of the early morning the horse took fright and ran to the field dragging a dark object. Terrell approach the frightened animal again and this time found that the heavy object was the dead body of Robert Cohen who had on Sunday afternoon borrowed his horse. Thinking life might not be extinct he cut the cinch of the saddle and also the rope which bound the body to the saddle. He then discovered that the man was dead and left the body where it was and immediately sent alarm to several of his neighbours…
In the meantime Turrell and some of his neighbours followed the blood trail out of the yard east on the roadway and across some vacant land for a distance of a mile. An empty pocketbook was found on the snow in this vacant land, presumably that of the dead man, for when the Constable and coroner later examined Cohen there was no money on his person.
Cohen is a large man, apparently about 35 years of age. He has a wife and family in Winnipeg, the wife at present in hospital in that city. His wife has a sister and brother-in-law, residents of Shelbrook, the brother-in-law a blacksmith also named Cohen
There are a number of theories as to how the man may have met his death. The most commonly held is that his assailant, with the intent of robbery, knocked the man insensible, took his money and then tied him to the saddle.
Yet, there is one gaping hole in that Shelbrook Chronicle story. Why on earth would a robber have gone to the trouble of tying Mr. Cohen's body to his horse after he murdered him? What possible motive could there have been for such a savage and what must have been fairly time consuming task if the motive were simply to rob the poor man? And, why were the two stories – the one in the Israelite Press and the other in the Shelbrook Chronicle so contradictory? Never mind that the name of the person who gave Mr. Cohen a horse was completely different in both stories, the question of whether he was robbed or not is also180 degrees different in both stories.
It was when I came across one final story about Mr. Cohen's murder, however, in an April 7, 1930 issue of the Winnipeg Free Press that the robbery motive seems to have been thoroughly disproven. Here is an excerpt from that story:
Government offers $1000 reward for slayer of Cohen Winnipeg cattle buyer
Cohen was a likeable man who paid good prices for his cattle and was thought well of in the district where he met his death. Robbery apparently was not the motive for his killing for his money was found in his pockets. (Editor's note: emphasis mine.) He had been killed before he was roped to the saddle of a horse. A blow at the base of his skull was the cause of death.
So, there we have it. Despite the Shelbrook Chronicle's claiming that Mr. Cohen had been robbed of $1300, both the Israelite Press's and the Free Press's story say the exact opposite: that no money was taken from him. Whether or not he was robbed, the manner in which he was killed and tied to his horse certainly would suggest that the motive for his murder was far more insidious than simply robbing the poor man.
And, what does this have to do with the murder of Sarah Feinstein? Think about it: Two murders of Jews – who both have strong ties to the cattle buying business.
This is where another story written by Wayne Hoffman enters into the picture. In January 2019 we published a story by Wayne about his great-grandfather David, which was titled "My Great-Grandfather, the Jewish Cowboy".
In that story Wayne goes into great detail about his great-grandfather's time spent in Canora, Saskatchewan, where he and his brothers had a thriving business, including before and after Sarah Feinstein's murder. The story is quite vivid in how it describes what an outstanding cowboy David Feinstein was, but when you read the following two paragraphs from that story, just stop to think how much more sense it now makes to think that Sarah Feinstein's murder was a hit – exacted by some very tough competitors of David Feinstein:
"David's stay in Canora coincided with Canadian, and later American, Prohibition. According to a few of my cousins, some of the Feinstein brothers–possibly including my great-grandfather–were probably involved in bootlegging. There was more than just horses in those barns, one suggested; perhaps the family's connection to organized crime had something to do with the murder? It did explain one odd thing I'd found in my research: While the brothers were dealing cattle in Saskatchewan, according to a business directory, they were also officers of a short-lived company in Winnipeg called Manitoba Vinegar Manufacturing.
"The notion that the brothers might have been involved in unsavory endeavors was bolstered by other stories I learned, about how they were serious gamblers, and tax cheats; two of my great-grandfather's brothers were later fined in what the Tribune called 'Canada's biggest tax evasion case.'"
Could both Sarah Feinstein's and Ruven Cohen's murders have been part of the same pattern of "sending a message", which was all too common among gangsters of that era?
You be the judge.