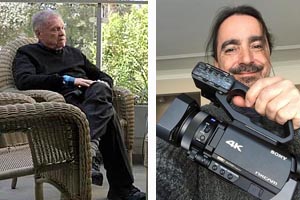 By MYRON LOVE Over the past few years, Yolanda Papini Pollock has created a solid body of work as a documentary filmmaker with a focus on human rights.
Her credits include "Painful Truth: the Falun Gong Genocide" , about the Chinese suppression of what is essentially a spiritual practice; "Never Again: A Broken Promise", highlighting post-Holocaust genocides; "Get Over It: A Path to Healing" about the effects of residential schools on Indigenous health in Canada and "Fixit" ("Tikkun Olam"), which captures the interaction between local Holocaust survivor Isaac Gotfried and the impact his recitation of his experiences had on students at J.H. Bruns Collegiate.
The former Gray Academy teacher's newest documentary, "Unusual in Every Way", is the story of the unlikely friendship between Don Barnard, an individual of Indigenous background, who lives with disabilities and post traumatic stress, and Solly Dreman, a former Winnipegger who made aliyah almost 60 years ago and is a retired Ben Gurion University professor of psychology.
As was reported by Jewish & News publisher and editor Bernie Bellan, in September, 2020, – and as Barnard says at the beginning of the documentary (which he collaborated on), the talented videographer has lived a troubled life. He was born into a Métis family, to a father who grew up in the foster care system and who experienced considerable discrimination over his lifetime. Coming from a disadvantaged background, Don Barnard, at the age of 12, was placed in foster care, where he was exposed to considerable physical and psychological abuse.
Barnard was determined to have an IQ of 163 during childhood. In his 30s, he was diagnosed as having Autism Spectrum Disorder – which has caused him considerable hardship during his lifetime.
"Unusual in Every Way" is a collaboration between Barnard, Papini-Pollock and Orly Dreman. Barnard recalls (in the documentary) as a child dreaming about having a loving family and a warm home. In Dreman and his wife, Orly, he seems to have found that sense of family.
It was through Papini-Pollock that the Winnipeg-born Israeli professor and the filmmaker came to know each other. Barnard met Papini-Pollock while working with her and Rogers Ofime (an international award winning director and producer from Nigeria), on the film 'Never again a broken promise', a documentary about genocides.
In September 2016, Dreman and his wife Orly were in Winnipeg where Solly was giving a lecture on "Immigrants, Refugees and Terrorism: Is There Hope?", sponsored by the Jewish Foundation of Manitoba, the Winnipeg Friends of Israel (which was founded and led by Papini- Pollock), the Canadian Associates of Ben Gurion University and the JP&N. At that time Solly and Orly also hosted 60 friends and family members at a reunion luncheon. Barnard was suggested by Papini-Pollock to video both his lecture and the reunion.
The Israeli-born Papini-Pollock adds that Barnard has long been a staunch supporter of Israel. He views the Jewish people in Israel as an indigenous, displaced people – much as he perceives himself as a member of a displaced first nation.
The Dremans and Barnard hit it off and the Israeli couple invited him to come to Israel at their expense. It also so happens that among Solly Dreman's post-retirement activities has been helping youth with severe learning disorders.
In 2020, thanks to the Dremans' generosity, Barnard was able to realize his long-time dream of visiting Israel. He stayed with his hosts in Jerusalem for a week and toured the country with Orly's son, Oren Cytto, as his tour guide.
Solly Dreman also bought his Canadian guest a professional level video camera.
His visit to Israel had a huge impact on Barnard.
"Unusual in Every Way" though, goes beyond being simply a feel-good story about an individual in Barnard struggling with emotional issues finding salvation thanks to the unconditional love he found in Israel with the Dremans. On a larger scale, it is an examination of how communities as well as individuals deal with trauma – contrasting the experiences of Holocaust survivors and Israelis who have been exposed to the terrors of war and how they dealt with that trauma with the trauma of Canada's Aboriginal people, who have historically been victims of racism, prejudice, and physical and psychological abuse, as well as genocide by successive Canadian governments and institutions at all levels.
Nor does this film have a happy ending.
Papini-Pollock reports that overcoming trauma is not a simple process and Barnard's personal recovery may take a long time. Despite being inspired by the stories he heard in Israel, his personal journey to healing has been a roller coaster. As he says near the end of the documentary, he has his good days and his bad days – and he never knows when his disabilities will cause him to have a meltdown.
Papini-Pollock notes that "Unusual in Every Way" was made possible thanks to the support of The Jewish Foundation of Manitoba and has been picked up by two educational distributors to be made available to schools in Canada and the United States.
The filmmaker – who was also instrumental in launching Operation Ezra – further reports that she is already working on a new documentary for CBC with a human rights focus.