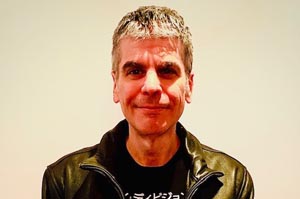 By GERRY POSNER A long ago in Winnipeg, one of the giants of this community started a business with his brother-in-law, Louis Leipsic. That business became a powerhouse in the real estate and insurance fields. Its name: Aronovitch and Leipsic.
That giant was Abraham Herman Aronovitch.
He was succeeded by his son Edgar Judah ( better known as Juk) Aronovitch, who was later succeeded by his sons Brian and Donald. The members of the Aronovitch family went on to pursue other business activities. Now though, some of the great grandchildren of Abraham are making their marks around the continent and beyond. One of those great-grandchildren is Steven Aronovitch.
Steven is the youngest child of the late Brian and Penny (Parks, originally Pashkovsky and later Pash). Steven is one of four children: his brothers, the late Rabbi Drew Aronovitch, Fraser, and a sister, Lois. Steven grew up in River Heights, later in Tuxedo, and attended a few schools during his growing up years: William Osler, Laidlaw, Shaftesbury, Kelvin and the University of Winnipeg. He later went to and graduated from the University of Manitoba with a BA, followed by a degree in Creative Communications from Red River Community College.
During his Red River years, Steven did an internship at the Manitoba Sports Federation. His stint there spurred an interest in the post-grad Sport Marketing Programme at George Brown in Toronto. The fact that he had done volunteer work with the Winnipeg Jets, Downtown Winnipeg BIZ , Forestry Canada, and the Independent Living Resource Centre all helped Steven get into the program at George Brown, but he was required to take a course in Vancouver in additional marketing. It was in 1993 when a young Steve Aronovitch made his move to Toronto, where he has remained ever since.
Aronovitch graduated from George Brown in 1994 and soon he was busy in an area involving the negotiation of sponsorships. It was not long before Steve was working at an ad agency by the name of Harrison Young Pesonen Newell, where he was assigned to the Unilver account. Ever since then Aronovitch has been a steady worker in media. In 2008, he joined what was then Top Drawer Creative. That move ultimately led to an invitation in 2018 to become a partner with three others in his current company, The Turn Lab.
One interesting aspect of The Turn Lab's operation is that it is a carbon neutral business. The Turn Lab is willing to work with any client looking to transform its business in alignment with The Turn Lab's values. The company focuses on digital, tech and consulting work. In the area of consulting, it has attempted to operate what is called a consumer insights panel. The four partners are open to change and they have met the challenges of the pandemic as best they could. One way that they have done this is to launch a new platform with a consumer app called "Just Boardrooms". It helps anyone or business use space for short periods of time. They have seen a market open up for this kind of short period rentals for all sorts of reasons many of which were pandemic related.
Steven's experience in the advertising world le him to being involved in working with some major clients, including CPG (Consumer Packaged Goods), Financial Services Automotive, QSR ( Quick Service Restaurants), retail businesses and not for profit clients. Having the ability to work with many different kinds of businesses and people is a talent and Steven might say that some of his ability to work well with all sorts of people was a skill he picked up at BB Camp, where he spent many years as a camper and later as a counsellor and LTP coordinator. It was there that Steven developed close friendships with many Winnipeg kids that have lasted to this day: David Finklestein, Lewis and David Stern, Marshall Matias, Aaron London, Doug Warren, David Wilder and Josh Weidman. Those relationships helped Steven immensely in learning how to get along with others. He has taken that skill and applied it to his work in the advertising business.
You can follow the path from Abraham to Edgar to Brian and now to Steven, but what is certain about all these Aronovitch men from Winnipeg to Toronto is one definite trait that binds them together- not just their name, but their commitment to work at any level. In whatever they did and do, they covered (and Steven still does) all the "BASEs" ( Brian, Abraham, Steve and Edgar).