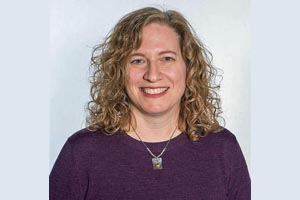 By MYRON LOVE Community has always been important for Elana Schultz. The daughter of Dr. Ben and Serky Goldberg credits her parents with showing her the way. (Her mother was the 2018 recipient of the Max and Mollie Shore Memorial Award.)
"I remember while still in junior high school (at the former Joseph Wolinsky Collegiate) volunteering at an early (Combined Jewish Appeal) Super Sunday at the old Y downtown," says Schultz, who is currently Chair of the Jewish Federation Education and Engagement committee and co-Chair of BB Camp. "I was charged with taking the cards from the canvassers and delivering them to the CJA office on the second floor."
Schultz grew up in Garden City and graduated from the University of Manitoba with a major in Statistics and a minor in Sociology. Following graduation, she spent a year in Israel. While she considered aliyah, she notes, she was already in a relationship with her husband-to-be, Myron Schultz, and returned to Winnipeg. The couple married in 1993.
While in Israel, Schultz worked for Dr. Ted Tulchinsky at the Ministry of Health, tracking health information for different populations. "I was doing statistical health research," she recalls. "That work showed me how I could apply my education to real life."
Back in Winnipeg, she worked for a year at CancerCare Manitoba doing data analysis before being recruited to join Viewpoints Research, a Winnipeg-based polling firm founded by the late David Gotthilf.
"Viewpoints was looking for someone with experience in data analysis," she says.
Ten years ago, she left Viewpoints to start her own research company: Factor Research. "While I still do a lot of work for Viewpoints on a contract basis," she notes, "having my own firm allows me greater flexibility in the assignments I take on."
Her work, she says, involves opinion research, organizing and moderating focus groups, and writing reports. She reports that, over the years, she has worked with numerous member organizations, lately focusing on nurses and the organizations that represent and support them.
"We have worked with a lot of other organizations as well," she adds, "both in the non-profit and for profit sectors. I enjoy the variety and learning about what each of our clients do."
Although Schultz has through the years continued to volunteer as a CJA canvasser, her more active involvement in Jewish community leadership came about through her friendship with Judi Price Rosen. The former Torontonian came to Winnipeg after marrying Kevin Rosen (the son of former JP&N sportswriter Harvey Rosen). Shortly after arriving here in 2002, she joined the Jewish Federation of Winnipeg as Director of Leadership Development. (Price Rosen is now Director of Admissions at Gray Academy of Jewish Education.)
"Judi and I connected shortly after she moved here," Schultz recalls. "Soon after she became director of Leader-ship Development, she invited me for lunch and asked me if I would consider becoming more involved with community."
Price Rosen invited Schultz to become involved in the Jewish Federation of Winnipeg's P2G (Partnership 2Gether) program, a student and teacher exchange program with students from Gray Academy and the Brock Corydon Hebrew Bilingual program going on trips to sister schools in northern Israel one year, then ,students from Israel coming here the next year. She also became active in Women's Philanthropy.
In 2014, Schultz joined the board of BB Camp. (She is currently one of the two co-chairs (along with Leah Leibl.) All three of her children – Dafna, now 24, Abbie, 21, and Liat, 19, attended BB Camp, she notes.
"Leah and I take turns chairing the board meetings," she points out. "We are involved in the different committees and work closely with the executive directors and staff."
In addition to what has already been listed, Schultz is Chair of the Jewish Federation of Winnipeg's Education and Engagement Committee. "Our focus is engagement and outreach," she explains. "We take a broad view of the community that goes beyond the Federation's recipient agencies. We keep in touch with the synagogues and other independent organizations. We try to identify segments of our Jewish population that are not being serviced – certain age groups, perhaps, or single seniors – and fill in the gaps."
So how does Schultz find the time to combine work and her numerous volunteer efforts? She credits the success of her volunteer endeavours to the capable staff – such as Jacob Brodovsky and Lexie Yurman at BB Camp and the Federation's Florencia Katz and Dalia Szpiro – who put into place the programs that the Education and Engagement Committee proposes.
"The last couple of years that have been marred by Covid have certainly forced us to shift the way we operate," Schultz observes. "Still, I look back at what we have been able to initiate and feel a sense of pride at what we have accomplished. We have been able to reach out to so many people."
One of those programs that she singles out is the Welcome Baby program. Twice a year – pre-Covid – the Federation would host receptions for new parents in our community and provide them with gifts. "This past couple of years, we have been doing the receptions online and delivering the gifts to participants' homes," Schultz reports. "The feedback we are getting is that new parents really appreciate our efforts and the opportunity to connect with other young families."
Coming up next Monday and Tuesday, Schultz's committee is inviting staff and volunteers from Jewish organizations to join a virtual interactive workshop exploring "Best Practices for Creating a Welcoming Jewish Environment". Interested readers can register at jewishwinnipeg.org/welcomingcommunity.