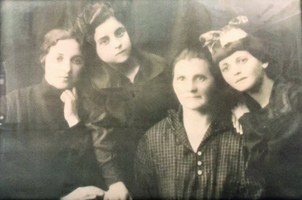 By GERRY POSNER Picture this. It is 1950 and you are about to have your Bar Mitzvah at the shul in Fort William, Ontario ( as it was then known. With the twin city then, Port Arthur, it is now known as Thunder Bay).
Not only have you prepared your Haftorah, you are also able to read from the Torah all the portions from that day. It is a rare occasion indeed in the Jewish community of Fort William. Most of the Jewish population in Fort William and Port Arthur are in attendance that day at the Shaarey Shomayim Synagogue. Moreover, your father somehow found a first cousin he had living in New York – and this cousin, with his family, decides to come by car to your Bar Mitzvah. Your father has not seen his cousin since he left Russia in 1924 and he has never met any of the family. On top of it all, as a Bar Mitzvah present to you, this New York family gives you an American $100 bill. Now, that was a lot of money in 1950. The next day they depart for New York and you never hear from them again. Not a phone call, not a letter, not a telegram… Zippo. Well, not quite. Your older brother visited New York in 1958 and saw some of the family then and he later wrote a thank you note to the family for their hospitality to him during his stay in the city.
Fast forward from the Bar Mitzvah 71 years ago to 2021. You get a call from the Jewish Foundation of Manitoba saying that someone from Philadelphia wanted to connect with you as they thought you might be a relative. You laugh out loud saying it is likely a con of some kind as you know your family tree well and you do not have any relations in Philadelphia. Yet you go along and agree to give your email address. It all sounds bizarre.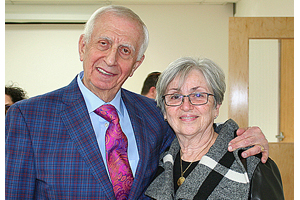 But all of  this happened to the now 84-year-old Harvey Cogan. He was that boy in Fort William in 1950 and so, when he opened his email this year and there was a letter from an Elyse Schatz, who claimed to be a relative of the family (Rosen) that came to Fort William for his Bar Mitzvah, Harvey was overwhelmed with emotion, tearing up to hear of letters from his grandmother whom he never met and who was murdered by Nazi stormtroopers in the shtetl. Elyse explained in a long email that her mother, Joyce Sommerfeld, had in her home a box of letters she had kept (after multiple moves ), and this box had never been opened.
In 2021, mother and daughter decided to check out these letters and, lo and behold, there were letters of over 80 years ago with photographs. All the letters were written in Yiddish. As well, there was a photo of the Bar Mitzvah boy Harvey Cogan.  Mother and daughter then decided to have the 24 letters translated into English. A name that kept repeating was Cogan. As it turned out, the letters were written by Harvey's grandmother to her two unmarried nieces in New York and the letters detailed some of the extreme hardship the family was suffering before and during the war in Russia. The box of letters arrived recently at Harvey's home, a  treasure to be sure.
It was only a bit  of luck that caused Joyce to have these letters, as they had in fact been sent not to her, not to her parents but to these two unmarried aunts of Joyce in New York, both nieces of the woman who sent them, Harvey's Baba, Raizel Cogan. When the two nieces died, a cousin, Joyce Sommerfeld, the mother of Elyse, came into custody of them, but left them in the box. It could well have ended there but for the decision to look at these 24 letters and have them translated.  The letters were filled with the name Cogan. Still even with all of that, the ultimate reunification in large part took place due to the fact that Michael Schatz, Elyse's husband, is a genealogist, so he became involved in the project right away. Even with that bit of luck, the eventual reunion needed two more things.
First, Joyce and Elyse were excellent internet sleuths. After all, the last anyone from that branch of the family who had come from New York to Harvey's Bar Mitzvah knew, was that the Cogans were in Fort William, Ontario. How they traced Harvey to Winnipeg was no small feat. They found the thank you note that Harvey's brother, the late Lou Cogan, had written to the family thanking them for their hospitality during his visit there in 1958. He also mentioned he was planning a possible move to Winnipeg that year and so, among the places they investigated on the internet for Louis Cogan was Winnipeg. Then, the second key part of the story came into play. Their search immediately revealed the Jewish Foundation of Manitoba's Book of Life site where Lou and his wife Marsha had told their life stories. Upon reading Lou's story, The New York family, some of whom had now settled in Philadelphia, realized that this was indeed mishpochah.  They contacted the Foundation and the Cogan connection was cemented.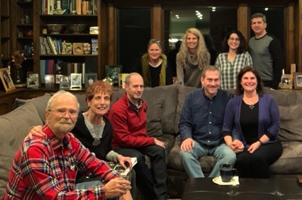 In 2021 this reunification went to a higher level when Harvey's and Nessie's son Allan and his wife Shawna were in New York and they met with the Sommerfeld-Rosen clan. It was as if Harvey's Baba and indeed his Zaida were once more with the descendants of siblings. As well, Harvey and Nessie now have regular Facetime visits with their new (old ) relatives each Sunday. They have restored what was long lost. Let's give a big shout out to the Jewish Foundation of Manitoba, which helped to make the Cogan family whole.
Of course, perhaps the most moving aspect of the story is the collection of lettersitself. Following is a part of one of the letters translated from Yiddish to English, and which was sent in March 1932 by Raizel Cogan to her niece Rachel. The name" Alter" she refers to in her letter is her son, David Cogan, Harvey Cogan's father:
POSTCARD 1- SENT TO ZIPMAN 1932
1st March
Dear niece Rachel,
I have come from my parents and received a letter and a receipt for 10 dollars so I am thanking you and may God help you my dear child that you shall come to a good refuge and I will be waiting till I'm once more with you together. You should not trouble yourself my dear If you can't send. You're very beautiful a and you do a lot with a minimum as if you were not my niece but my own daughter. My heart is aflame for you not less than for my only son Alter. My dear child you should not deprive yourself of meat to send us. I can manage alright, Do not ruin yourself
Writing will not come (?) for us to Yaryshev, I don't know If I want to be in Yaryshev, I gather that afterwards I will travel to my oldest. I want to be there. I will write you her address and my new one as I was dispossessed from my home. It's a "good" life. People have to be broken and separated, it cannot go as one would have thought, I am such a wretch, my luck is very sombre, as I don't know if it could become lighter one day, I want to tell you about Devora. You can send her at her address it could be that it will somewhat disrupt (?) her learning so she will already write you.
Your aunt
P.S. This is Devora's address, forward to everyone our greetings
Demyna St. #4 Vinnitsya, Ukraine. In some sort of Technical school
Sadly, things got much worse. Yet the letters remain and have real and deep meaning to Harvey. What a treasure to read these letters from someone he never knew or met but was his very own grandmother. Yet this woman Raizel Cogan, through her letters, gave her grandson, Harvey, a family that had disappeared. He and Nessie state loud and clear that they are truly indebted to Michael and Elyse Schatz for their dedication to make a family reconnection occur. They are grateful to Joyce Sommerfeld who kept these letters for many years. And of course, they are so appreciative of the Jewish Foundation and the role that this organization played in the happy event. Serendipity.