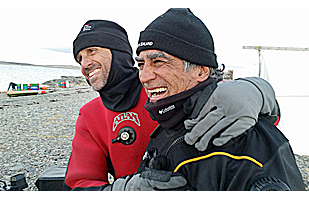 By BERNIE BELLAN Two and a half years ago we published a story by Martin Zeilig about a new documentary produced by Nancy Spielberg about an incredibly brave Israeli deep sea photographer by the name of Amos Nachoum. From April 22-29 you can watch that amazing documentary at https://youtu.be/TCLUq_4BoFU. Click on Read more to find out about how this film was made and how you can interact with the film's director, Yonatan Nir on April 29.
Here is the information we were sent by the Israeli Consulate in Toronto: "This film follows the journey of world-renowned underwater wildlife photographer Amos Nachoum in his effort to photograph a polar bear up close while swimming with it – an incredibly dangerous and nearly impossible feat – all the while painting a nuanced picture of Nachoum's complex life and relationships. Nachoum is the only underwater wildlife photographer in the world to attempt (and succeed at) this shoot, with the help of a couple local Inuit. The film also reminds viewers of the disruptions these polar bears experience in their ecosystems due to environmental changes, and stresses the importance of preserving it."
On April 29 the Consulate will be holding a webinar with Yonatan Nir. Register here: https://bit.ly/3ghPMJY
Here is the story that Martin Zeilig wrote in 2019 about the film and about his interview with the film's director:PICTURE OF HIS LIFE (Directors: Yonatan Nir and Dani Menkin Hey Jude Productions Playmount Productions– Executive Producer: Nancy Spielberg 2019)
review/interview By Martin Zeilig
At one point in this remarkable and awe-inspiring documentary film, world renowned Israeli wildlife photographer Amos Nachoum is interviewed while sitting on a rock on the barren shores of Baker Lake, Nunavut.
"Believing in yourself, and going on with it, no matter what the obstacle, this all the power of being here. This is life," the stocky 65 year old says with a deep-seated emotion in his voice, while raising a clinched fist in fierce determination as he shifts his gaze slightly to the camera.
It's a stirring moment.
The film follows Nachoum in the Canadian Arctic, as he prepares for his decisive challenge- to photograph a polar bear underwater, while swimming alongside it.
"It's his final remaining photographic dream," says the film's publicity material.
As the journey unfolds, so does an intimate and painful story of dedication, sacrifice and personal redemption.
"Amos to me is one of the best ambassadors of the ocean," Jean Michel Cousteau, the celebrated Oceanographic Explorer, says in an off camera commentary. "He takes huge amount of risks to bring those images, which no one has ever been able to capture."
"He comes back with images that no one has been able to get," adds Adam Ravetch, Emmy Award winning cinematographer, who is part of the team filming the documentary. "He is probably the best underwater still photographer in the world."
Marine biologist Sylvia Earle, the female chief scientist at the National Oceanic and Atmospheric Administration, also attests to Nachoum's prowess as an underwater wildlife photographer.
We see some of the striking shots that Amos has captured over the years: an open jawed leopard seal moments before it's about to chomp into a penguin in the waters of Antarctica; amazing (and chilling) close-ups of great white sharks; blue whales; anacondas in the Amazon; snow leopards in the Himalayas; a huge crocodile resting on the bottom of an African river, and much more.
The film's US premiere was July 25 at the San Francisco Jewish Film Festival, with a follow-up screening July 28 and a separate screening in San Rafael on August 2, noted an article earlier this summer in The Times of Israel (In Arctic, polar bear is final frontier for famed Israeli wildlife photographer). Earlier this year, the film debuted at Docaviv in Tel Aviv, with Nachoum attending the screening.
'"Be calm and collected with wildlife,"' Nachoum, who was interviewed by The Times of Israel, said in the article. '"The biggest mistake all photographers do is be quite aggressive."'
Nachoum has a fractious relationship with his father. On a visit home, the father belittles his son for not living up to his standards. He wanted his only son to become a carpenter and to settle down with a wife and children.
Another scene shows him on life support systems in a hospital room calling for Amos.
During the 1973 Yom Kippur War, Nachoum served with an elite unit. The experience left him shattered.
"Speaking about his service still left him "very emotional, my hair standing still," he says in The Times of Israel article. He was also a war photographer in Israel.
He left for the United States shortly after his stint in the army to pursue his dream of becoming an underwater wildlife photographer.
"Calmness is important even when photographing the polar bear – which can include Homo sapiens as part of its diet," he said in The Times of Israel story, and which Adam Ravetch emphasizes in the film.
A male polar bear can weigh up to 750 kilograms and are exceptional swimmers. "Polar bears usually dive 3 to 4.5 m i.e. 9.8-14.8 feet deep into the cold water of arctic and can hold their breath for Researchers really don't know that actually how deep can a polar more than three minutes," says the Zoologist website. "But they estimated that it can dive as deep as 6m i.e. 20 feet."
Nachoum's first effort at photographing a polar bear in arctic waters occurred in 2005. It "nearly proved deadly" for him, noted The Times of Israel .
'"I was scared to death,"' he said to the reporter. '"I was laughing about it, but I was scared. My heart was pounding. Yet, I wanted to do it again."'
"His second attempt, in 2015, helped Menkin and Nir culminate what they describe as a 10-year odyssey to make the film," the Israeli newspaper states.
Nachoum and his crew, including, of course, their Inuit guides, have a five day window in which to find and photograph a polar bear in the water.
Their first sighting takes place on Day two. It's a big male polar bear.
Nachoum is ready to with full scuba gear. He plunges backwards into the icy waters from the side of the boat.
The aggressive bear dives after this camera totting intruder. It's a heart stopping moment.
The screen goes blank for several seconds. But, Nachoum managed to elude Nanook in the nick of time.
He's a bit shaken by the experience and disappointed.
Without giving away too much, success is achieved on the final day.
A mother bear and her two large cubs are spotted swimming in the lake. Nachoum dives into the water. It's a miraculous moment.
The final scene shows Nachoum returning to Israel to visit his father's gravesite. He places a special gift on the gravestone– a small framed photograph of the three bears taken underwater.
A voice over of the late Canadian poet/musician/novelist, Leonard Cohen, singing his song, Anthem, plays as the credits begin to roll: "There is a crack in everything. That's how the light gets in."
The directors agreed to an email interview with this newspaper.
The Jewish Post & News: 1)What were some difficulties involved in making this film?
Menkin: There are two sides to this question. One is technical and the other is psychological / personal. The technical issues were huge– starting with selling a film about a man who is 65 years old and wants to do something that no one ever done before him, and that when HE tried to do it before – he almost got killed.
So prior to the shooting in the Arctic many potential financiers said: "Please keep us posted, it sounds amazing – call us when you come back… alive…."
Then when we finally raised the money, we had to build the whole infrastructure for the production by ourselves. There are no diving clubs over there, no hotels or transportation. We had to ship compressors, ice diving equipment, generators, food, fuel, and so on. I had to fly on nine flights from Israel to the location of the shooting.
Then to live there in the middle of nowhere and to find the right bears and create the opportunity for Amos to get into the water and have a peaceful encounter with these magnificent animals… it is all very complicated.
We could not have done it without ADAM RAVETCH – who is not only the best Arctic Cinematographer in the world (and not only in my opinion), but also has 25 years of experience working with the Inuit people in the high Arctic.
Of course we could not have done it without the Kaludjack family. Two members of the family, Billy and Patrick Kaludjak, who were with us on the shoot, died a year and a half later when their snowmobile broke through the ice.
Our film is dedicated to the memory of these two wonderful human beings, who we had the privilege to know even if it was for a short period of time.
The other difficulty was to get our protagonist open up and talk about things that he kept inside for 40 years. It is always a complicated issue to get someone's trust; it's more complicated when it's on film and it's even more complicated when your protagonist is one of the best and most famous in his field.
JP&N: How long did it take to film?
Nir: It took us 10 years to get this movie off the ground. It was also how Yonatan and I have met, and started to work on this and DOLPHIN BOY (another of their films). The main reason it took us so long was that we had to raise a feature film budget for a documentary; and we were deferring to go with Amos all the way to the arctic and try to take his picture.
JP&N: Please share some anecdotes/incidents in the making of the Picture of His Life.
Menkin: One day, we left Adam and Billy Kauldjack RIP on a small island, maybe 50 meters by 10 meters with a camera and a drone.
We wanted to get a shot of Amos alone in the water in the empty Arctic sea… we never used that shot in the film BTW (by the way).
We sailed away from them (to allow) Adam to fly the drone back and forth above Amos with no boats in the frame. The time passed, strong winds, maybe 20 minutes (later).
When Adam reported to us that he got the shot, we sailed back to Amos to take him out of the water. He was very cold, so we warmed him up with some hot water and tea when suddenly I hear screaming from the little island.
I looked back terrified. I thought a bear got on the island or something like that, and to my amazement there was no island, literally.
The tide came in very fast and almost drowned Adam and Billy with our expensive gear. We sailed as fast as we could to get them out of there in the very last second.
JP&N: How long have you two been working together?
Nir: After (his first film) 39 POUNDS OF LOVE, I met Yonatan when I was approached by a producer to direct the film about Amos. We joined forces on DOLPHIN BOY and now PICTURE OF HIS LIFE while we both have our own films. Yonatan focuses on documentaries, like MY HERO BROTHER, and I'm writing and directing fiction and docs. We are good friends and both like road trip movies and wanted to give this story all the elements we have in our previous work.
JP&N: What has been the response in Israel to the film?
Menkin: The response is unbelievable. We are in cinemas all over the country, and sold out almost every screening. The story of Amos with the Yom Kippur war is the story of a whole generation.
People love adventures and inspiring human beings who chase their dreams and are fighting their own fears, doubts and inner demons. To my happiness, people in Israel are starting to care about the future of our planet more and more, and our film is also about that. There is something to relate to in our film for everyone.
The most touching feedback to the film was from my eight year old daughter who said, "Abba I liked the film very much. I just didn't like it when Amos father was yelling at him and I didn't understand why did you have to include wars in your film?"
I didn't know how to answer that.
JP&N: Anything else you'd like to add?
Nir: We just premiered PICTURE OF HIS LIFE in North America, and got incredible reviews and standing ovations. We are excited to tour with it around the world (in Canada as well) and spread the message.