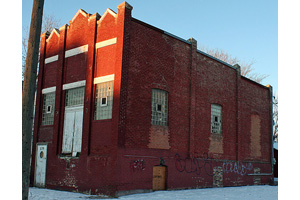 By BERNIE BELLAN Elsewhere on this website (http://jewishpostandnews.ca/8-features/987-a-list-of-all-winnipeg-synagogues-that-ever-existed) you can see the list of synagogues that may have existed at one time or another in Manitoba. That article led to quite a few responses from readers, some of whom offered recollections of their own of synagogues from a bygone era. In addition, we were made aware of one synagogue, known as the "Pavlitcher" synagogue, located at the corner of Dufferin & Aikins, that was not included in the list of synagogues. Click on "Read more" to see the letters we received, also a story about a building that still stands on Pritchard, known as the Hebrew Friends Temple, about which we knew nothing.

Bernie:
Carol and I continue to enjoy both your in print and on line versions of the Jewish Post.
Your recent article on the former synagogues in Winnipeg needs a minor adjustment.
The Ateres Yisroel Synagogue was located on the north-east corner of Magnus and Powers – not on Manitoba Ave. as claimed
Our family lived a few doors down from the synagogue towards Salter St. The Litz crane facility was located across the street from our abode.
We continued to go that synagogue for services even after we moved to Machray Ave.
Needless to say, we walked to shul. Eventually, we moved our religious focus to the Talmud Torah Synagogue on Matheson and Powers.
The Ateres Yisroel was converted to a First Nation group (not sure when) but was torn down more recently according to information available on the Vintage Winnipeg web site where I copied the photo shown above.
Stay safe and best wishes for a Happy New Year to you, your family and your paper's readership.
Chuck Faiman (Cleveland)

Ed. note: The mistake to which Chuck refers is in the caption we had for the montage of synagogues circa 1925 which appeared in our Nov. 24 issue. The caption was supplied by the Jewish Heritage Centre. In our actual list of synagogues the Ateres Yisrael Synagogue was correctly identified as having been located on Magnus Avenue.
*****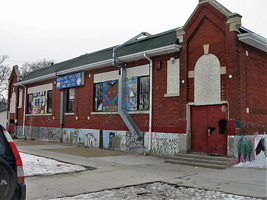 Hi Bernie,
Further to your list of synagogues in the north end, I did some research in the past using Hendersons Directories and came up with something called Hebrew Friends Temple at 229 Pritchard Ave.  I found listings under this name from 1925 – 1940. From 1940-44 it was simply listed as Hebrew friends and from 1945-1960 as Hebrew Friends Hall.  Not really sure if this actually was a Jewish institution or not. Stan Carbone was unfamiliar with it. (Ed. note: We have a story about the Hebrew Friends Temple following the letters.)
In addition, I have a photo of the cornerstone of the Andrews St. Talmud Torah (a.k.a. the Little Talmud Torah). Unfortunately, the left edge appears to have been plastered over and the entire cornerstone has been subsequently covered up in the last few years following exterior renovations. In the event that this may be of interest to you, I have also attached a photo of this as well as the building itself.
Bert Schaffer
*****
Dear Bernie,
I am enjoying the Jewish Post and happy to be getting it virtually. I was a member of the Lubavitch Shul on Magnus and my cousin Jerry Cohen was bar-mitzvahed there. We women and girls sat upstairs and rained candy down on him. My Uncle Leiba and my Zaida helped run services. Those were the days !!!
Jackie Simkin (Miami Beach)
*****
Bernie,
I continue to enjoy The Jewish Post and News, and marvel at how diverse the various articles are. I also wonder where you find the energy to continue working at your pace.
Regarding the December 8 2021 edition, and specifically the list of historic Manitoba Synagogues, I couldn't help but notice that there is no mention of Congregation Shir Tikvah, a breakaway High Holiday Synagogue which existed from 2003 to 2018. It was very successful (at least for most of its lifetime). By the way, I'm very impressed with the list, most of which I had never heard of.
Best wishes for for 2022.
David Bloomfield
Ed. note: We overlooked both the Shir Tikvah and another congregation, known as "Haminyan" which existed in the late 1980s, and which held services at the former Ramah Hebrew School.
Shir Tikvah held high holiday services every year from 2003-2019, all but two of those year in the Viscount Gort Hotel. (The other two years services were held in the Blue & Gold room of the old Winnipeg Stadium.)
The Hebrew Friends Temple (was never really a temple, it turns out)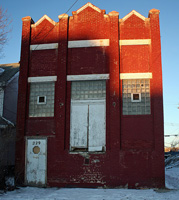 Our story elsewhere on this website (http://jewishpostandnews.ca/local/983-ashkenazie-synagogue-sees-to-repurpose-itself-into-a-synagogue-museum) about the Ashkenazie Synagogue looking to repurpose itself as a synagogue/museum,  led to our being alerted to the existence of a building at 229 Pritchard Avenue that served some sort of function for the Jewish community. We went out to look at the building, which is located just a hop, skip, and a jump from Main Street.
While I would say that it would need a bit of work before it might be considered a viable alternative to what the board of the Shaarey Zedek has planned for its synagogue, the fact that it still remains standing serves as a reminder of the type of building that was typical of Winnipeg synagogues back at the turn of the 20th Century.
We decided to investigate further as to what purpose the building at 229 Pritchard served. To that end we received valuable assistance from Stan Carbone, Curator of the Jewish Heritage Centre of Western Canada, and Dr. Gordon Goldsborough, President and Head Researcher of the Manitoba Historical Society.
Eventually, Stan Carbone found materials pertaining to the history of the building. Thanks as well to Christian Cassidy, who belongs to a group known as West End Dumplings, and who has done stellar research on since vanished buildings that once served as important institutions in the Jewish community.
Following is a composite of two articles Stan Carbone sent me:
Salvation Army Hall / Hebrew Friends Temple (229 Pritchard Avenue)
In late 1910, the Salvation Army commissioned a Hall at this site in Winnipeg. Completed for a total cost of $5,000, its initial configuration had a main floor auditorium with seating for 200 to 250 and approximately the same in the basement, the latter of which also housed a Sunday School. The facade highlighted red brick along with Tyndall stone cornices along its 25-feet Pritchard frontage. The No. 2 Corps moved from their former quarters at 907½ Main Street and held an official opening for their new facility on 12 March 1911. This site served as a centre for local operations in the community until around 1925 when the Corps relocated to 1525 Main Street for a few years before re-establishing at 226 Atlantic Avenue around 1930.
From "Winnipeg Places", by West End Dumplings, Sept. 7, 2020
By Christian Cassidy
The next group to call 229 Pritchard home was the Hebrew Friends. Until the late 1940s it was most often referred to as the Hebrew Friends Temple. Through the 1950s and 1960s, it was usually referred to as the Hebrew Friends Society Hall.
The Hebrew Friends Society was part of a large number of Jewish fraternal societies, such as the Hebrew Free Loan Society and Hebrew Sick Benefits Association. Unlike these organizations, however, there was no coverage of its annual meetings and other happenings in mainstream newspapers or the Jewish Post.
A number of weddings took place here in the 1930s and 40s, but for the most part it hosted teas, wedding and funeral receptions, and was a venue for speeches. It had a bowling club in the 1930s and 40s that used the hall for its meetings and year-end banquets. The 25th anniversary celebration of the Jewish Chess Club took place there in 1944.
The Hebrew Friends were at this address until at least 1965. Soon after, it faded away and vacated the hall.