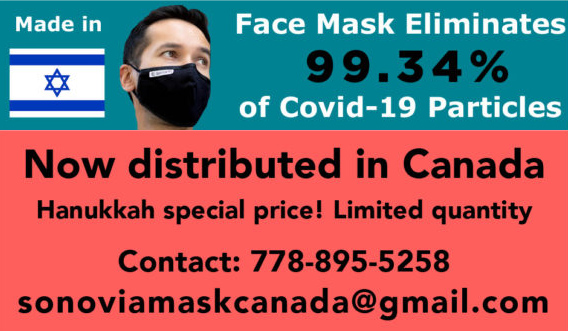 By BRAD CHENKIS
My father, Boris Chenkis, is owner of After Five Fashions in Vancouver. He has always been fascinated by retail news from other countries. One day, while watching Israel Daily TV, he saw an interview with Liat Goldhammer, the chief technology officer of an Israeli startup called Sonovia. Goldhammer was being interviewed about new fabric finishing technology for textile manufacturing that had been developed at Bar-Ilan University. She explained how the newly developed technology would repel and kill bacteria located on clothing.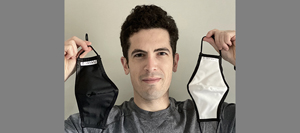 Brad Chenkis displays the Israeli made Sonovia Masks that are now available for purchase in Canada.
That interview took place in early January this year. COVID-19 had not yet become a worldwide pandemic, so Boris just listened with interest to the program about this new Israeli startup, without any foreknowledge that what he was watching would soon prove to be of immense value in the fight against COVID.
Then, when Boris was watching ILTV again in March, he saw Dr. Jason Migdal, a microbio researcher in Israel discussing how the Sonovia technology mechanically impregnates metal nanoparticles into a mask called the SonoMask. Dr. Migdal explained how those particles destroy microorganisms in fabric, something that was verified by two independent labs. Further, the fabric was both durable and washable.
Here's how the SonoMask works:
The unique, reusable mask has antiviral properties that last over a year. Multiple internationally accredited laboratories have shown that Sonavia's fabric, embedded with zinc oxide nano-particles, has a strong antiviral effect that successfully neutralizes 99.34% of the COVID-19 virus, even after 55 wash cycles. The SonoMask offers superior protection, reusability, and comfort.
Sonovia's ultrasound-based technology durably coats the individual textile fibres. This ensures that the fabric will remain reusable and washable. As well, Sonovia's technology uses 50% fewer chemicals and 100% fewer chemical binders than the current method of fabric finishing. (For more details about the Sonovia mask, please visit sonoviatech.com.)
With the COVID virus spreading exponentially, Sonovia was soon having a positive impact on Israeli doctors and health professionals by providing them with technologically advanced masks.
In May Boris saw another program on ILTV about Sonovia mask technology. At that point he saw an opportunity to get involved himself. During his teenage years Boris had lived in Israel, studying and working at Kibbutz Rosh Hanikra. With a connection to Israel that never left his heart, Boris wanted to support an Israeli startup, so he began to purchase Sonovia masks to keep his family, friends, and community safe.
Soon after his first purchase he received an email from Sonovia asking him whether he would consider helping to distribute the company's masks across Canada. Boris said yes, and soon the masks were being shipped from Habonim street in Ramat Gan to Vancouver!
At first Boris reached out to family and friends with the masks. Within days he was thrilled to be delivering hundreds of masks and supporting an Israeli company at the same time. Since then, I have joined my father in the distribution of Sonovia's masks.
Please contact us at sonoviamaskcanada@gmail.com or phone 778-895-5258 with any questions about ordering masks in Canada.