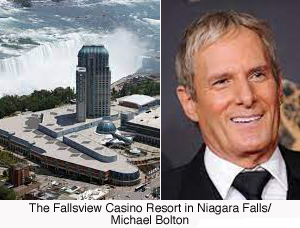 Did you know Michael Bolton is Jewish, born Michael Bolotin? Starting December 16, Bolton will be headlining at the brand new entertainment centre at Fallsview Casino Resort in Niagara Falls.
After a long wait, the Fallsview Casino Resort in Niagara Falls is finally launching its new entertainment centre. The large and spectacular entertainment centre has a huge 5000 seat capacity. The resort is owned and operated by the Ontario Lottery and Gaming Corporation (OLG).
The OLG stage has been in development for years. It was slated to be launched in 2020 but, largely as a result of Covid, the launch was delayed. The center is now up and ready to go.
Michael Bolton has been chosen to headline the opening of the new entertainment centre. Bolton has become a regular at the Avalon Theatre in the Fallsview Casino over the years and is set to perform at the new entertainment center for the first time on December 16. Tickets start at $35. If you would like to read more about the newly revamped casino click on Fallsview Casino Resort review
Michael Bolton's life and career
Michael Bolton was born on February 26, 1953. In his autobiography he describes himself as a "rebel Jew." He was raised in a family that had a liberal attitude toward faith – the kind of family that celebrate dboth Hanukkah and Christmas. Often his house had both a Christmas tree and a Hanukkah menorah.
His grandparents however, ran a very strict kosher household. His original family name was Bolotin, before he Anglicized his name to Bolton. Bolton maintains some Jewish beliefs and was quoted as saying that he "wouldn't want to get on the Creator's wrong side."
Like most Jewish boys, he underwent his Bar Mitzvah at 13 despite leaving Hebrew school at 12. His rabbi forbade him from returning to Jewish school unless he stopped joking around.
As of February 2019, Bolton was a grandfather to 6. He was married to Maureen McGuire from 1975 to 1990 and is a father to three girls.
Musical career
Bolton was a member of Blackjack, an American rock band active from 1979-1980. He performed using his real name, Michael Bolotin. The band released two albums in their short-lived span: Blackjack, in 1979, and Worlds Apart, in 1980.
Michael Bolton underwent a series of stylistic changes in his music and became well known for his Pop rock ballads in the 1980s. Bolton's music is timeless and has sold more than 75 million records. He had two number one singles on the Billboard charts and eight top ten albums. Bolton has won two Grammy awards and 6 American Music Awards.
Songwriting career
Michael Bolton earned his first major hit as a songwriter when he and Laura Branigan co-wrote the hit song "How am I supposed to live without you." Branigan's rendition led for three weeks on the adult contemporary charts. The two also co-wrote the song "I found someone" in 1985, but the song only became a minor hit.
Cher, however, sang her own version of the song two years later. This resurrected both the song and Cher's career. Bolton would go on to write other songs for Cher.
Singing career
Bolton's success as a singer came through adult Contemporary/Easy Listening charts. His first major hit was his own rendition of Otis Redding's classic "Sitting on the Dock of the Bay." His performance was so captivating that Redding's widow cried. His success with that song prompted him to try out other classics.
"Georgia on my mind" was also tremendously successful. In 1988 Bolton recorded his own version of "How am I supposed to live without you" which topped the Hot 100. In 1991 he released his album :Time Love & Tenderness." His Grammy award winning cover, 'When a man loves a woman' was part of that album.
The OLG Schedule
The OLG Schedule has other interesting acts lined up before Michael Bolton's show in December. The irst show in the OLG center will feature Popular 90s Rockers + LIVE+. + LIVE on October 29.
The band has a massive hit album in the 90s with "Throwing Cooper." "Throwing Cooper" had hit songs like "Lightning Era", "Selling the Drama" and "I alone." The album sold 8 million copies. Ticket Prices for this show start at $40.
The OLG center will host Asian pop star Joey Yung on November 20. This will be a make-up date for her November 2020 postponed performance. Joey Yung has won a plethora of awards.
She has won JSG Most popular female Singer and Ultimate Best Female Singer- Gold Awards 9 times. She is a record breaker. Forbes China Celebrity 100 marked her number 63 in 2014. Tickets sales for the event are currently live.

OLG design
The OLG Centre is valued at $130 million. The main stage is connected to the Fallsview Casino via a new walkway. It was set to hold its first concerts in the spring of 2020, but the Covid pandemic hit in March of that year, forcing postponement.
Since the lockdown restrictions were lifted, all reservations made at this venue were either canceled or moved to the Avalon Center. The centre, however, is still in demand. The show "Canada Got Talent" recently announced that its next season will be filmed at the OLG stage