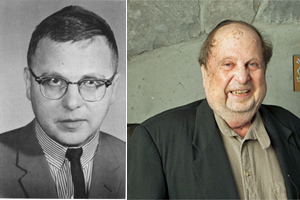 By BERNIE BELLAN  For hundreds of Winnipeg Jews – both current and former, the name Norman Stein conjures up a multitude of memories.
For many of us, "Mr. Stein" was a teacher in the Jewish day school system during the 1950s and 60s who not only taught Hebrew subjects, he was also truly a Renaissance man with an extraordinarily broad knowledge of literature, art, films, and music.
If you were a student at Joseph Wolinsky Collegiate during the 1960s you might have been lucky enough to have taken one of Stein's classes in art or music appreciation, philosophy or, as he told me during a recent phone interview, library science (for Grade 11 and 12 students).
But, if you didn't know Stein the teacher, you might have made his acquaintance as a music maven –who was involved both in concert and record producing, along with working for the famed German recording company, Deutsche Grammaphon, as both a director of that company and vice president of its Canadian branch.
It was in the late 1960s, following Stein's full transition from teacher to businessman with a variety of interests, that many Winnipeggers also met him in his capacity as owner as the very popular music store, Opus 69 – which was first located on top of Clifford's at Portage and Kennedy, later on Kennedy between Portage and Ellice in what is now part of Air Canada's Winnipeg headquarters.
Later, Stein left Winnipeg for Vancouver, where he became enmeshed in the music scene there, also opening a shop where he began selling his own vast collection of music recordings.
Not only was Stein's name associated with Canada's music scene for years, helping to launch the careers of such artists as Sarah MacLachlan – among others, he was also involved with the film business, both in terms of helping to produce and promote movie sound track albums (such as the 1977 version of "A Star is Born", starring Barbra Streisand), later as a consultant for the film prop business in Vancouver.
About to turn 89 (in June), Norman Stein has been a resident of the Weinberg Residence at the Louis Brier Centre in Vancouver since that branch of Louis Brier first opened in 2003.
Having remained an observant Jew all his life, Stein has played an integral role in the religious life of Louis Brier ever since he moved there.
When I first contacted Stein, and broached the idea of conducting a phone interview with him, he said that it would have to be at a time when he was fully rested – given his age.
And, although Stein has endured two major health setbacks in his life – once when he was rear ended in his car in Winnipeg and subsequently ended up in a coma as a result of his having been prescribed the wrong medication; a second time when he returned from a trip to Los Angeles and came down with Equine Encephalitis, and he claims that his memory has major gaps as a result of those two conditions, during our hour-long phone conversation, he often recalled with vivid detail his Winnipeg years.
I told Stein that, although his entire life has been rich with so many different facets, for the purposes of the story I wanted to write, I preferred to concentrate on his teaching career in the Jewish school system in Winnipeg – something with which, I said to him, many of our readers would have some acquaintance.
I began by asking Stein about his background, saying to him, "You had a religious upbringing, didn't you?"
He answered: "That was not unusual for the north end of Winnipeg. I didn't know any other type. We didn't have labels like 'Orthodox'. Most Jews then just observed what our parents observed in Eastern Europe."
I asked: "What street did you grow up on?"
He responded: "As far as I can remember, it was Pritchard Avenue. Later, we moved further north – to Redwood Avenue. We had three rooms with no hot water and no bathtub – and no heat except for a 'Quebec stove' in the kitchen that had pipes going into the three rooms.
"Rent was $14 a month. My father was a peddler and it was amazing to see how he could even raise the $14 to pay the rent.
"We ended up buying a home on St. Anthony. We had to make sure there were Jewish families there because we wanted to live in a Jewish area."
I asked: "This is when? Around the 1950s?"
Stein answered: "I went to yeshiva (in Chicago, he later noted) around 1948 – the Yom Kippur after the State of Israel was established. It was Hebrew Theological College – or Beis Midrash L'Torah."
Stein explained that his teacher at what was then the Talmud Torah on Flora and Charles was someone by the name of "Mr. Klein". (Back when he was attending Talmud Torah – in the 1930s and 40s, Stein explained, students attended a branch of the Talmud Torah on Magnus and Powers for Grades 1 – 3, then the Flora and Charles location for Grades 4 – 7.)
"I didn't know how good we (Klein's students) were," Stein explained, "because when I was given an examination (at yeshiva), I ended up being transferred from the Grade 10 class right into the graduation class – Grade 12, and I did very well."
As mentioned earlier, Norman Stein loved films and music. He explained that his family used to go to the Ukrainian Labour Temple (which still exists, at the corner of Burrows and McGregor) "on Sundays, to watch movies, acrobatics – they had a dance school, they had a daily paper, in Ukrainian – it was Communist; and we used to watch through the basement window the daily edition of those printing presses.
"Anyway, one Erev Shabbes – I was three or four, I snuck into the theatre and the manager asked me who I was looking for?
"I told him I was looking for my mommy. He said, 'You just sit here', and the next thing I know I'm watching the Priscilla Lane sisters playing tennis in their white shorts. I remembered that.
"The manager called me out and said, 'Your mother's here now.' And I wondered, how could that be? because my mother doesn't even know I'm here. I go out and there's my mother and Mrs. Rubinfield, who ran a grocery store a few doors down, and had a pay phone – which they avoided using on Shabbes – but they called the police and the police asked, 'Is there a favourite place he likes to go?' and my mother said I like to go to the movies, so the police said: Maybe he went to the Labour Temple.'"
As Stein explained what happened next, when he was confronted outside the Labour Temple by his mother, Mrs. Rubinfield, and a "Bobby" who was with them, in addition to being scolded for wandering into the movie theatre, the Bobby added: "And you didn't even pay", to which, Stein said he answered (and remember, this is a four-year-old), "Tsur nisht fregn zayn gelt on Shabbes" – "You mustn't carry any money on Shabbes."
The conversation took some interesting leaps, but at one point it led to a discussion of the kosher scene in Winnipeg during the 1930s and 40s. Somehow, we ended up talking about kosher restaurants in Winnipeg at that time. According to Stein, there were no kosher restaurants in Winnipeg whatsoeer at that time. I was rather surprised to hear that, so I asked: "What about the YMHA?" (which would have been on Albert Street at that time). Surely the cafeteria there would have been kosher, I suggested.
Stein's response was "When you lived in the north end in the 40s you didn't know about the YMHA." (That proposition would certainly have been open to question, given the information we were able to ascertain about the Albert Street Y and how many north enders did go there when the YMHA held its 100th anniversary reunion in 2019, but let's leave that aside for the time being. In any event, when Stein added that "the YMHA was really very much a secular place," he was correct.)
In 1951, following his completion of yeshiva studies, Stein returned to Winnipeg, where he "taught the confirmation class at the Shaarey Zedek".
The rabbi of Shaarey Zedek at that time was Milton Aaron. "Not once did I meet him the entire year that I taught there," Stein noted, "although years later he wanted me to do some articles in the Jewish Post about some important people that were VIP's in his eyes."
In 1952 Stein began what would end up being a 13-year career teaching at the Rosh Pina Hebrew School. "I ended up being head teacher and head of school," he said.
"Then I started teaching at the Talmud Torah (on Matheson Avenue) in 1956 and started out at the Joseph Wolinsky Collegiate the very day it opened (in 1959)."
Later in our conversation I asked Stein how he was able to teach at the Rosh Pina, Talmud Torah, and Joseph Wolinsky Collegiate all at the same time?
He explained: "Talmud Torah was Grade 1. I was teaching from nine till noon. After that I went to the Wolinsky Collegiate or I was teaching Grade 3 or Grade 5. After that I would go to the Rosh Pina, where I was teaching from 4:30 till 8. It worked out. My whole day was filled. I didn't eat my dinner until about 8:30 or 9."
At that point in the conversation, Stein interjected with a rather shocking segué, noting that, "In 1954 my father was killed by a train." He went on to describe the grisly details of how that happened, but there's no need to record them here. Suffice to say that it was a totally preventable tragedy.
Following that somewhat surprising twist in the conversation, I said to Stein that I wanted to change tack and find out more about how he became the "Renaissance man" whose interests in art, music, films, and philosophy were imparted to so many of his students over the years.
"When did you start to develop an appreciation for movies and music?" I asked.
"When I was four years old," he answered. In addition to the aforementioned Ukrainian Labour Temple, "we went to the Palace Theatre (on Selkirk Avenue), to the "Yiddish Theatre" (in the Queen's Theatre, also on Selkirk), to the "Dominion Theatre", for live productions (situated at the corner of Portage and Main where the Richardson Building now stands).
As for his exposure to music, Stein had a good singing voice. In material I received from the Louis Brier Residence that had been assembled to spotlight resident Norman Stein, it was noted that "I was selected for the cantorial class by the famous Benjamin Brownstone, but took a back seat to the likes of baritone Norman Mittleman, whose career led to the San Francisco Opera."
I wondered about Stein's love of art – and when that developed?
It came "mostly from a secular teacher in Aberdeen School," he explained. "I learned art technique."
I said to Stein that I've always remembered a fabulous course he taught our Grade 8 class at Joseph Wolinsky on art appreciation. "You taught us the rudiments of architecture," I recalled.
"We had to photograph Winnipeg buildings and find examples of European buildings that had the same architectural styles," I said, such as "Gothic and Roman".
"I taught different courses to students in Grades 7, 8, 9, 10, 11, and 12," Stein said.
"In Grade 7 it was music, Grade 8 was art and art history, Grade 9 I don't remember…there was philosophy, and 11 and 12 was library science."
In that course Stein taught students "how to use microfilms, how to do footnotes, how to prepare a proper bibliography", on top of which they had to write papers that were about 100 pages. Remember, these were mostly handwritten."
(In a post on the "Jewish students of the 50s and 60s" Facebook page, former Stein student Avrum Rosner reproduced the actual comments Stein had made about a paper Rosner had written about famed philosopher Bertrand Russell when Rosner was only 14. Stein's comments extended over a page in length. Just look at the level of erudition he used in commenting on Rosner's paper – something rather exceptional for a teacher teaching 14-year-olds. Those comments can be seen in a sidebar article accompanying this article in which former Stein students comment about their experience of him as their teacher.)
So, Stein had a very full career until 1966. "I even wrote a column for the Jewish Post," he added.
"And then I ended up getting rear ended by a truck," Stein said. "That's a period I don't remember well… I was in a coma for some time. I was a nervous wreck. My doctor suggested I go to some place relaxing, so I went to Hollywood."
Thus began the next chapter of Norman Stein's life, including the opening of what became Winnipeg's most popular record store for a time, Opus 69.
In a future issue we'll resume writing about Norman Stein and his eclectic career.