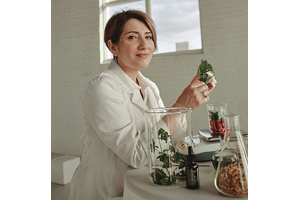 By REBECA KUROPATWA Ukraine-born, Israeli-raised Eira Shoichet is working to shed light on body care products, and help explain that mainstream body care products may not be good, either for their users or the environment.
This is a way of thinking that she learned from her mom early on, and that was further honed since her move to Winnipeg in 2010.
In Israel, Shoichet (42) spent 10 years in the IDF. Shortly after she arrived in Winnipeg, along with her husband, Zeev (43), and their two kids, Daniel (19) and Neta (16), Shoichet enrolled in Chemistry at the University of Winnipeg (U of W). After six years of schooling, she secured a job at an environmental lab, and later, at a pharmaceutical lab and manufacturer.
"My skincare line – Herbs and Butters Skincare – came a little bit later after I graduated from the U of W with a degree in Chemistry, and I started working," said Shoichet. "And then, it came from personal struggles, issues with my skin…so, I was looking for a solution.
"My mom, back in Israel, said, 'Why don't you try?' She was the one who turned me onto natural skincare. She makes products for herself, for personal use…doing DIY – do it yourself."
Shoichet decided to go back to school to learn about producing skincare products. She enrolled in a few more courses and began experimenting on herself, until she was happy with the results. "I was happily surprised with the results and decided to make it into a business," said Shoichet.
Her work at the pharmaceutical plant and the environmental lab, combined with her studies and personal background, well positioned Shoichet to make the most of her skincare product business development.
Shoichet set up a home lab and began producing products, sending them to her family in Israel to try out and give feedback.
"I trust my family, 100 percent, that they will provide me with the most honest feedback without being afraid to hurt my feelings…because, it was that most important part for me, to get real, honest opinions," said Shoichet. Her family felt no fear in trying Shoichet's products, sure in her rigorous approach to picking only ingredients that are biodegradable and that do not harm the environment in any way, shape, or form, also that are from reputable suppliers with pure and, when possible, certified ingredients.
"I focus on ingredients," said Shoichet. "The name of my company reflects this focus. It's natural, it's sourced from plants, and I name the product based on the ingredients themselves – like Raspberry Moisturizing Cream, Green Tea Eye Cream, Jojoba Cream. Honestly, all my products, except for one face mask that I call 'Nourishing Mask,' for which the name focuses on the benefit…all of the rest of the products are named after ingredients."
Shoichet's methodical ingredient research and scientific background sets her apart from other similar natural product businesses. Each product's creation stems from a root problem that she set out to solve.
All the products are water-based, and are tested in a lab for safety and to ensure the preservation process is efficient enough for their shelf life in Canada. As well, all the products are registered with Health Canada.
The products are available at all Vital Health store locations in Winnipeg, as well as at Grant Park Mall's A-1 Nutrition, at St Vital Mall's Ce Soir Lingerie, Equip Massage Supply store, and online at https://www.hbskincare.ca/..